This strawberry peach cobbler is the perfect summertime dessert! It's baked with sweet cream biscuits for a strawberry shortcake vibe.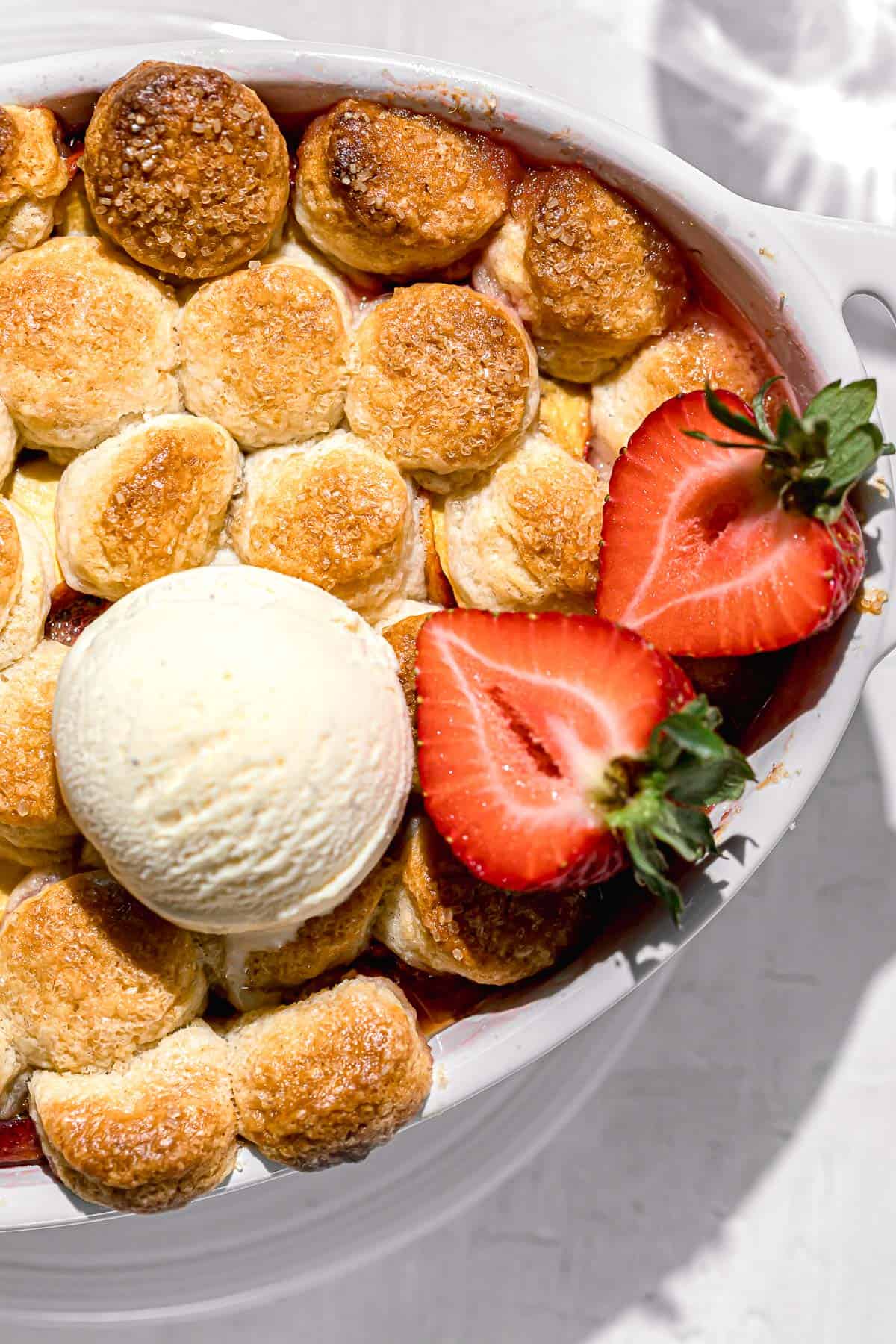 Jump to:
This strawberry peach cobbler with cream biscuits is just what you need to use up the last of your fresh summer fruit! It's made with a super simple 6-ingredient filling and topped with the most tender, flaky cream biscuits. The biscuits give this cobbler a kind of strawberry (& and peach) shortcake vibe, and it's so so good. Once the cobbler comes out of the oven, hot & bubbling, immediately top it with some vanilla ice cream and dig in!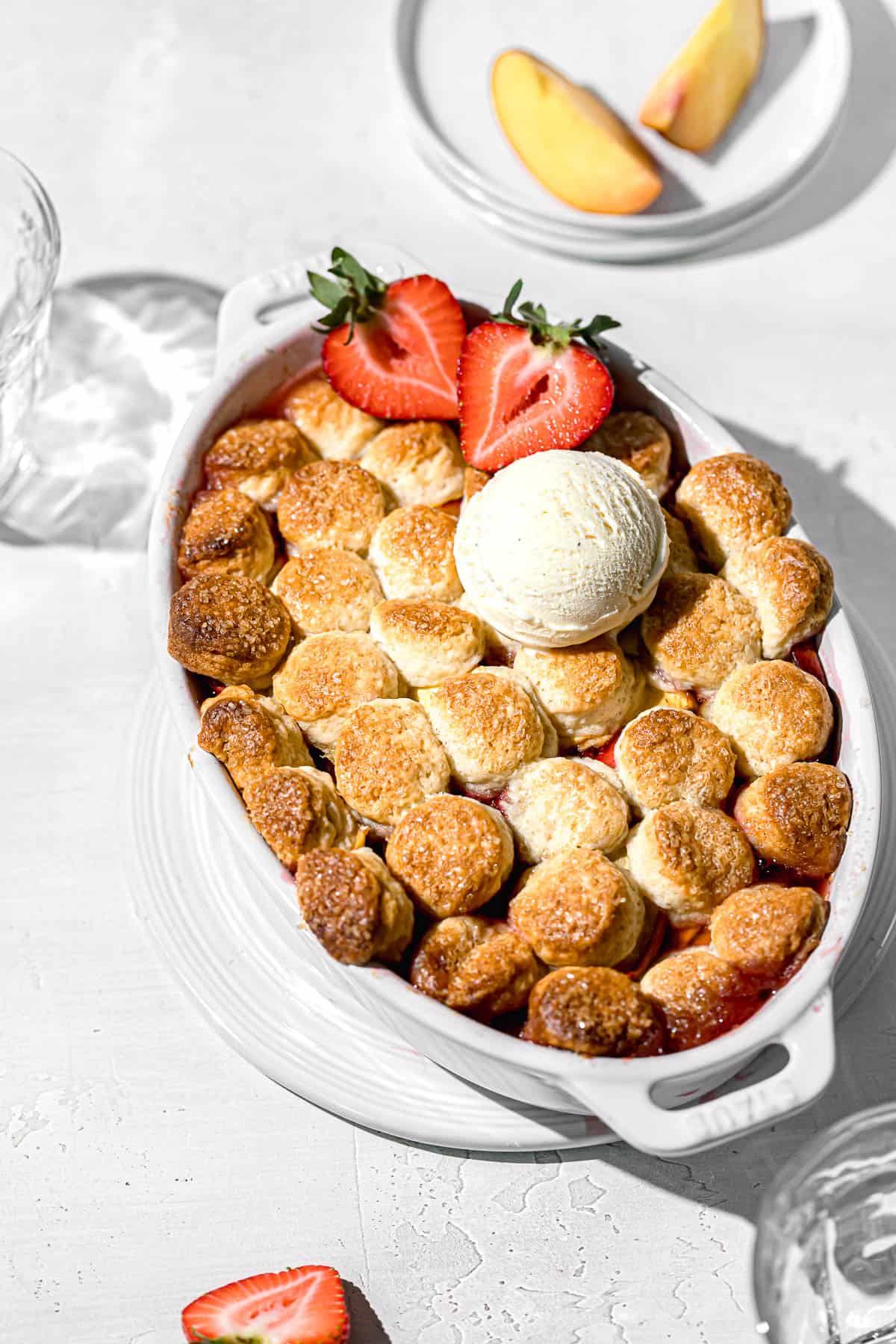 Ingredients
Flour: Be sure to weigh your flour with a scale or use the "scoop & level" method with a dry measuring cup.
Salt: Don't skip on the salt! Add some kosher salt to both the biscuit dough and the filling to amplify flavors & balance sweetness.
Baking Powder: Give the cream biscuits a little bit of rise with baking powder.
Sugar: You'll need a half cup of granulated sugar for the filling and just a couple tablespoons for the biscuits. I also recommend sprinkling turbinado sugar on the biscuits before baking!
Butter: Since most of the flavor in the biscuits comes from the butter, be sure to use a high-quality brand. I always recommend European-style butter.
Heavy Cream: You'll need about 1 cup of heavy cream for the biscuit dough. If you end up not using all of it in the dough, reserve it for brushing on the biscuits before baking.
Fresh Fruit: Be sure to measure the strawberries and peaches AFTER cutting them up.
Cornstarch: To help thicken up the filling, add a touch of cornstarch.
Vanilla: Add some vanilla paste or extract to the filling for a well-rounded flavor.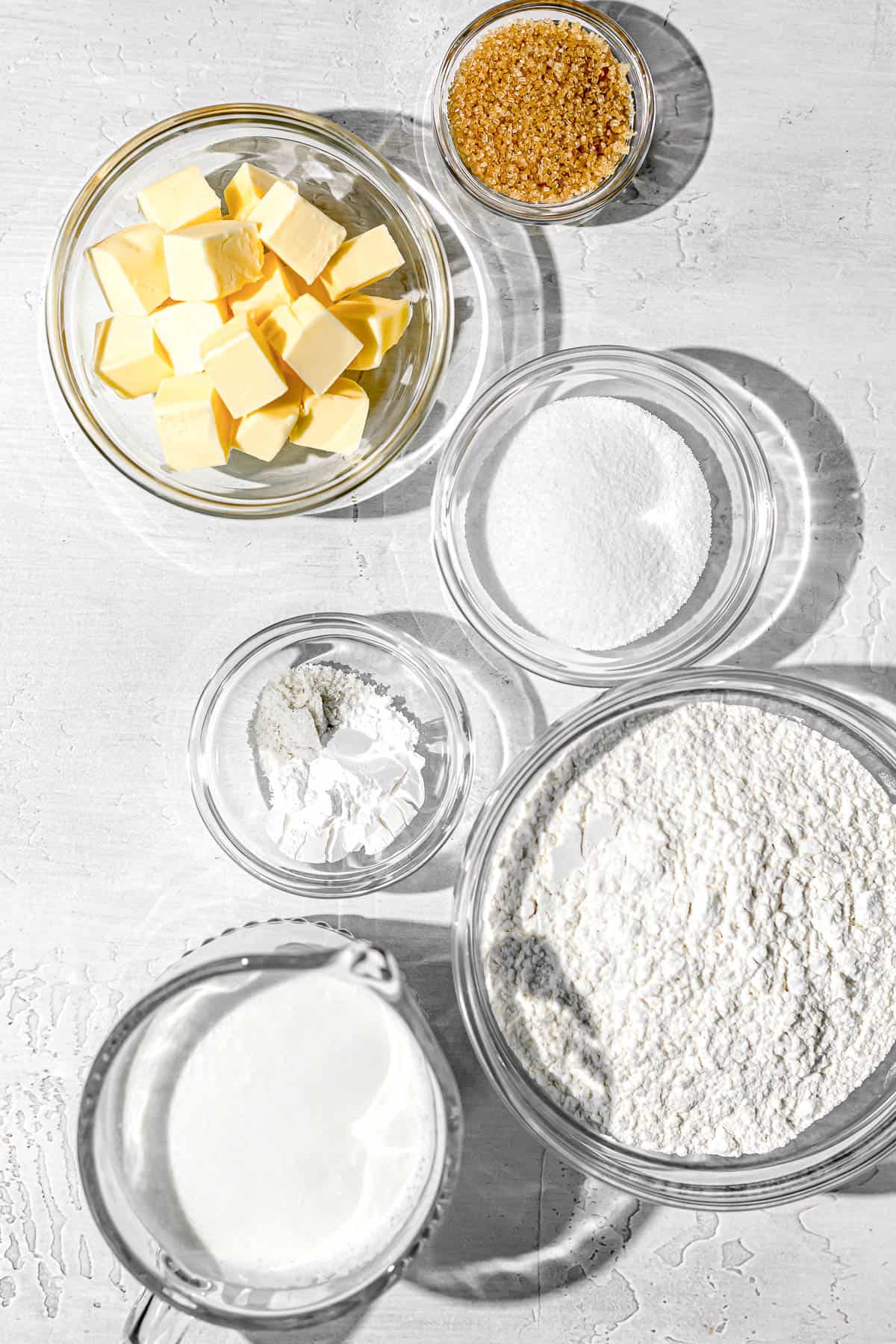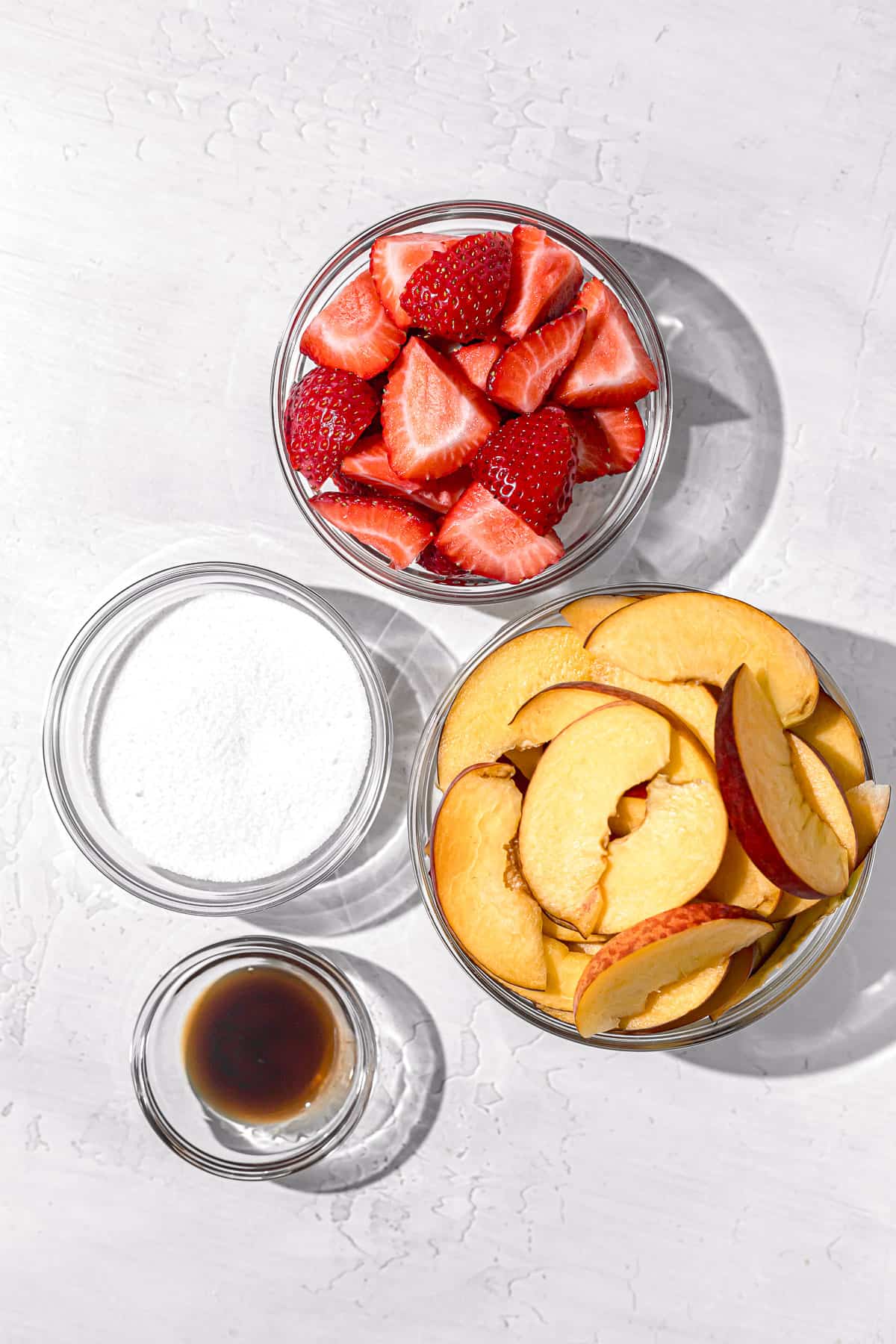 Instructions
This cobbler could not be easier to make. All it requires is a quick biscuit dough, a little bit of chill time, and a super simple strawberry & peach filling. It's the perfect dessert to bring to a summer cookout! See notes for how to prep this cobbler ahead of time below!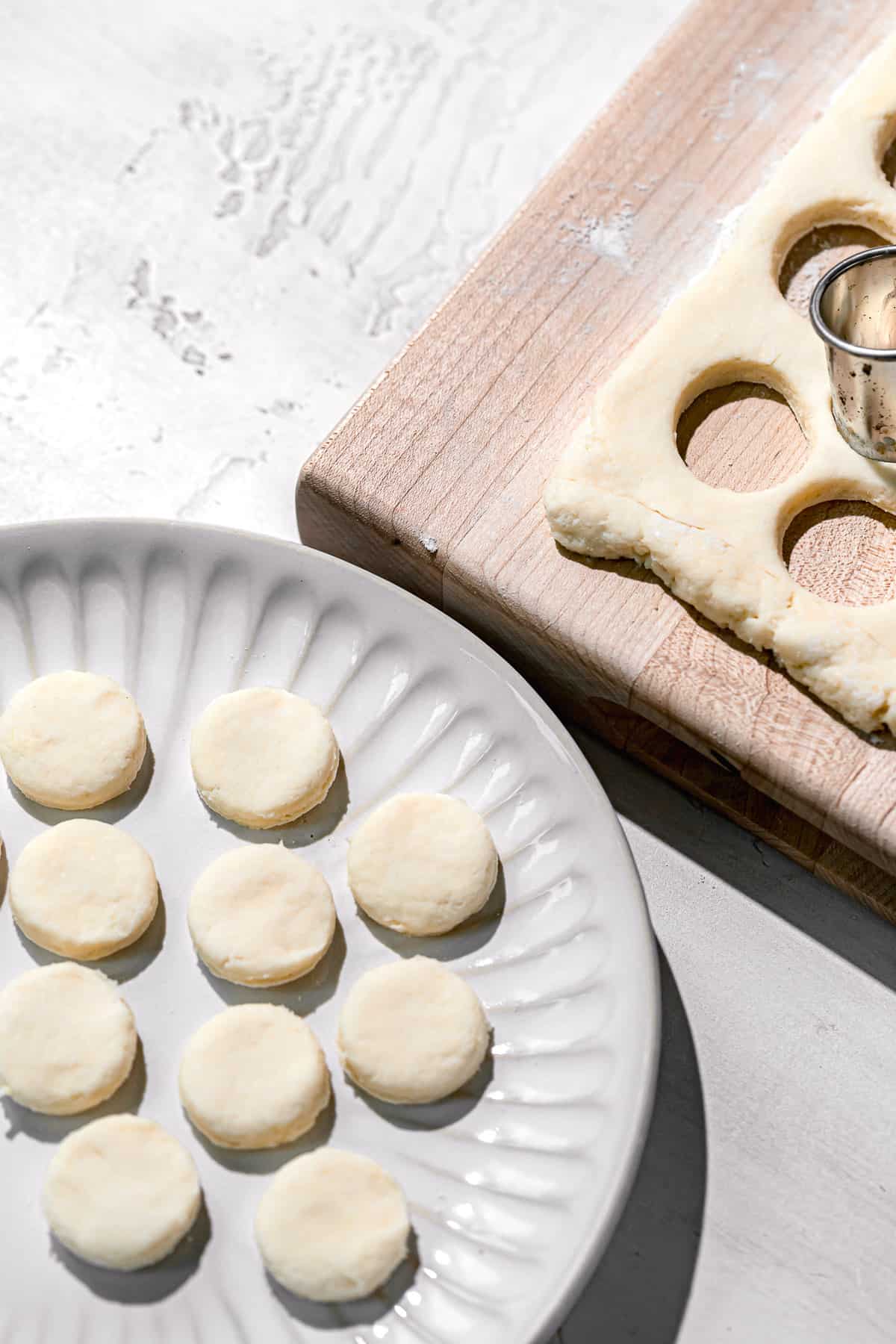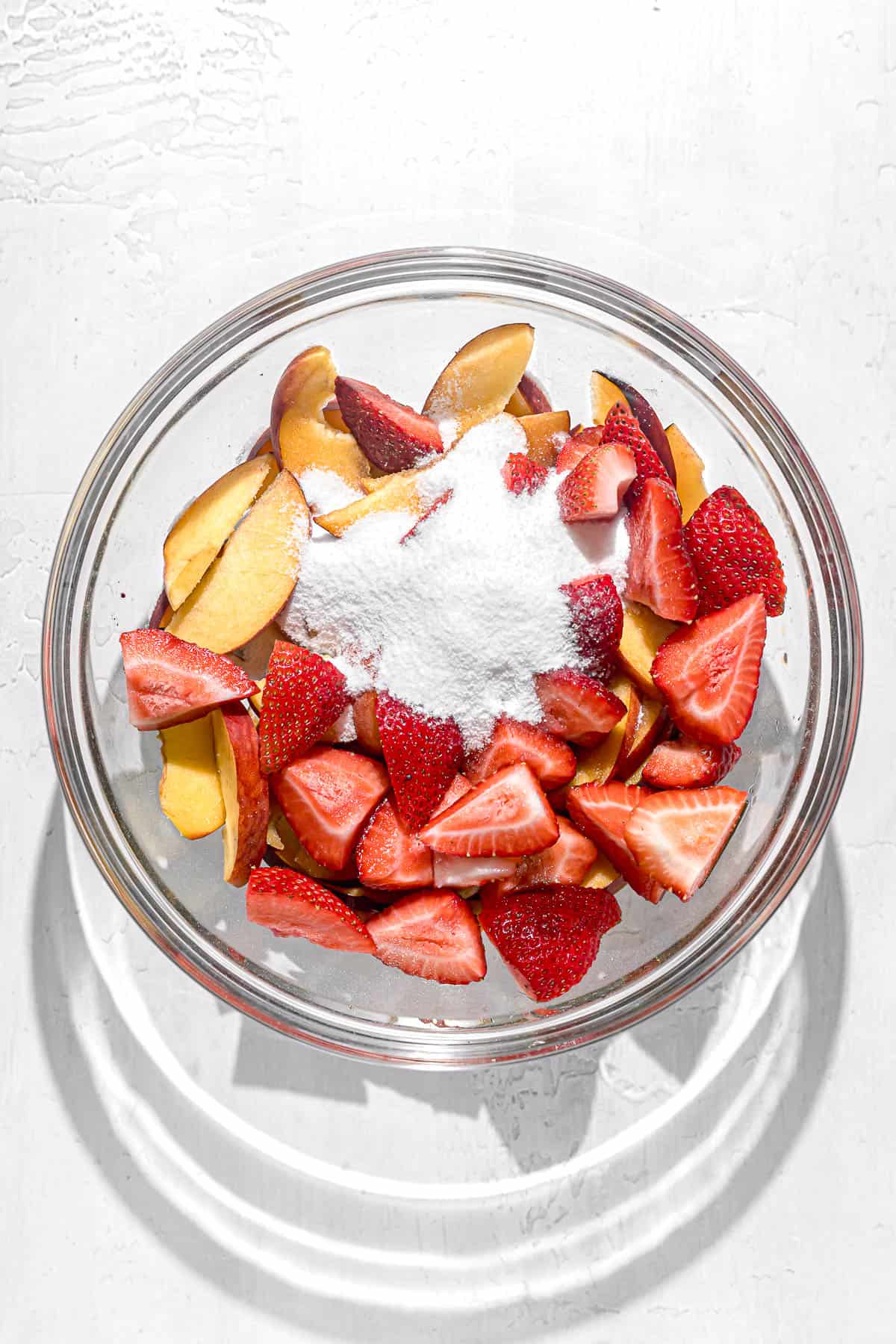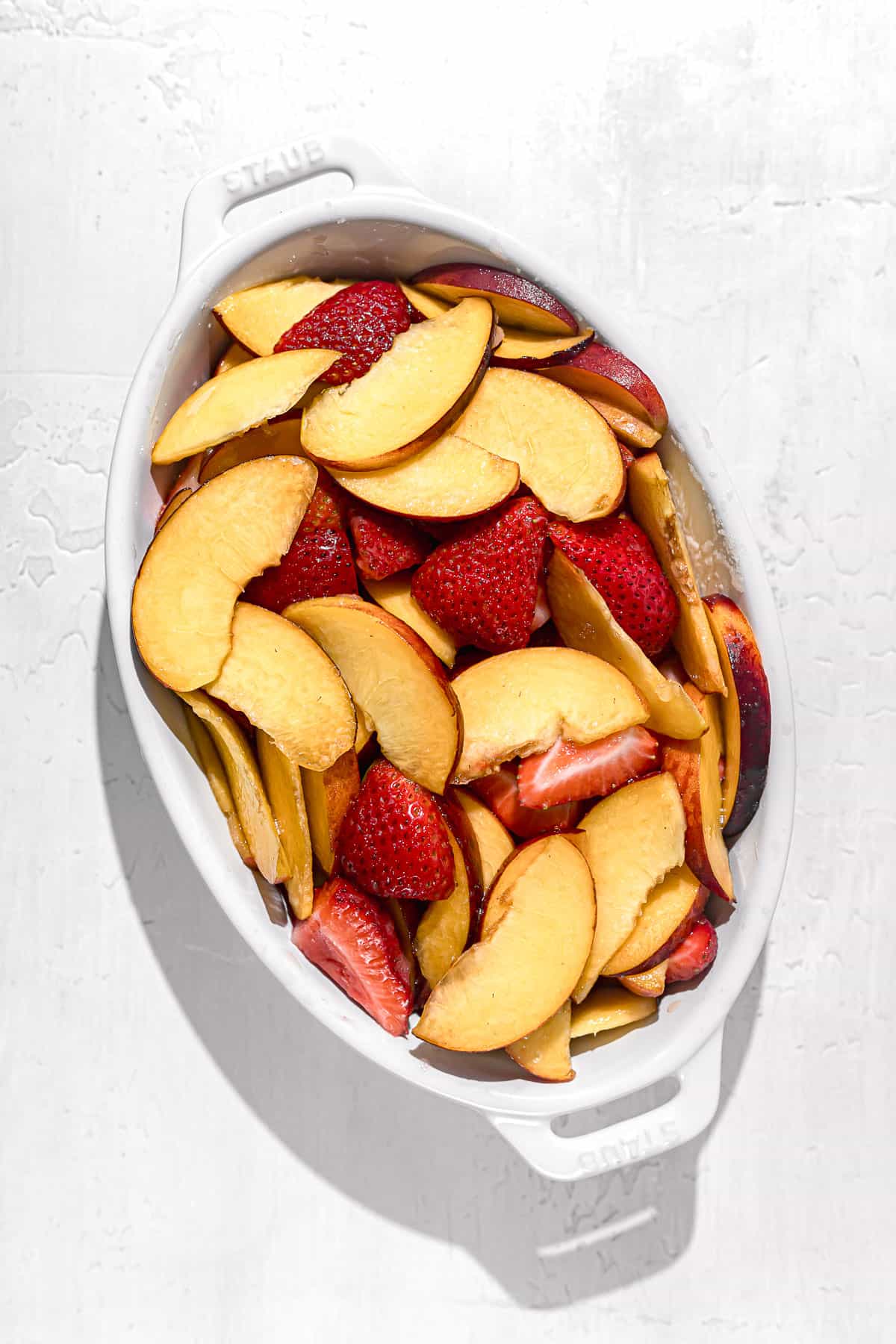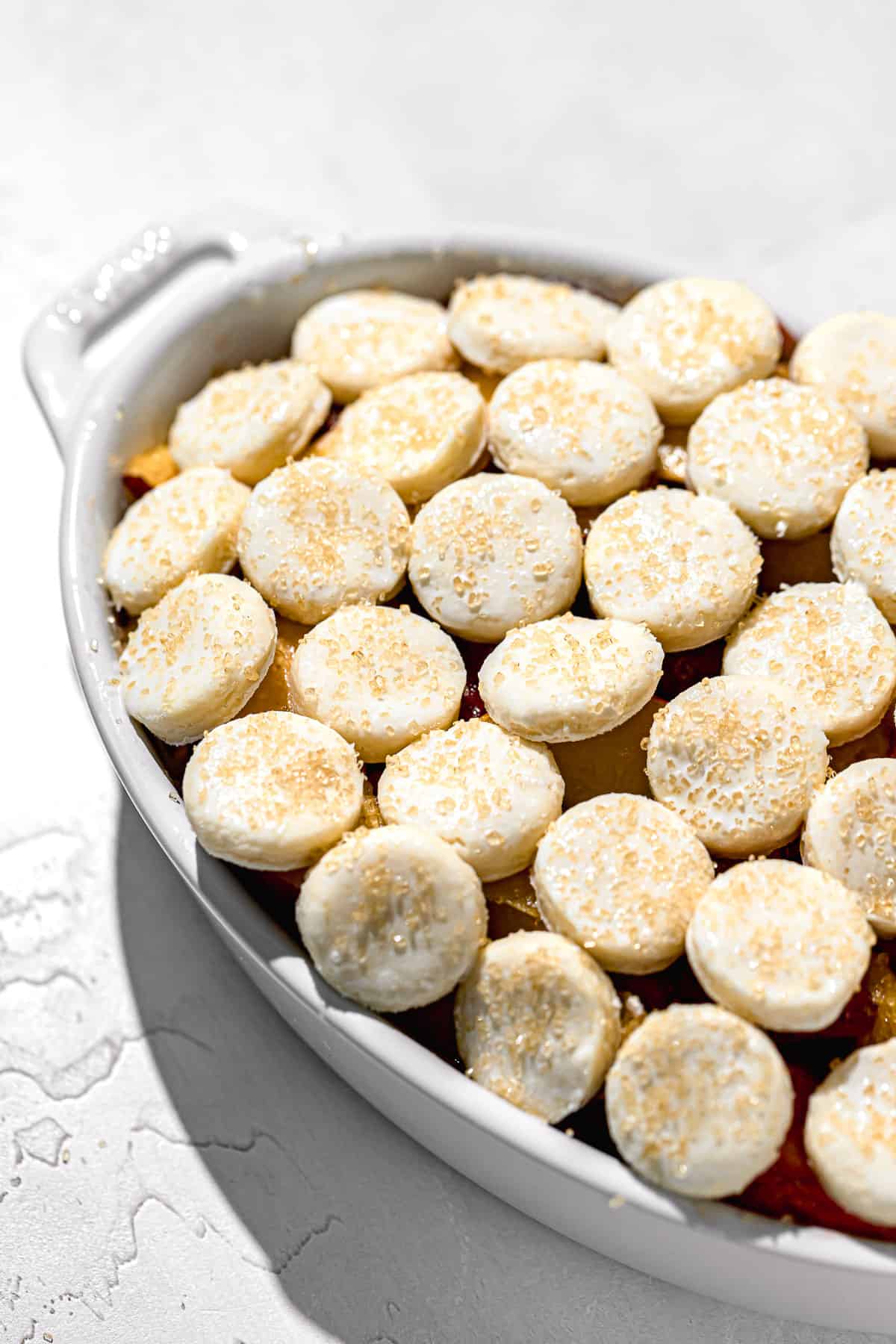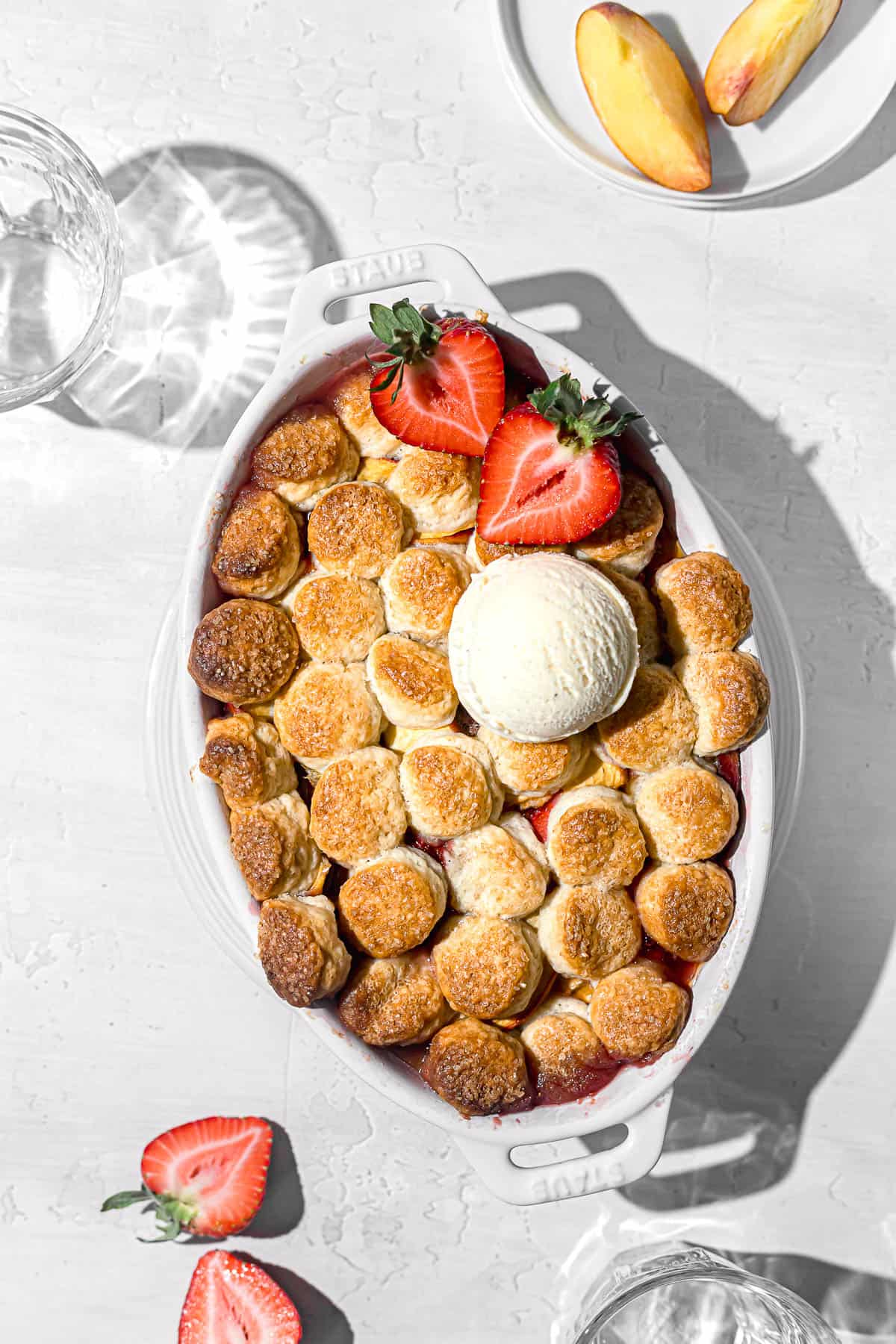 FAQ
How to make cream biscuits:
Just like traditional biscuits, these cream biscuits are made by cutting cold butter into dry ingredients. Instead of using buttermilk, add cold heavy cream until a dough forms. To make these biscuits extra flaky, roll the dough out, then cut it into quarters. Layer the dough on top of each other, then roll out one more time. Cut out 1" mini biscuits and freeze for 15 minutes before baking.
How to make this cobbler ahead of time:
You can easily prep this cobbler ahead time! Make the biscuit dough the day before, and chill overnight or freeze for up to 3 months until ready to use. If the dough is frozen, defrost it overnight in the fridge. Make the filling just before you ready to bake the cobbler.
How to store this cobbler:
Store cobbler leftovers in the fridge for up to 3 days.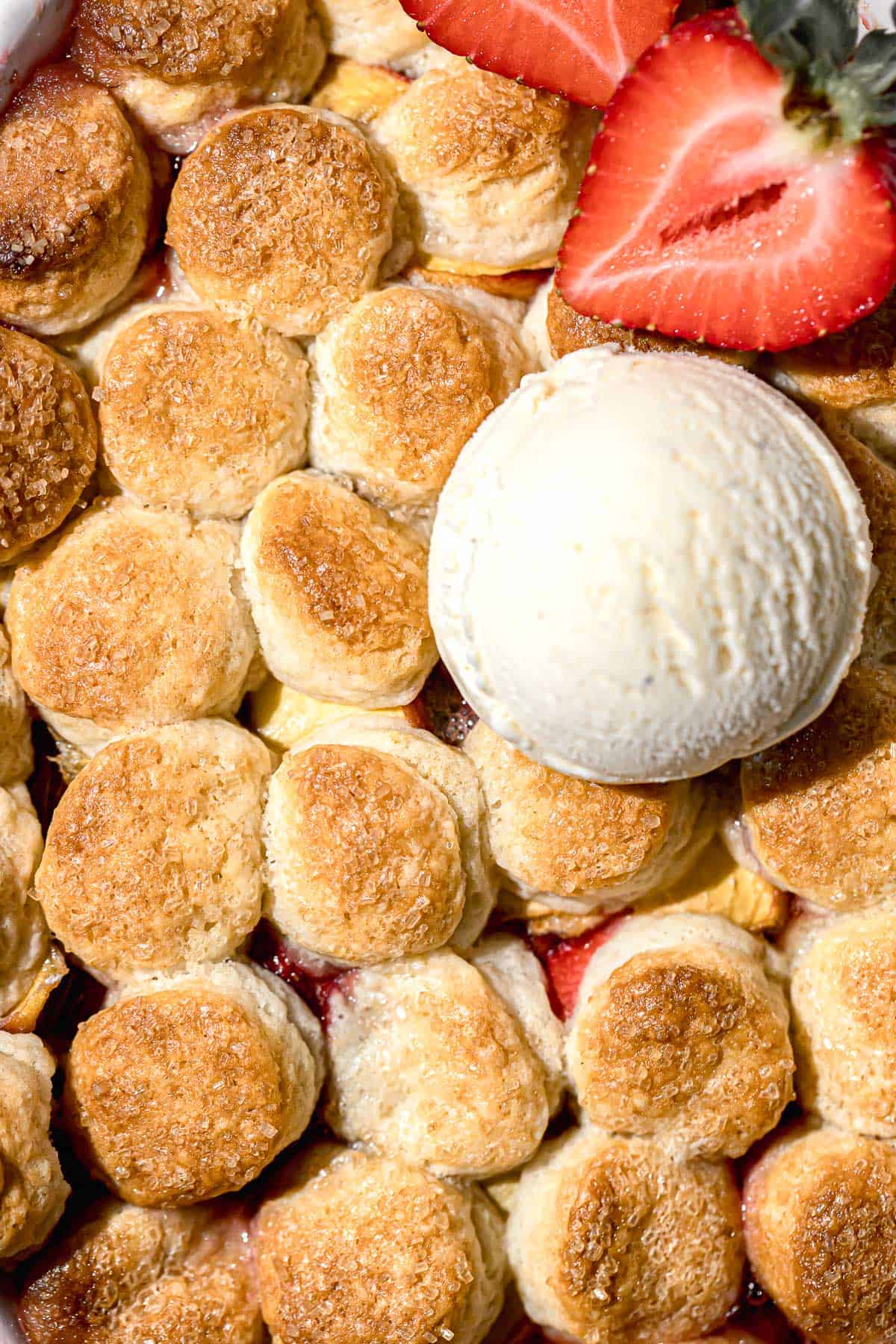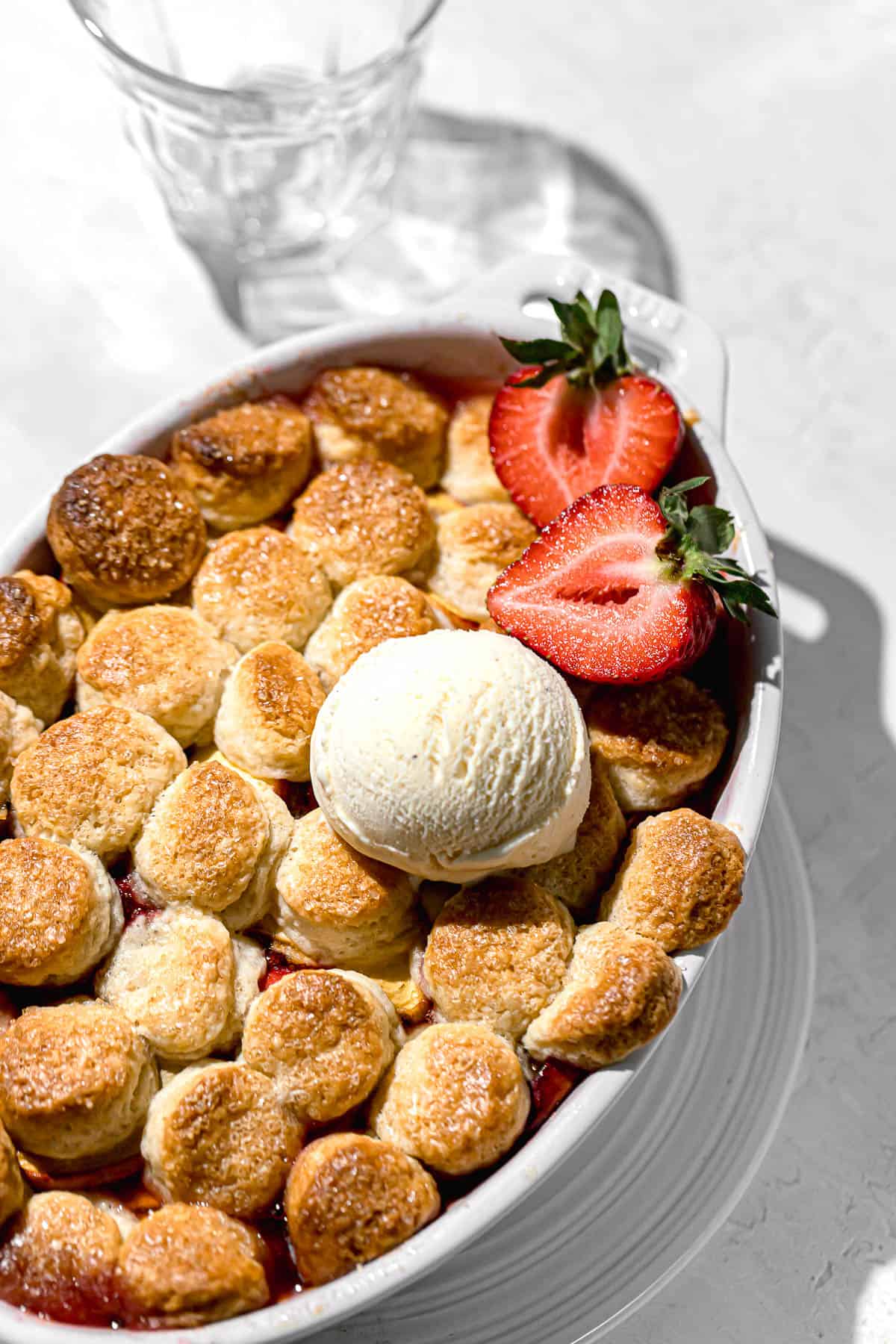 Other summer recipes you'll love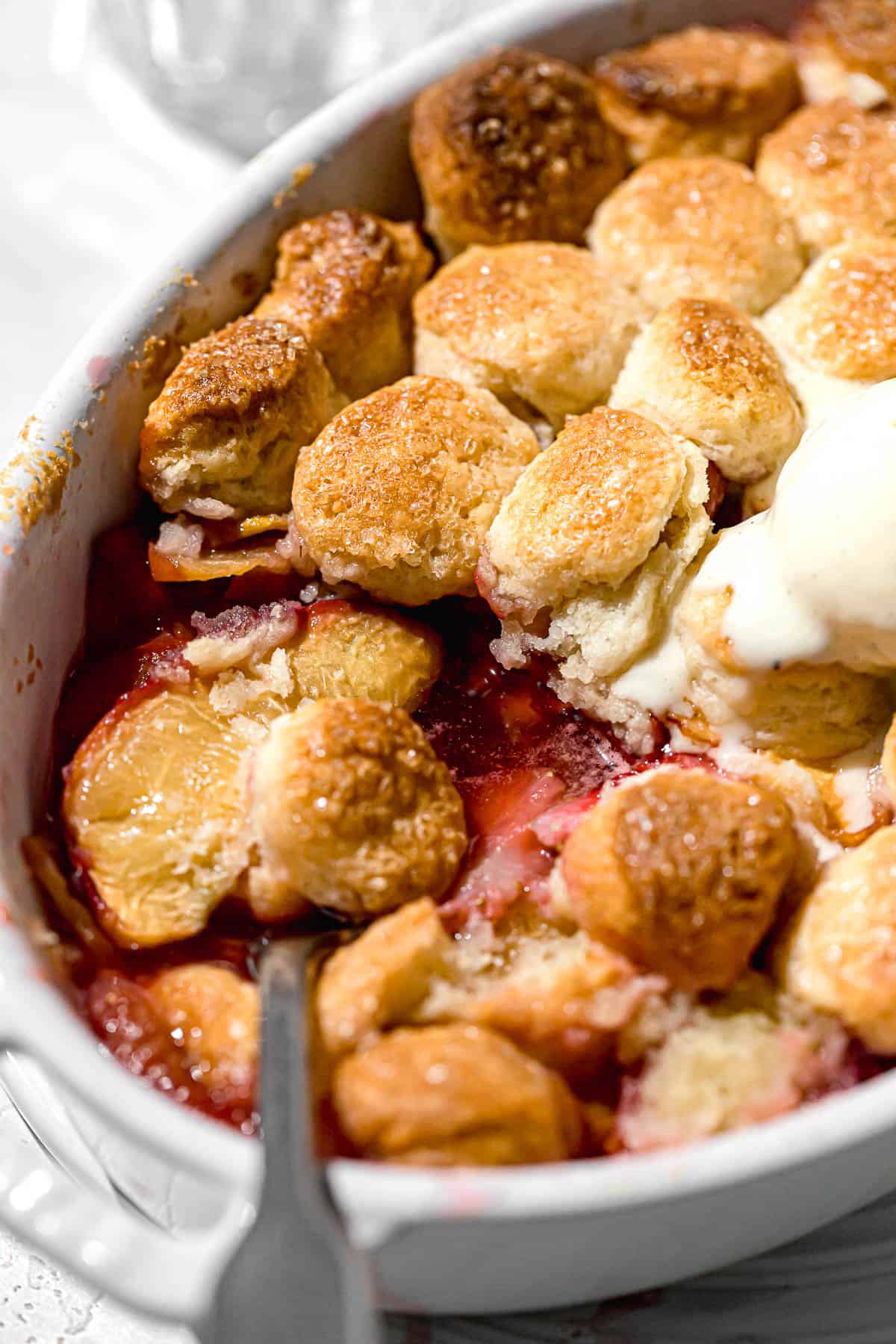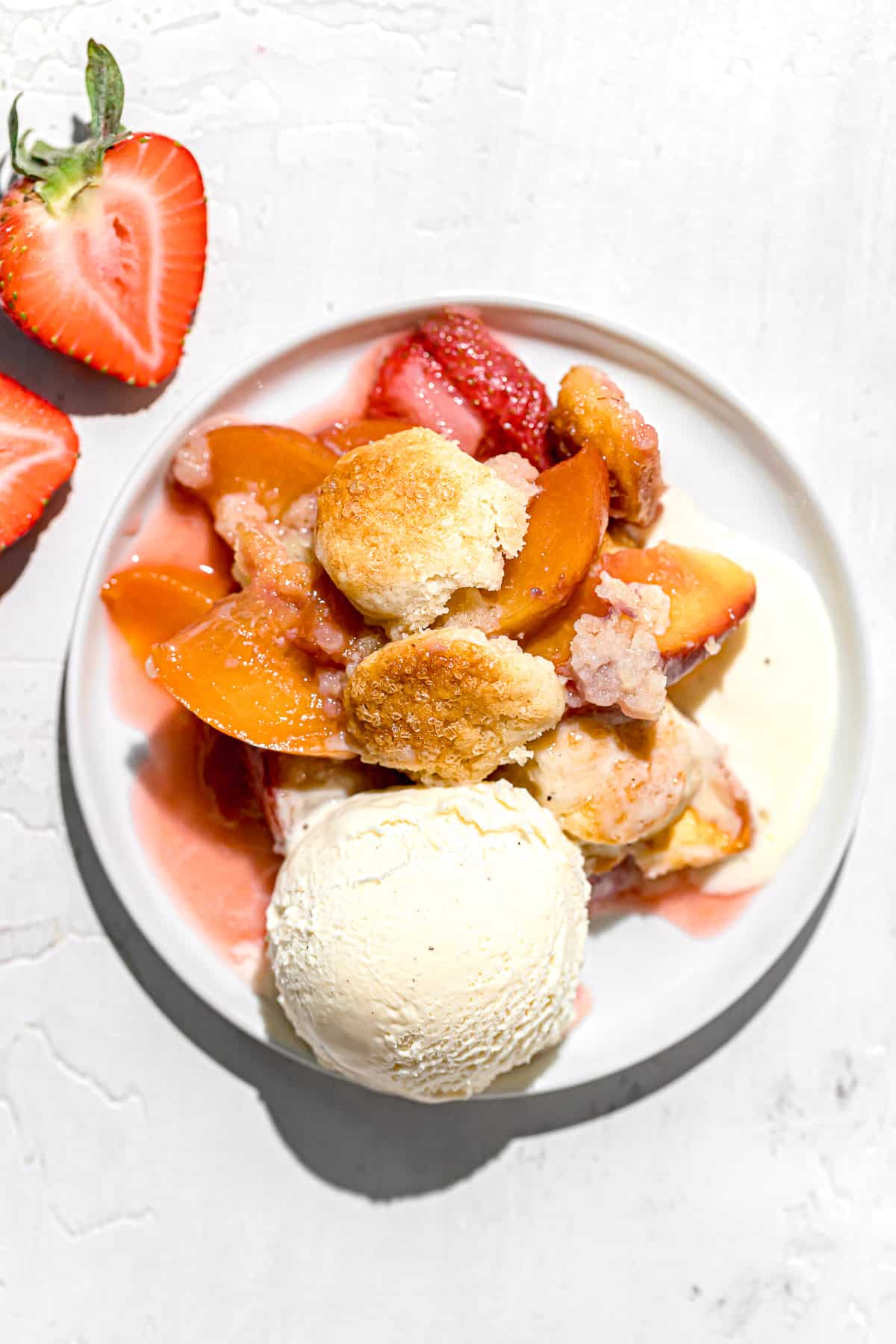 Baking in grams
All of the recipes on this blog are carefully developed to create incredibly delicious baked goods that you can easily recreate in your own kitchen with success. The only way this is possible is to standardize the way ingredients are measured - by weight. Volume measurements are extremely inaccurate and leave room for significant errors. Not all measuring cups are made equally, so your one cup of flour will be different from my one cup of flour. By providing precise measurements in grams (aside from minor ingredients, which are given in tsp/tbsp), I can ensure that you can make the recipe accurately and with less cleanup! All you need is this kitchen scale.
If this still isn't enough to convince you, I have provided volume measurements in the recipe card. If you are interested in understanding the conversions, this is the best conversion chart.
But trust me, once you try baking in grams you'll never turn back!
Happy baking! x
If you tried this recipe, I'd love to know how it turned out for you! Leave a star rating & review below and post a picture (or video!) on Instagram and tag me so I can see your bakes! Not ready to make this recipe yet? Click the heart button on the right of your screen to save it for later 🙂
Strawberry Peach Cobbler
Ingredients
For the cream biscuits:
180

g

1 ½ cup all-purpose flour

38

g

2 ½ tablespoon granulated sugar

½

teaspoon

kosher salt

2 ¼

teaspoon

baking powder

85

g

6 tablespoon unsalted butter (cold, cubed)

227

g

1 cup heavy cream (cold)

Turbinado sugar for sprinkling
For the strawberry peach filling:
½

lb

fresh strawberries

,

hulled & quartered*

1

lb

fresh peaches

,

thinly sliced, about 3*

100

g

½ cup granulated sugar

1

tablespoon

cornstarch

½

teaspoon

kosher salt

1

teaspoon

vanilla paste or extract
Instructions
For the cream biscuits:
Preheat the oven to 400 degrees F.

In a medium bowl, combine the flour, sugar, salt, and baking powder.

Add in the cubed butter and toss to coat.

Cut the butter into the dry ingredients by squishing the cubes between your fingers until they are pea-sized.

Pour the heavy cream in a little at a time, gently mixing the dough with your hands until it sticks together, but it is not overly wet. (You may have a small amount of heavy cream leftover.)

Shape the dough into a disk and wrap tightly with plastic wrap. Chill in the fridge for about 30 minutes.

Once the dough has rested in the fridge, roll it out on a lightly floured surface to about ½" thick.

Cut the dough into quarters, then layer them on top of each other.

Roll the dough out one more time to about ½" thick.

Use a 1" cookie cutter to cut out as many biscuits as you can.

Place the cutout biscuit dough onto a plate or small baking tray and place in the freezer for at least 15 minutes.

Meanwhile, make the filling.
For the strawberry peach filling:
In a large bowl, toss together the strawberries, peaches, sugar, cornstarch, salt, and vanilla until well combined.

Pour the filling into a 9" oval dish (with 2" sides).

Place the frozen cream biscuits on top and brush each with heavy cream & sprinkle with turbinado sugar.

Bake the cobbler for 10 minutes, then reduce the oven temperature to 350 degrees F and bake for about 40-45 minutes until the biscuits are golden and the filling is bubbling.*

Allow to cool for a few minutes before topping with vanilla ice cream and digging in!
Notes
Be sure the weigh the strawberries & peaches AFTER cutting them up.
You may need to tent the cobbler with aluminum foil after around 20 minutes to avoid the biscuits from getting too dark.
Tried this recipe?
Tag @sloanes.table on Instagram and write a star review below!