This small vanilla cake recipe bakes up incredibly soft, stays moist for dayyyys, and is perfect for any celebratory occasion!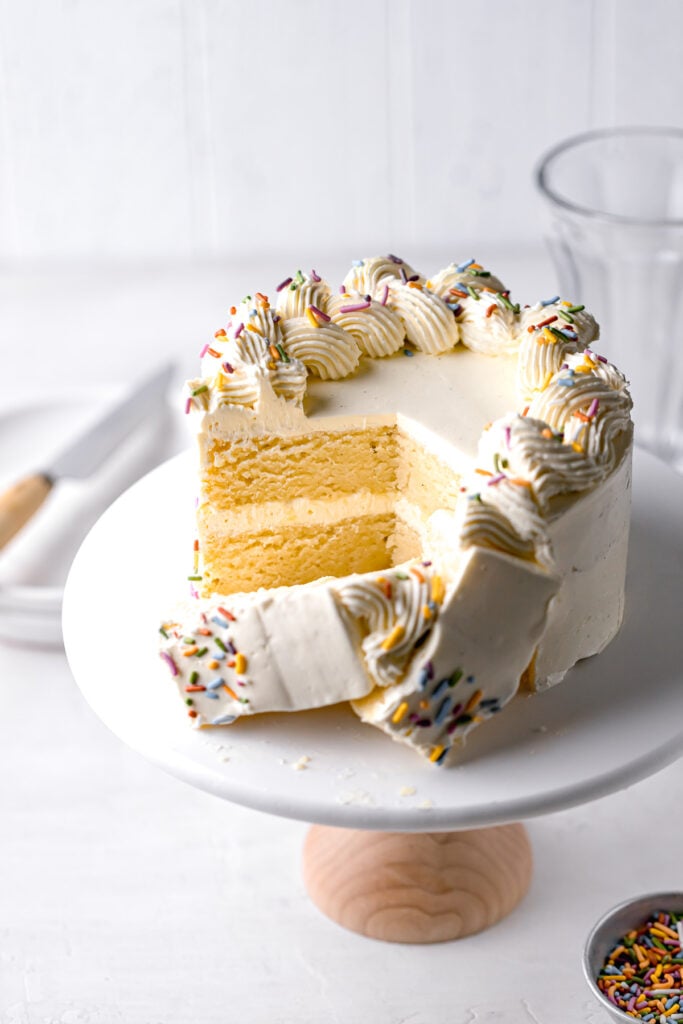 Jump to:
This small vanilla birthday cake recipe is truly my favorite cake recipe on the blog! I have never been a fan of birthday cakes, because they're always dry, overly sweet, and covered in fake frosting. So when I started this blog, I made it my mission to create the most amazing vanilla cake recipe that's so good, you'd have no choice but to go back for a second piece. And well friends, this is it. This is THE cake recipe that tops all others. It is so moist and perfectly sweet, and when paired with my super silky vanilla swiss meringue buttercream, it is absolutely irresistible. I hope you love this recipe as much as I do!
Ingredients
Cake Flour: Though it's not essential to make this cake, cake flour achieves the softest crumb!
Sugar: Both the cake and the buttercream require granulated sugar.
Leavener: You'll need just baking powder to give this cake the perfect rise & texture.
Fat: To make this cake super moist while maintaining that classic buttery flavor, this recipe uses an oil-butter combo. You'll also need 3 whole sticks of butter for the buttercream.
Dairy: For optimum flavor and texture, use full fat greek yogurt and milk.
Egg: The cake needs just one egg, while the buttercream needs 4 egg whites.
Vanilla: You can't make a classic birthday cake without vanilla! Use a high-quality vanilla paste or extract for the best flavor.
Sprinkles: Decorate your cake with rainbow jimmy sprinkles or leave plain for a classic look. OR top it with these birthday cake macarons!!!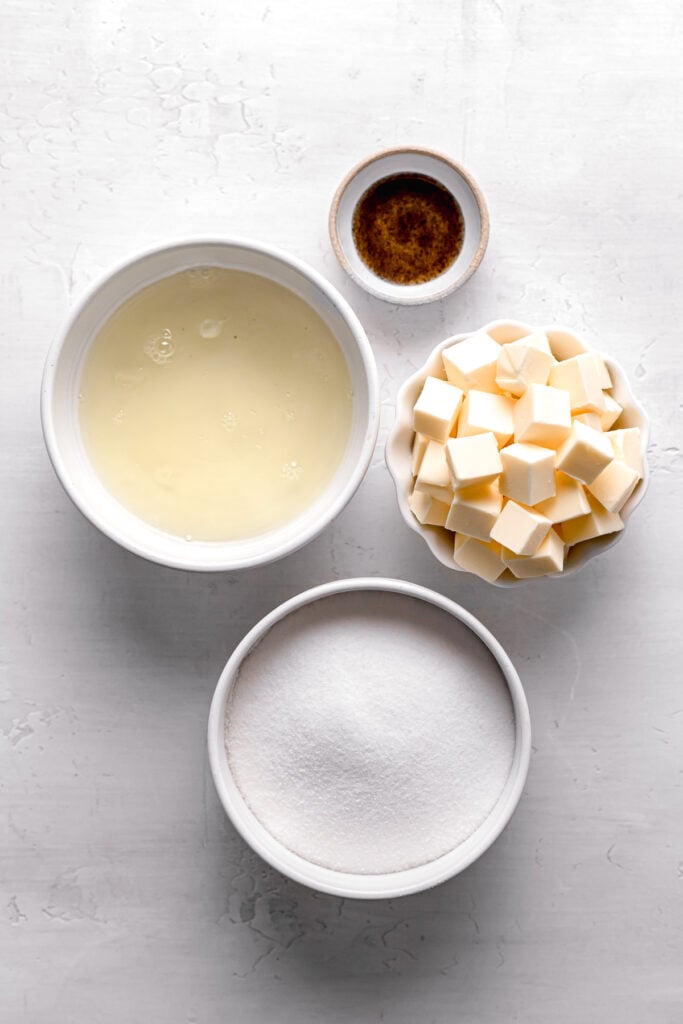 Instructions
This recipe really could not get any simpler! It's a one-bowl recipe, so you can whip this cake up in no time and with minimal clean-up!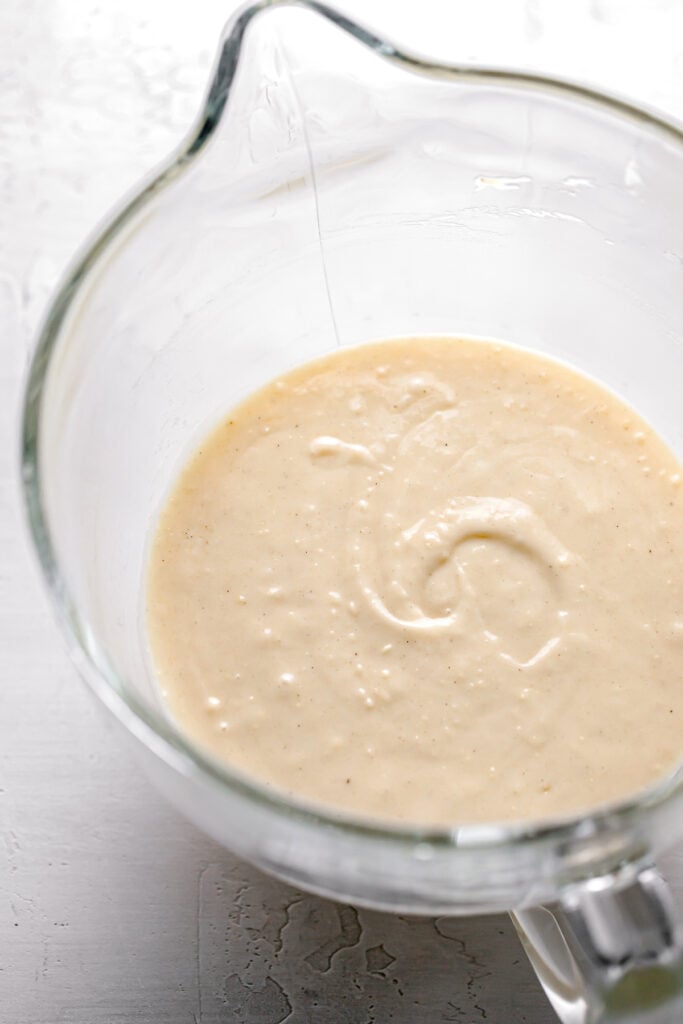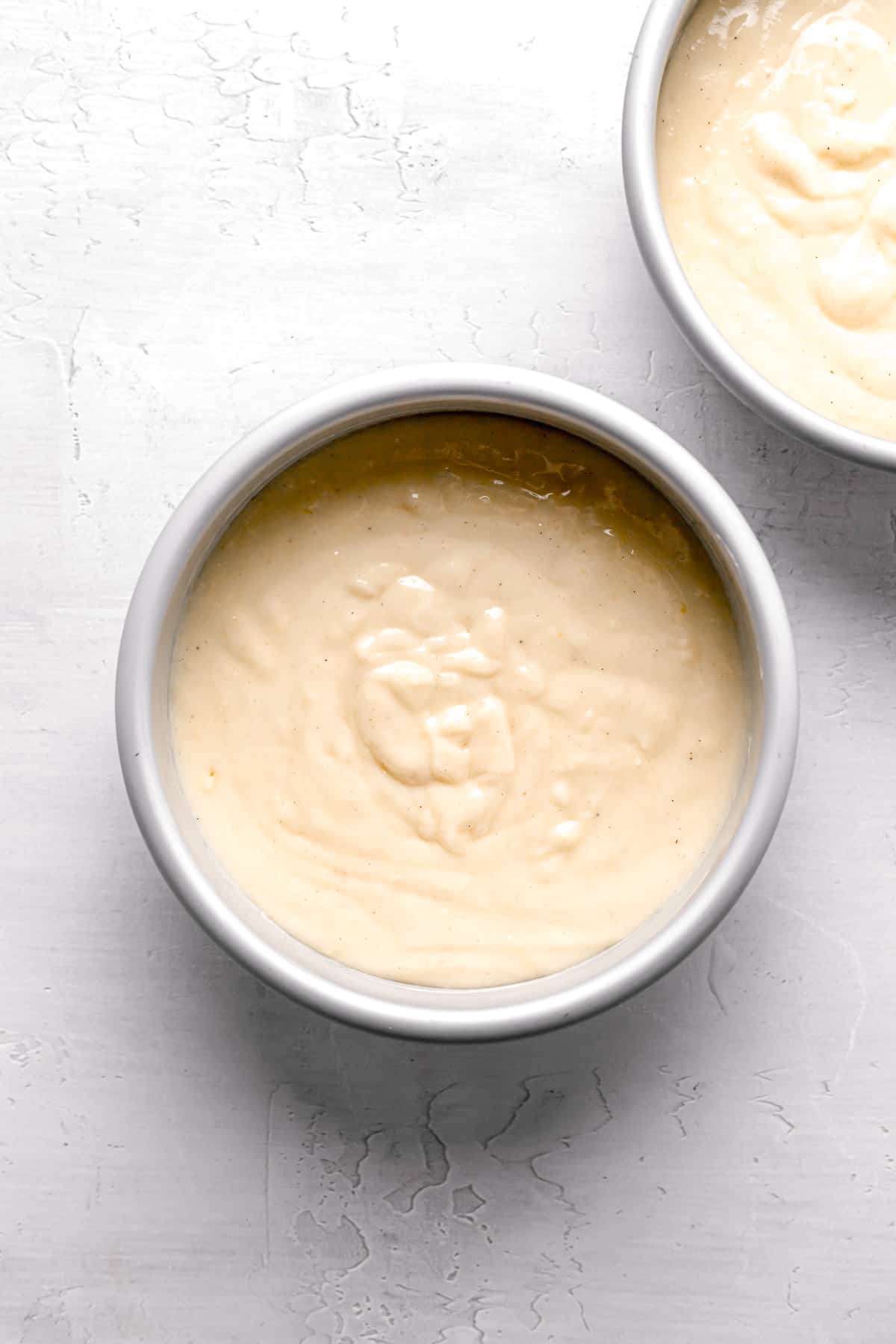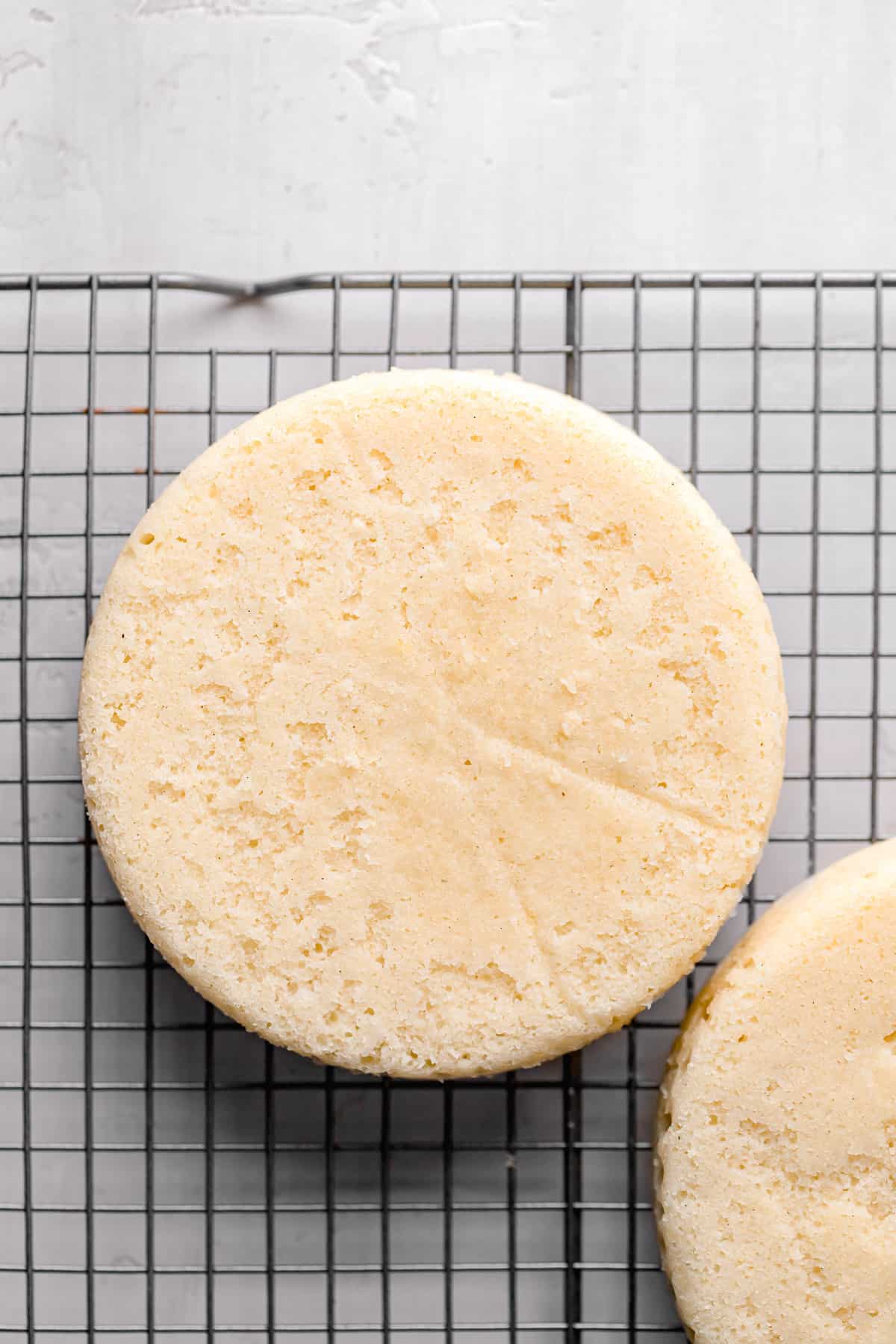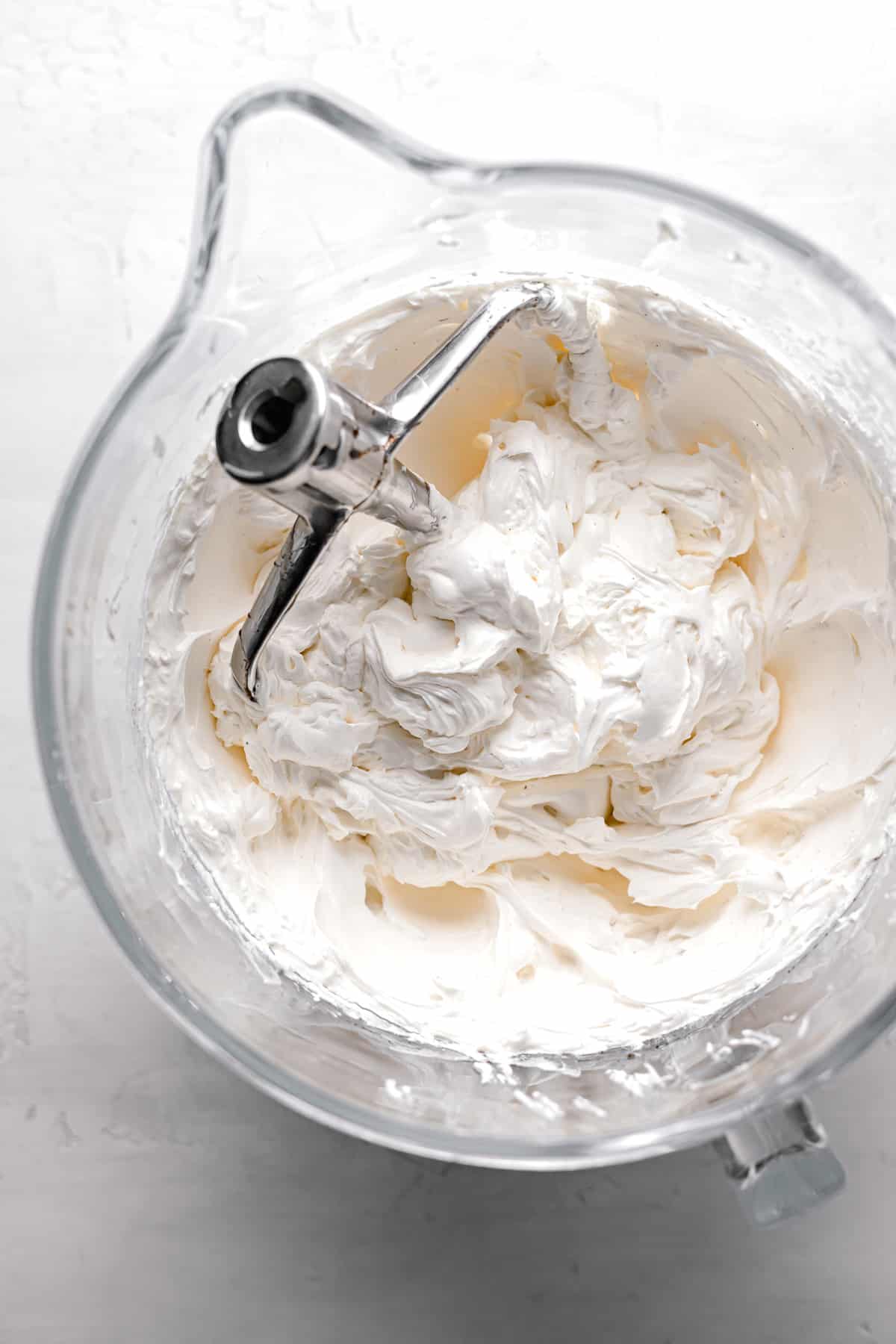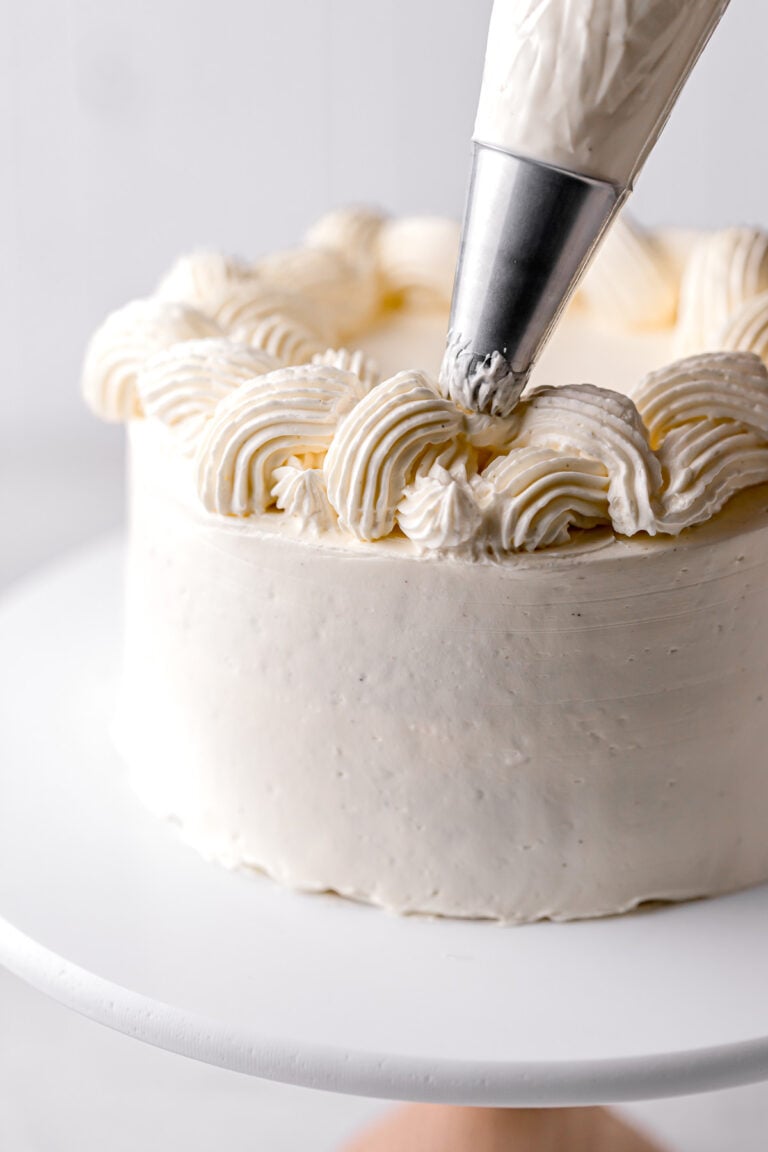 Scaling the recipe
If you would like to create a larger cake, such as a 3 layer 6-inch cake or 2 layer 9-inch cake, you can scale the recipe up. Simply multiply the gram measurements by 1.5. For example, this recipe calls for 180g of cake flour, so for a larger cake you will need 270g of cake flour.
Please Note: Scaling can work with volume measurements, however with the extremely precise gram measurements required, it can get very complicated. I recommend only scaling the gram measurements.
If you are looking for an even smaller recipe, try these small batch vanilla cupcakes! You could also bake this cupcake recipe as a 1 layer 6 inch cake if you would like.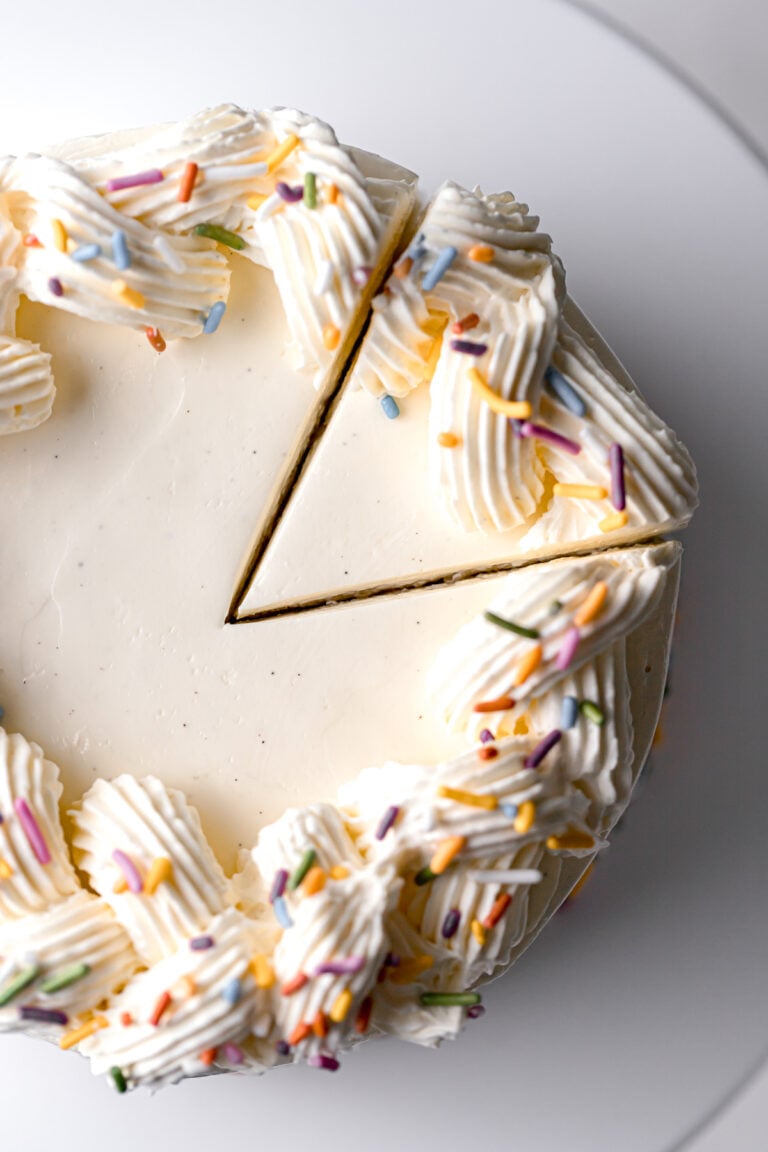 FAQ
What is the reverse creaming method?
The reverse creaming method is the process of beating room temperature butter into the dry ingredients. The fat coats the flour and inhibits the gluten from developing. With this method, the cake is sure to bake up flat without becoming too golden around the edges or on top. In contrast, the creaming method involves beating the sugar and butter together, which adds a lot of extra air into the batter. This is a great method for other bakes, but not with a white cake. With the reverse creaming method, the cake will bake up with an ultra fine, velvety crumb. 
How to bake flat cakes:
Cakes may dome in the middle when they bake because the outside bakes faster than the center, so the center has more time to rise. This is not ideal for layer cakes, because it is a pain to have to trim away the top of the cake. The reverse creaming method helps with baking perfectly flat cake layers. But the best way to ensure your cake layers bake up flat rather than doming is to use cake strips. Soak the cake strips in cold water before wrapping around the outside of the cake pans. This will ensure that the outside of the cake does not bake faster than the center.
Why is my swiss meringue buttercream runny?
You likely have added the butter to the meringue too soon. DO NOT add the butter to the swiss meringue until it has cooled down to below 85 degrees F. I have made the mistake of adding it too soon, and the meringue ended up melting the butter and turned the whole thing into a soupy mess. If your meringue has reached stiff peaks before it is cool enough, turn the mixer down to low speed and keep it there until it reaches the right temperature.  
How to store this cake:
Cover the cake and leave out at room temperature for up to 5 days. Yes, it stays moist for that long!!!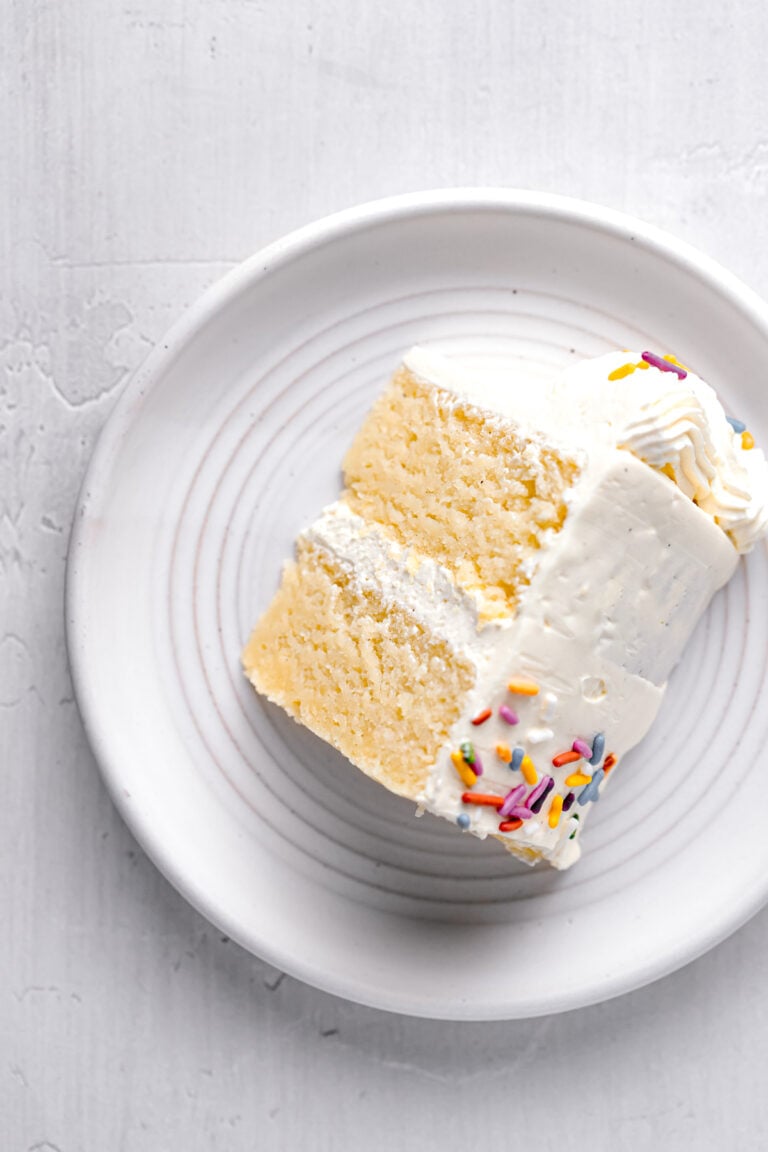 Other birthday recipes you'll love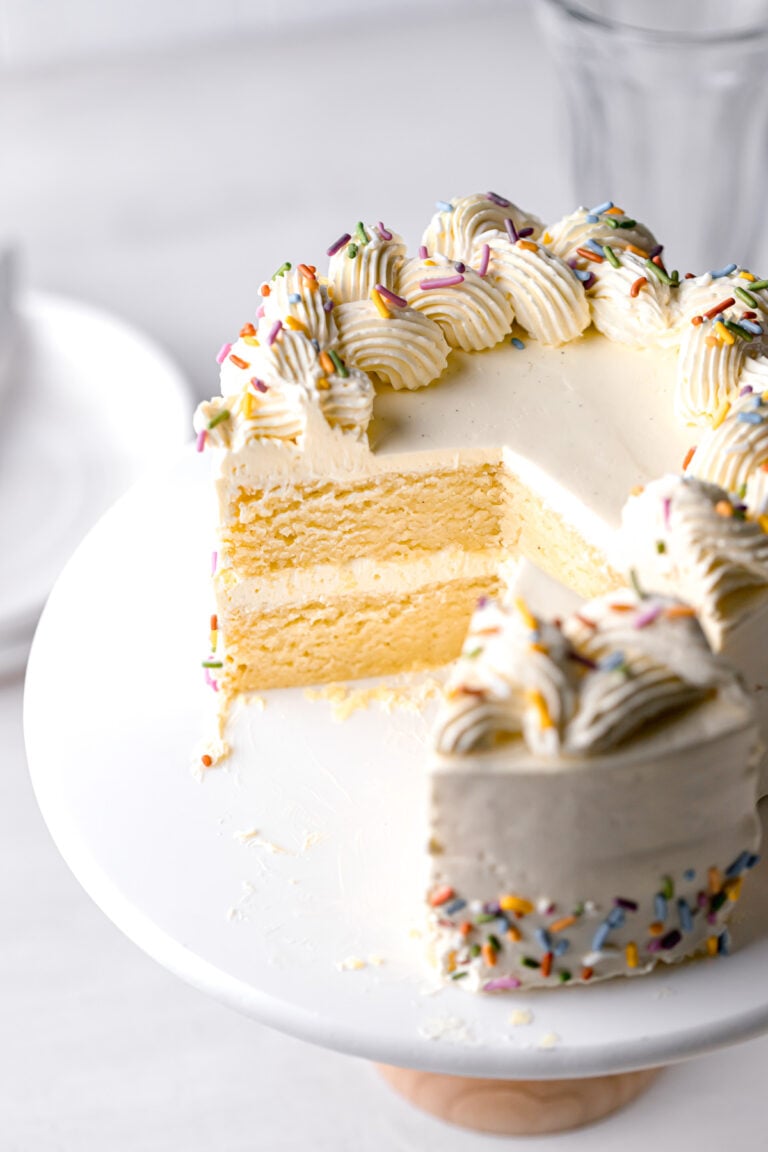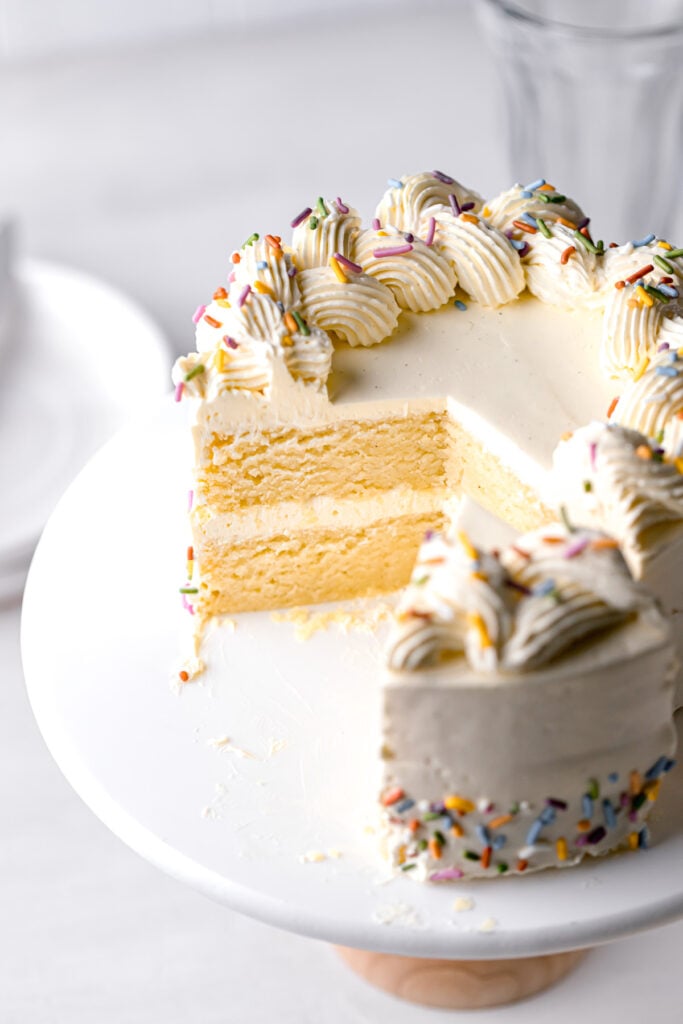 Baking in grams
All of the recipes on this blog are carefully developed to create incredibly delicious baked goods that you can easily recreate in your own kitchen with success. The only way this is possible is to standardize the way ingredients are measured - by weight. Volume measurements are extremely inaccurate and leave room for significant errors. Not all measuring cups are made equally, so your one cup of flour will be different from my one cup of flour. By providing precise measurements in grams (aside from minor ingredients, which are given in tsp/tbsp), I can ensure that you can make the recipe accurately and with less cleanup! All you need is this kitchen scale.
If this still isn't enough to convince you, I have provided volume measurements in the recipe card. If you are interested in understanding the conversions, this is the best conversion chart.
But trust me, once you try baking in grams you'll never turn back!
Happy baking! x
Print
📖 Recipe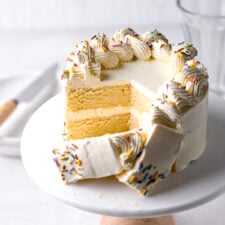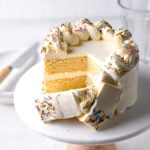 Small Vanilla Cake Recipe
Author:

Sloane

Prep Time:

1 hour

Cook Time:

30 minutes

Total Time:

1 hour 30 minutes

Yield:

two layer

6

inch cake

1

x

Category:

cake

Method:

baking

Cuisine:

American
---
Description
This small vanilla cake recipe bakes up incredibly soft, stays moist for dayyyys, and is perfect for any celebratory occasion!
---
For the small vanilla cake:
180g

(

1 ½ cups

) cake flour

168g

(

¾ cup

+

1 tbsp

+

1 tsp

) granulated sugar

2 tsp

baking powder

¼ tsp

salt

76g

(

5 ½ tbsp

) unsalted butter (room temp)

65g

(

⅓ cup

) oil*

113g

(

½ cup

) plain whole milk greek yogurt (room temp)

113g

(

½ cup

) whole milk (room temp)

1

egg

1 tsp

vanilla paste or extract
For the vanilla swiss meringue buttercream:
145g

(about 4) egg whites

300g

(

1 ½ cups

) granulated sugar

½ tsp

salt

340g

(

1 ½ cups

; 3 sticks) unsalted butter (room temp, but on the cooler side)

1 tsp

vanilla paste or extract
rainbow jimmy sprinkles for decorating
---
Instructions
For the small vanilla cake:
Preheat the oven to 350 degrees F (180 degrees C). Grease and line two 6 inch cake pans with parchment paper.
In the bowl of a stand mixer fitted with the paddle attachment, combine the flour, sugar, baking powder, and salt.
Cut up the butter into small cubes and add to the dry ingredients. Mix on low speed until it resembles wet sand.
Add the oil, yogurt, milk, egg, and vanilla, and mix until fully combined.
Divide the batter evenly between the prepared cake pans. (I recommend weighing the batter to be as precise as possible!)
Bake for 28-32 minutes or until a tooth pick inserted comes out clean.
Cool completely before frosting.
For the vanilla swiss meringue buttercream:
In a double boiler, heat the egg whites, sugar, and salt, whisking frequently until it reaches 160 degrees F (70 degrees C) or until the sugar is completely dissolved and the egg whites do not feel grainy.
Transfer the egg white mixture into a bowl of a stand mixer with a whisk attachment. Whisk on high speed until stiff peaks form. Turn the mixer down to low speed, and wait until the meringue cools down to at least 85 degrees F (30 degrees C).
Cut the butter into cubes and add to the meringue a few pieces at a time, allowing them to fully incorporate before adding more. Once all of the butter is added, it will likely look curdled, but keep beating for a few more minutes and it will come together.
Once the buttercream has mostly come together, change the whisk attachment to the paddle and keep mixing on low speed until homogenous and smooth.
Add the vanilla and mix until fully incorporated.
For assembly:
Secure the first layer of cake on the cake stand with a small amount of frosting on the bottom. Use a cookie or ice cream scoop to measure out the frosting for each layer. I used a 3 tablespoon cookie scoop and put 3 scoops of frosting on each layer.
Cover the whole cake in a thin layer of frosting for the crumb coat.
Place in the fridge for about 20 minutes, then frost the cake as desired.
Top with rainbow jimmy sprinkles and enjoy!
---
Notes
You can use any oil that has a neutral taste. My go-to is light tasting extra virgin olive oil, but you can also use vegetable or canola oil.
You can make the cake layers the night before and decorate it the next day. Just wait until the cakes are completely cool, then wrap tightly in plastic wrap and store at room temperature.
I recommend making the buttercream the day you are decorating the cake.
Cover the cake and leave out at room temperature for up to 5 days. Yes, it stays moist for that long!!!
Nutrition
Serving Size:

1 slice

Calories:

632

Sugar:

48.7 g

Sodium:

221.5 mg

Fat:

41.2 g

Carbohydrates:

63.8 g

Protein:

5.4 g

Cholesterol:

109.7 mg
Keywords: small vanilla cake recipe, swiss meringue buttercream, small birthday cake, mini birthday cake, 6 inch birthday cake, vanilla birthday cake