These cherry scones with a cherry vanilla glaze are perfect for Mother's Day brunch! Unlike most scones, these are not dry or crumbly whatsoever. Thanks to the combination of butter, greek yogurt, and heavy cream, the crumb is beautifully tender and moist. The top of the scones get their delicious crunch from a sprinkling of turbinado sugar and taste just like a muffin top! Finally, these scones are topped off with a generous drizzle of a cherry vanilla glaze. This recipe makes only four scones, but you can easily double the recipe for a larger group or just to stock up on your freezer stash!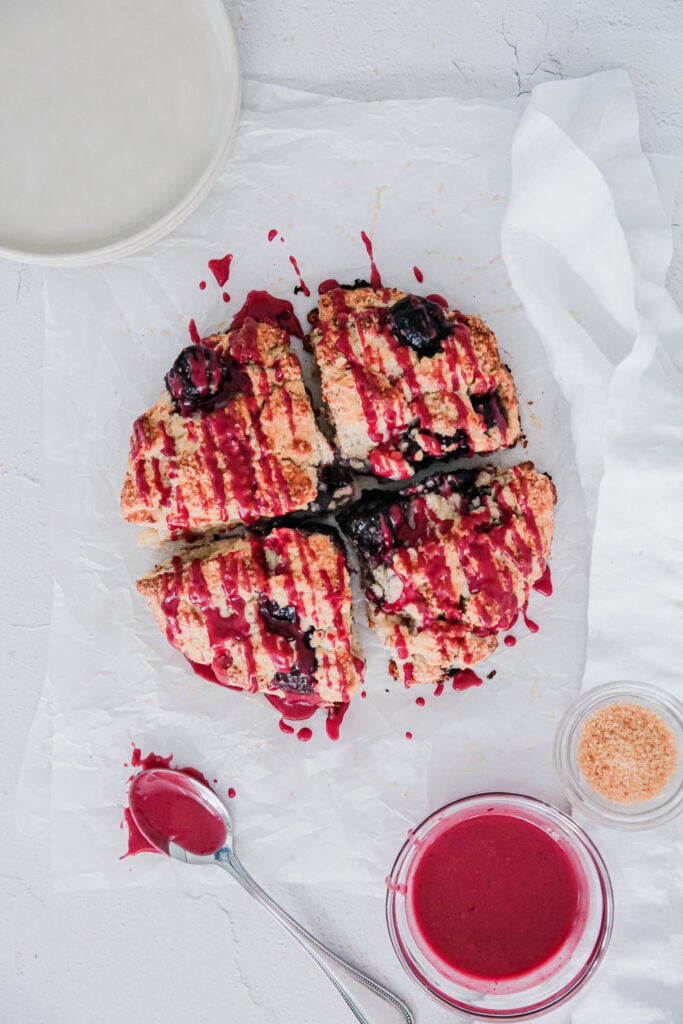 Ingredients you'll need to make these cherry scones:
All-Purpose Flour: Measure with the spoon and level method or by weight with a scale.
Granulated Sugar: You'll need 50g or about ¼ cup for this recipe.
Baking Powder: Make sure that your baking powder is fresh by testing it some water!
Unsalted Butter: Use cold butter cut up into cubes. 
Plain Greek Yogurt: Yogurt will give the scones moisture and a tender texture. No dry, crumbly scones here!
Heavy Cream: This recipe calls for 80g of heavy cream which is slightly more than ⅓ cup. Because it is so important add just the right amount of liquid without making the dough overly wet, I suggest using a kitchen scale. But if you do not have one, start with ⅓ cup and add an additional teaspoon until you get the right consistency of not too wet but will stick together.
Frozen Cherries: I used frozen cherries, because they are not quite in season yet, but when they are I would recommend fresh cherries!
Turbinado Sugar: I like to sprinkle some turbinado sugar on the scones before baking to give a slightly crunchy top, similar to a muffin top!
Powdered sugar: You'll need about ½ cup of powdered sugar for the glaze but you can always adjust this depending on how sweet you would like it to be.
Vanilla: This is an optional addition to the glaze, but it compliments the cherry flavor so well and creates the iconic flavor of cherry vanilla. 
A few tips for making these cherry scones:
Similar to biscuits, temperature is key when making these scones. Everything needs to maintain a cold temperature when being mixed together, which is why I prefer to use a stand mixer so I don't handle everything as much. 
You can use your hands to cut the butter into the dough and wooden spoon to mix everything else in, but you'll have to work quickly so the ingredients don't warm up too much!
Pop the scone dough into the freezer for about 5-10 minutes before baking too ensure that every thing is super cold and will bake up right. 
Happy baking! x
Cherry Scones with a Cherry Vanilla Glaze
These cherry scones with a cherry vanilla glaze are perfect for Mother's Day brunch!
Ingredients
For the Scones
180

g

all-purpose flour

,

1 ½ cups

50

g

granulated sugar

,

¼ cup

2

teaspoon

baking powder

½

teaspoon

salt

42

g

unsalted butter

,

cold, 3 tbsp

56

g

plain greek yogurt

,

¼ cup

80

g

heavy cream

,

about ⅓ cup

1

teaspoon

vanilla extract

100

g

frozen or fresh cherries

,

½ cup
For the Glaze
70

g

frozen or fresh cherries

,

⅓ cup

60

g

powdered sugar

,

½ cup

2

teaspoon

vanilla extract
Instructions
For the Scones
Preheat the oven 400 degrees F and line a baking sheet with parchment paper.

Combine the flour, sugar, baking powder, and salt together in a bowl of a stand mixer fitted with a paddle attachment.

Add in the cubes of cold butter and mix on low speed until the butter is pea-sized.

Then, add in the yogurt, heavy cream, and vanilla. Mix until just combined.

Fold in the cherries by hand, careful not to overmix.

Dump the dough out onto the prepared baking sheet and mold into a circle about 1'' in thickness. Chill in the freezer for about 5-10 minutes.

Cut the scones into four pieces and separate them slightly to give them room to expand. Brush the tops of the scones with heavy cream and sprinkle with turbinado sugar.

Bake the scones for 20-25 minutes or until the tops are golden brown and the center of the scones are baked all the way through.
For the Glaze
While the scones bake, make the glaze by mashing the cherries in a strainer over a bowl to squeeze as much juice out as you can.

Whisk in the powdered sugar and vanilla. Add a splash of cream if you would like to thin it out more.

Drizzle the glaze over the scones and enjoy!
Tried this recipe?
Tag @sloanes.table on Instagram and write a star review below!