These caramel swirled brown butter chocolate chunk blondies are a little over the top but that's what makes them so so good! Brown butter and a touch of rye flour give these blondies depth of flavor, while the homemade caramel and chocolate chunks make them rich and decadent. But what makes them different from cookie bars? Well, nothing. Blondies are the opposite of brownies, but are essentially cookie bars. No matter what you call them, they're still insanely good.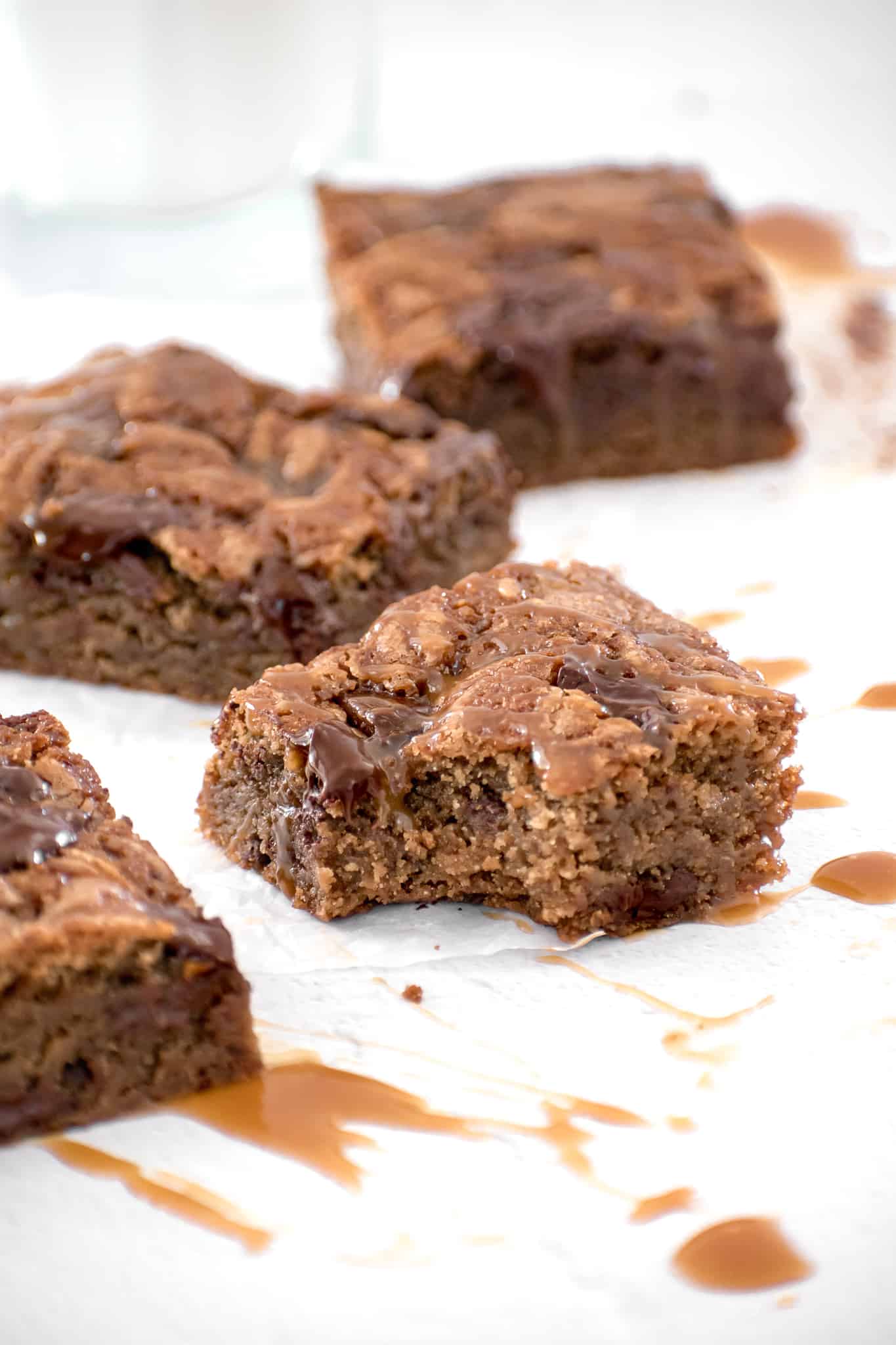 Ingredients you'll need to make these blondies:
All-Purpose Flour: It is easy to over-measure flour, so I recommend measuring by weight!
Rye Flour: If you do not want to use rye flour, simply substitute it for an equal amount of all-purpose flour.
Baking Powder: Make sure your baking powder is fresh by testing a little in water.
Salt: A little bit of salt helps to round out the sweetness.
Unsalted Butter: The butter is browned in this recipe, which gives the blondies an amazing flavor!
Light Brown Sugar: This is also easy to over-measure, so it's best to go by weight!
Eggs: Bring your eggs to room temp quickly by placing them in a bowl of warm water.
Vanilla Extract: Can't make a good recipe without some quality vanilla!
Semi-Sweet Chocolate: Chop up some baking chocolate bars to get lots of pools of warm chocolate throughout the blondies!
Caramel: You can make my homemade recipe written below, or use store-bought caramel sauce, or omit it all together!
Ingredients you'll need to make the caramel sauce:
Granulated Sugar: You'll need about a half cup of granulated sugar.
Salt: If you want a salted caramel sauce, use flaky sea salt and increase the amount to ½ tsp.
Cream of Tartar: This keeps the sugar from crystalizing as it caramels.
Unsalted Butter: Make sure your butter is at room temperature so it mixes in smoothly.
Heavy Cream: Warm your heavy cream up slightly in the microwave or on the stove. If it is too cold, the caramel will seize up.
Vanilla Extract: Always more vanilla.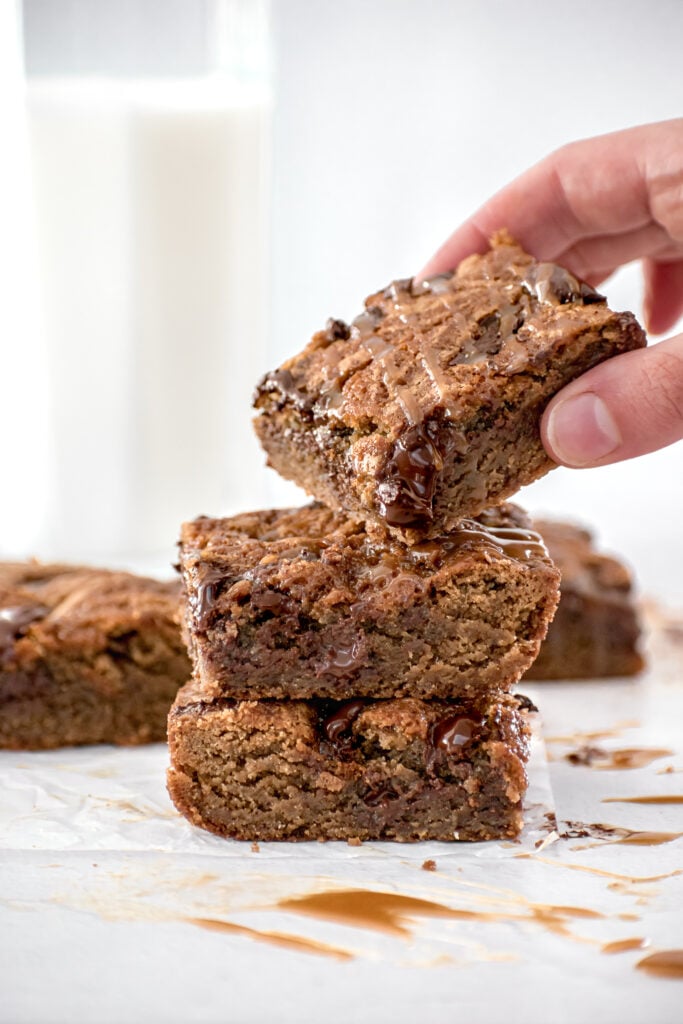 A few tips to make these blondies:
Make the caramel first to allow it to cool before making the blondies.
The caramel recipe yields about 1 cup, but you'll only need about a tablespoon or so to swirl into the dough. The caramel will last for a couple of weeks in the fridge, so it can be used for other recipes!
If you do not want to use rye flour, simply substitute it for an equal amount of all-purpose flour.
Do not over-mix the batter! Over-mixing leads to tough, hard-to-chew blondies.
Happy baking! x
Caramel Swirled Brown Butter Chocolate Chunk Blondies
Ingredients
For the Blondies:
180

g

all-purpose flour

50

g

rye flour

1

teaspoon

baking powder

½

teaspoon

salt

170

g

unsalted butter

,

browned

308

g

light brown sugar

2

eggs

,

room temp

2

teaspoon

vanilla extract

4

oz

semi-sweet chocolate

,

roughly chopped

caramel for swirling
For the Caramel:
100

g

granulated sugar

¼

teaspoon

salt

⅛

teaspoon

cream of tartar

15

g

water

42

g

unsalted butter

,

room temp

57

g

heavy cream

,

lukewarm

1

teaspoon

vanilla extract
Instructions
For the Caramel:
In a medium-sized pot, combine the sugar, salt, cream of tartar, and water. Cook over medium-high heat, swirling (not stirring) the pan often so the sugar melts evenly. Once it comes to a boil, reduce the heat to medium. When the color turns a medium amber, remove from heat and add butter one cube at a time, swirling with each addition. Then, pour in the heavy cream and vanilla and stir until completely smooth. 

Allow the caramel to cool for a few minutes before transferring to a glass jar. Place in the fridge until ready to use. 
For the Blondies:
Preheat the oven to 350 degrees F. Grease a 9x9 inch square pan and line with parchment paper. 

Start by making the brown butter. Heat the butter over medium heat in a sauce pan for several minutes, swirling to even out the color. The butter will be ready once the fat solids have separated and darkened, and the butter is an even medium amber color. Transfer to a bowl and allow to cool as you prepare the other ingredients.  

In a medium bowl, whisk together the flours, baking powder, and salt. Set aside.

In a separate bowl, mix together the brown sugar and brown butter until fully combined. Then, mix in the eggs and vanilla. 

Fold the dry ingredients into the wet until just combined. Then, fold in the chocolate chunks. 

Press the dough into the prepared pan, smoothing it out to make as even as possible.

Drizzle a small amount of caramel on top of the blondie dough and use a tooth pick to swirl it. 

Bake the blondies for 30-35 minutes. Allow to cool completely before cutting. 
Tried this recipe?
Tag @sloanes.table on Instagram and write a star review below!