These festive gingerbread blondies are full of rich molasses, warm spices, and lots of love❤️ They're perfecting for baking with family, gifting to friends, and leaving out for Santa!
Jump to:
One of the best things about these gingerbread blondies is that they're a one-bowl wonder!! The entire recipe can be made in one bowl, so they're quick to make and require less clean-up! What more could you ask for during the chaotic holidays?! On top of the ease & simplicity of this recipe, these bars are seriously delicious. They're chewy, molasses-y, and full of alllll the warm spices! As one of my most requested festive bakes, these will for sure be made on repeat all holiday season 🙂
Ingredients
Butter: You'll need 170g or 1 ½ sticks of unsalted butter. Be sure to bring it to room temperature so it will cream properly with the brown sugar!
Brown Sugar: For a more rich molasses flavor, use dark brown sugar, but you can also use light brown sugar.
Molasses: You'll need 80g, or a scant ¼ cup, of unsulphured molasses.
Eggs: You'll need one egg + one egg yolk to achieve that classic chewy blondie texture.
All-Purpose Flour: You'll need a little more than two cups of flour.
Baking Soda: You'll need ½ teaspoon of baking soda.
Spices: I used a combination of cinnamon, ginger, cloves, nutmeg, and allspice. I find that the combination of spices is your opportunity to make the dessert your own! Use whatever combination of spices you would like, but keep in mind cinnamon, ginger, & cloves are essential to bringing out that classic gingerbread flavor!
White Chocolate: To make these blondies a little extra special, drizzle some melted white chocolate on top!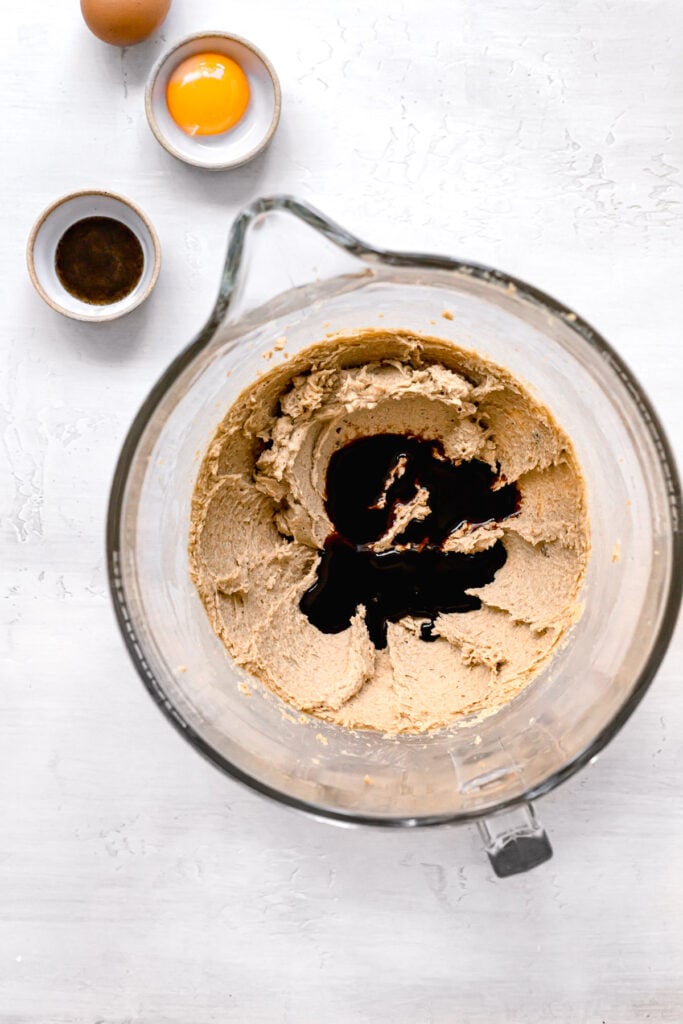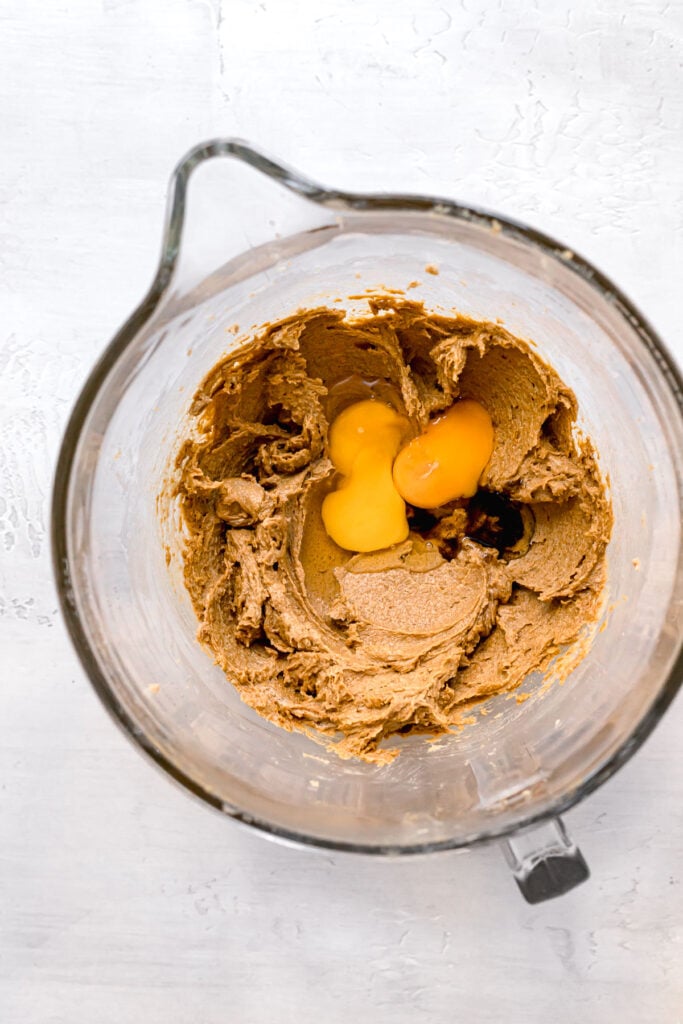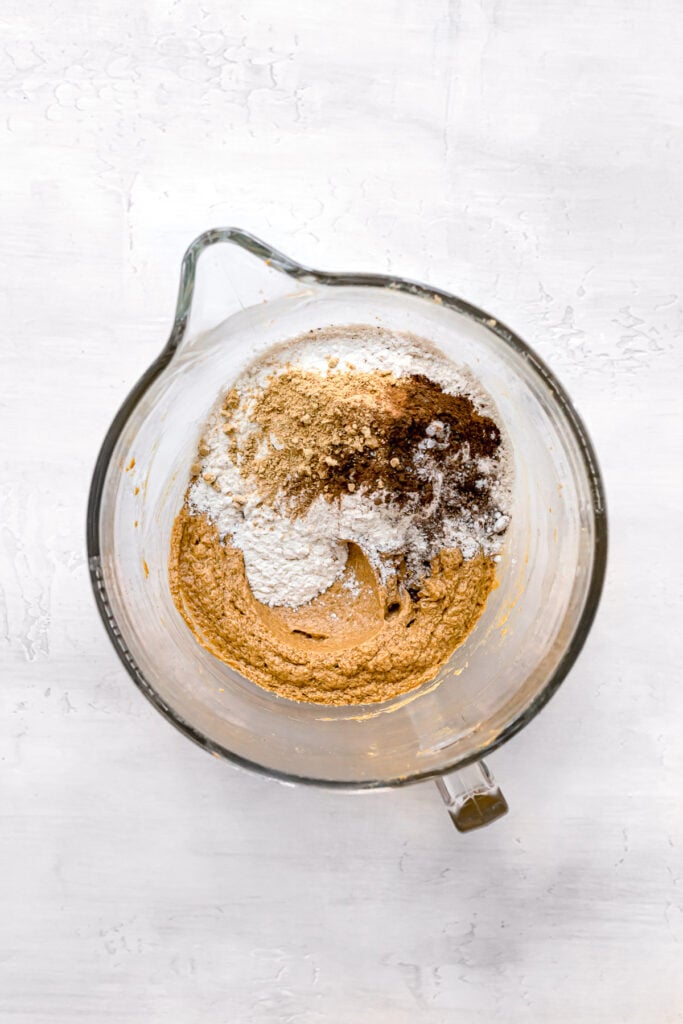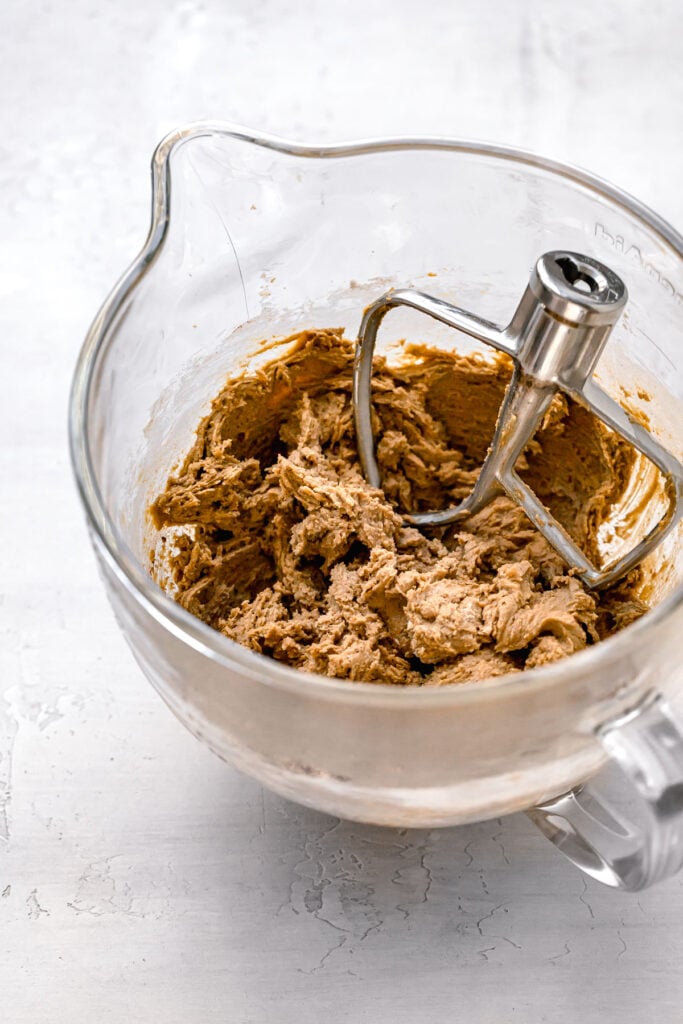 FAQ
Can this recipe be doubled?
Yes! Simply double the quantity of each ingredient and follow the directions as written, but bake the blondies in a 9x13 pan.
Why are my blondies dry?
Similar to any cookie or bar recipe that has few ingredients, the dry to wet ratio has a very small margin of error. If you add too much flour, over-mix, or over-bake these blondies, they will likely turn out dry. That's why it is SO important to weigh your ingredients (at the very least the flour) rather than using volume measuring cups. When baking, be sure to check them very frequently! It also never hurts to err on the side of slightly under-baked!
Kitchen equipment:
- Electric mixer: A stand mixer or a hand-held electric mixer is needed to properly cream the butter and sugar together.
- Parchment paper: To avoid the blondies sticking to the pan (and for easy removal!) layer two pieces of parchment paper crosswise.
- 9"x9" pan: My favorite square pan is made by USA Pan! I always recommend using a metal pan with sharp corners for the best overall outcome and appearance.
- Kitchen scale: You'll need a kitchen scale to weigh all of your ingredients (read why below)!
Can these blondies be frozen?
Yes! Wrap each individual blondie in plastic wrap, then place them all in a ziplock freezer bag. They will last in the freezer for about 3 months.
Other holiday recipes you'll love
How to accurately measure ingredients for baking
All of the recipes on this blog are carefully developed to create incredibly delicious baked goods that you can easily recreate in your own kitchen with success. The only way this is possible is to standardize the way ingredients are measured - by weight. Volume measurements are extremely inaccurate and leave room for significant errors. Not all measuring cups are made equally, so your one cup of flour will be different from my one cup of flour. By providing precise measurements in grams (aside from minor ingredients, which are given in tsp/tbsp), I can ensure that you can make the recipe accurately and with less cleanup! All you need is this kitchen scale. 
If this still isn't enough to convince you, I have provided volume measurements in the recipe card. If you are interested in understanding the conversions, this is the best conversion chart.
But trust me, once you try baking in grams you'll never turn back!
Happy baking! x
Gingerbread Blondies
These festive gingerbread blondies are full of rich molasses, warm spices, and lots of love
❤️ 
They're perfecting for baking with family, gifting to friends, and leaving out for Santa!
Ingredients
170

g

¾ cup; 1 ½ sticks unsalted butter (room temp)

213

g

1 cup dark brown sugar

80

g

¼ cup unsulphured molasses

1

egg

,

room temp

1

egg yolk

,

room temp

1

teaspoon

vanilla paste or extract

270

g

2 ¼cup all-purpose flour

½

teaspoon

baking soda

2

teaspoon

cinnamon

2

teaspoon

ginger

½

teaspoon

cloves

¼

teaspoon

nutmeg

¼

teaspoon

allspice

¼

teaspoon

salt

85

g

½ cup white chocolate for drizzling (optional)
Instructions
Preheat the oven to 350 degrees F (180 degrees C) and line a 9x9 pan with parchment paper.

In the bowl of a stand mixer fitted with the paddle attachment, beat the butter and sugar together for 2-3 minutes until light and fluffy.

Mix in the molasses until fully combined.

Then, beat in the egg, egg yolk, and vanilla.

Add in the flour, baking soda, spices, and salt. Stir the dry ingredients a little on top of the wet ingredients just to make sure the baking soda doesn't stay in one clump.

Mix everything on low speed until just combined. Do not over-mix!

Transfer the batter to the prepared pan and spread into an even layer.

Bake the blondies for 20-25 minutes until set and golden.

Remove the blondies from the pan and place on a wire rack to cool completely.

If desired, melt the white chocolate in the microwave in 20 second intervals and drizzle over the blondies.

Cut into 16 squares and enjoy!
Notes
Store these blondies in air-tight container at room temperature for 2-3 days or freeze them for up to 3 months.
Tried this recipe?
Tag @sloanes.table on Instagram and write a star review below!