Tender, flaky, buttery biscuits warm from the oven...exactly what you need on a Saturday morning! These small batch buttermilk biscuits make exactly five biscuits. And once you taste the fluffy, buttery interior, you'll be glad that you don't have a ton of these staring at you on your kitchen counter. I love that these biscuits can be enjoyed in so many different ways - from breakfast to dinner, topped with sweet jam, sandwiched with eggs and bacon, or dipped in warm soup. They truly make the perfect addition to any meal!
One of the first things I made while working in pastry at a restaurant near Dartmouth was a big batch of buttermilk biscuits. They looked so perfect as they went into the oven, but they came out very dense and a little flat. I was so disappointed, because I thought I followed the recipe so carefully and used all of the techniques that the pastry chef taught me. Apparently, I forgot the baking powder... After that batch I NEVER forgot the baking powder again. Learn from my mistake - DO NOT FORGET THE BAKING POWDER.
After a couple months of making batches and batches of biscuits, I got them down pretty well. So in this recipe, I'm sharing all of the bakery-style buttermilk biscuit secrets! But instead of leaving you with 50 biscuits per batch, you'll get exactly five. Perfect for a family a five, like mine, but you can also double the recipe if your family is bigger!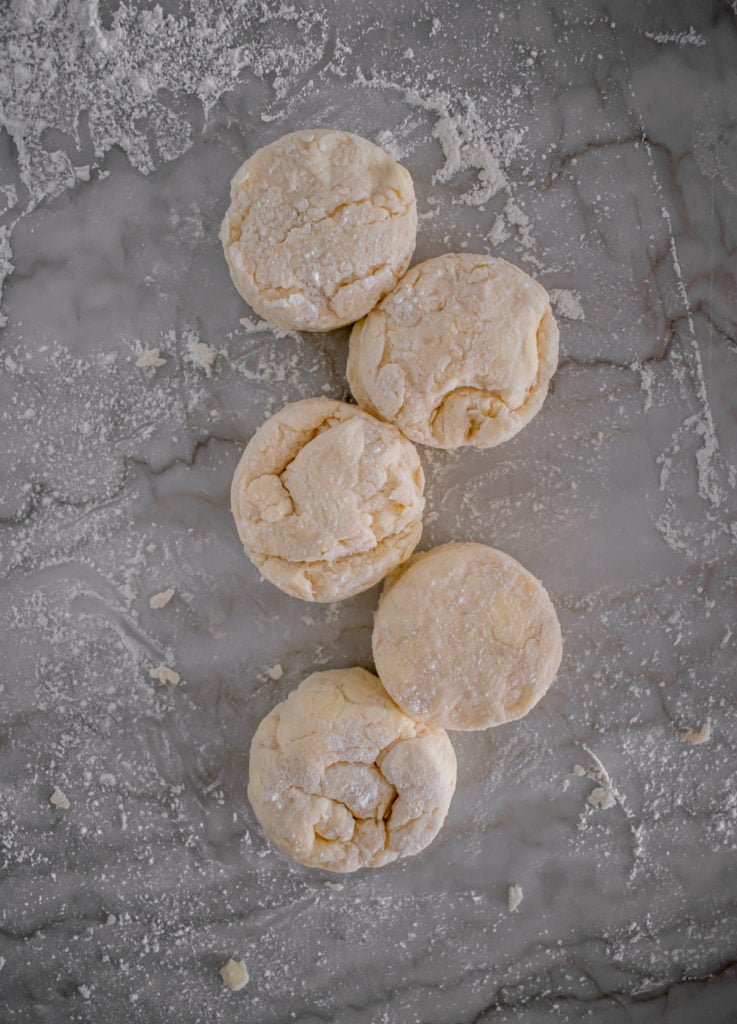 Ingredients you'll need to make these buttermilk biscuits:
All-Purpose Flour: You'll need exactly 170g of flour, which is slightly less than 1 ½ cups. To make sure your dough has the right consistency, measure the flour by weight! If you do not have a scale, you can get an inexpensive one on Amazon. I bought mine for about $10 and now I never make a recipe without it!
Granulated Sugar: You only need a tiny amount of sugar to add a little bit of sweetness and flavor. 
Baking Powder: This leavening gives these biscuits a beautiful rise and their signature fluffiness.
Unsalted Butter: Use COLD butter! The small chunks of cold butter throughout the dough will create steam and pockets of air when baked in the oven. This allows the biscuits to rise and develop beautiful flaky layers. 
Buttermilk: Use COLD buttermilk! Everything should be cold throughout the entire process to ensure that the butter stays cold. Buttermilk also adds flavor and a tender texture to the biscuits. 
A few tips to make these buttermilk biscuits:
Temperature is key! Only use very cold butter and buttermilk.
You can mix the dough together with your hands, but an electric mixer will ensure that everything stays cold. 
Do not over mix the dough! Beat the butter cubes in until they are nearly pea-sized. Mix the buttermilk in until it is just combined. 
Pop the cut out dough into the freezer for about 20 minutes before baking to ensure that they hold their shape and bake up tall!
Happy Baking! x
Print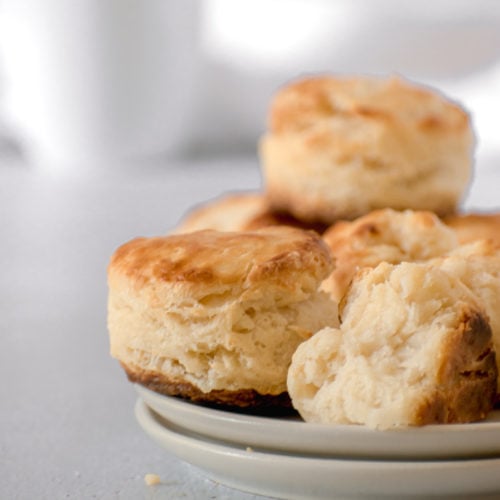 Small Batch Buttermilk Biscuits
Prep Time:

30 minutes

Cook Time:

20 minutes

Total Time:

50 minutes

Yield:

5

Biscuits

1

x
---
Description
Tender, flaky, buttery biscuits warm from the oven…exactly what you need on a Saturday morning! These small batch buttermilk biscuits make exactly five biscuits!
---
170g

all-purpose flour

1 ½ tsp

granulated sugar

1 ½ tsp

baking powder

½ tsp

salt

84g

unsalted butter (cold)

124g

buttermilk (cold, plus more for brushing)
---
Instructions
In a bowl of a stand mixer fitted with a paddle attachment, combine the flour, sugar, baking powder, and salt.
Cut the cold butter into small cubes and add to the flour mixture. Beat on low-medium speed until the butter is nearly pea-sized. It's okay to have a few bigger chunks.
Then, pour in the buttermilk and mix until just combined.
Transfer the dough to a lightly floured surface and pat into a rough rectangle. Fold the dough over onto itself and gently roll out to about ½'' tall. Repeat this one more time.
Cut the dough into five equal pieces or use a 2 ½'' round biscuit cutter and place on a parchment paper lined baking sheet. Freeze the biscuits for about 20 minutes.
Near the end of the freeze time, preheat the oven to 425 degrees F. Brush the tops of the bicuits with buttermilk and bake for 18-20 minutes until they are golden brown.
---