These gluten free brownie ice cream sandwiches are made with a decadent homemade gluten free brownies and neapolitan ice cream - perfect for summer!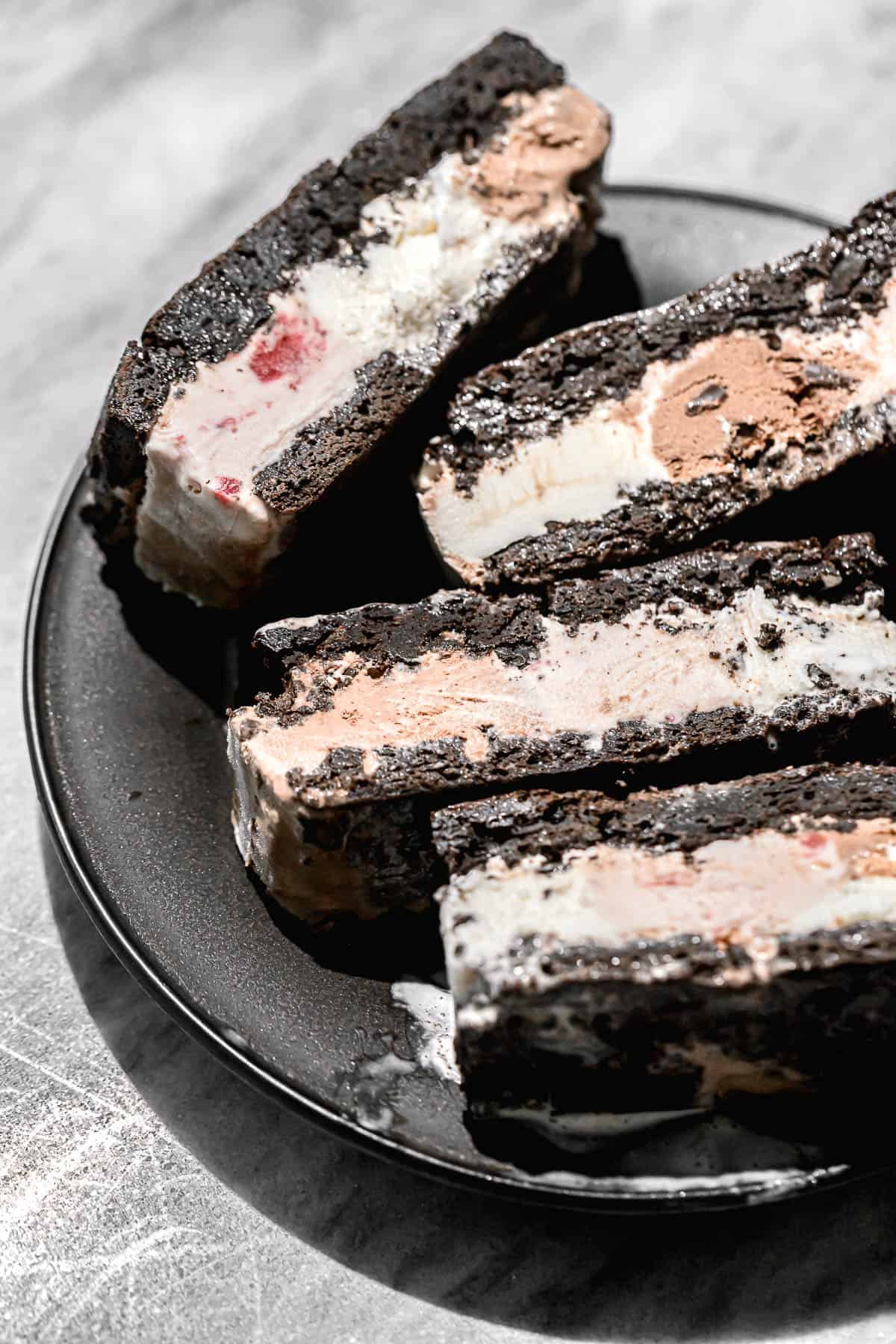 Jump to:
These gluten free ice cream sandwiches are made with my go-to brownie recipe with gluten free 1:1 flour and store-bought vanilla, chocolate, and strawberry ice cream. They're such an easy and fun summer dessert! Make the brownies ahead of time, cut them half, and sandwich them together with your favorite ice cream. You really can't go wrong with these. I mean nothing beats brownies and ice cream!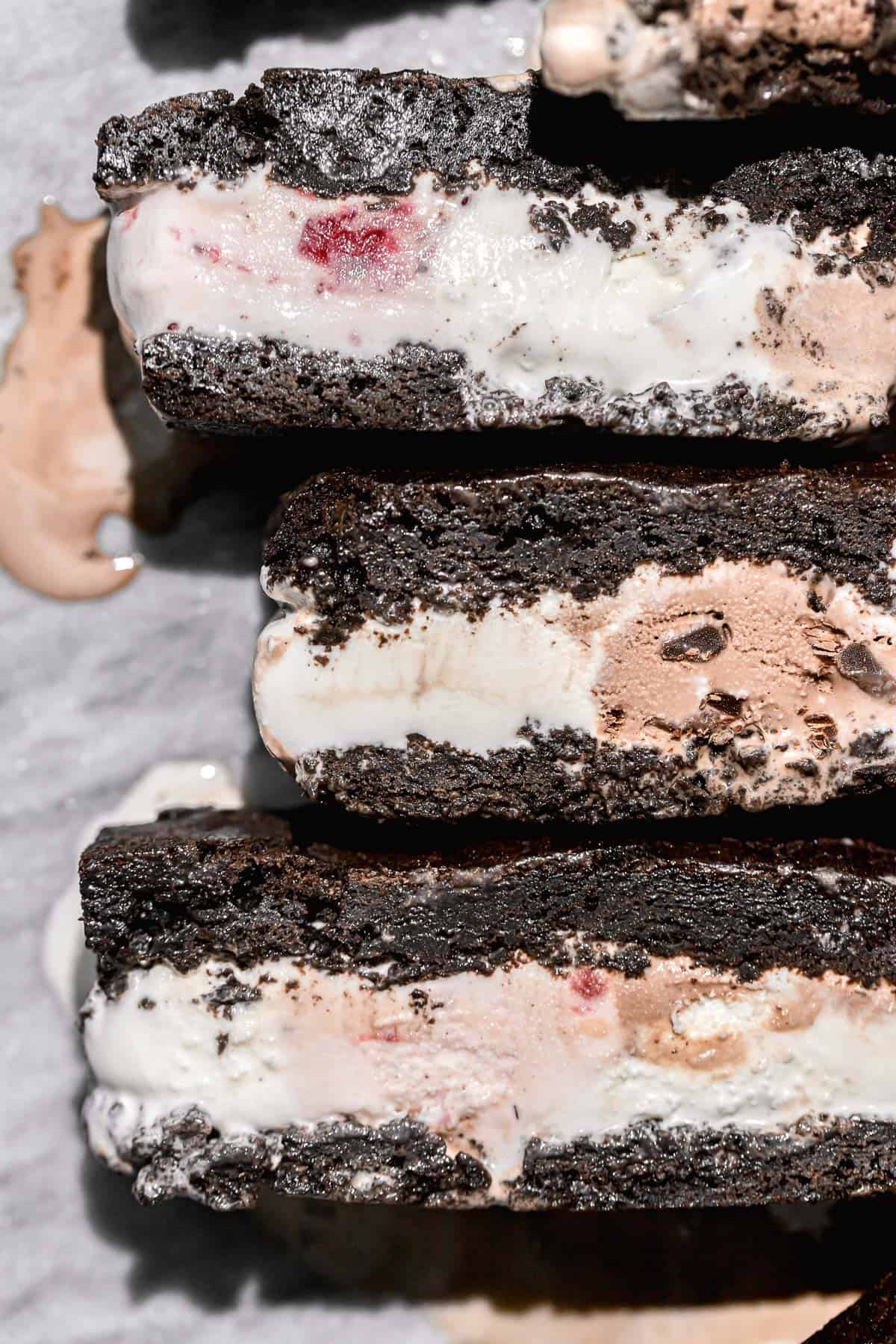 Ingredients
Gluten Free Flour: I recommend using King Arthur's 1:1 gluten free flour.
Cocoa Powder: I prefer to use dutch-process cocoa powder for a richer chocolate flavor.
Eggs: You'll need three eggs at room temperature. Eggs significantly affect the texture of brownies and determine whether they bake up cakey or fudgy. I settled for one less egg than I typically would use in a brownie recipe in order to ensure they baked up ultra fudgy and chewy!
Vanilla: Every good brownie recipe needs high quality vanilla. My favorite brands are Rodelle and Heilala.
Brown Sugar: I opted for dark brown sugar in this recipe because the extra molasses content that adds more depth of flavor, but you can use light brown sugar.
Granulated Sugar: You'll need about 1 cup of granulated sugar for the brownies.
Chocolate: You'll need some chocolate to melt and add to the batter. I recommend using semi-sweet or bittersweet from Guittard, Scharffen Berger, or Ghirardelli.
Unsalted Butter: You'll need about 1 ½ sticks or ¾ cup of butter. No need to bring it to room temperature because it will melted with the chocolate and sugars.
Ice Cream: You'll need about 3 pints of ice cream. Use your favorite flavor or go for neapolitan style!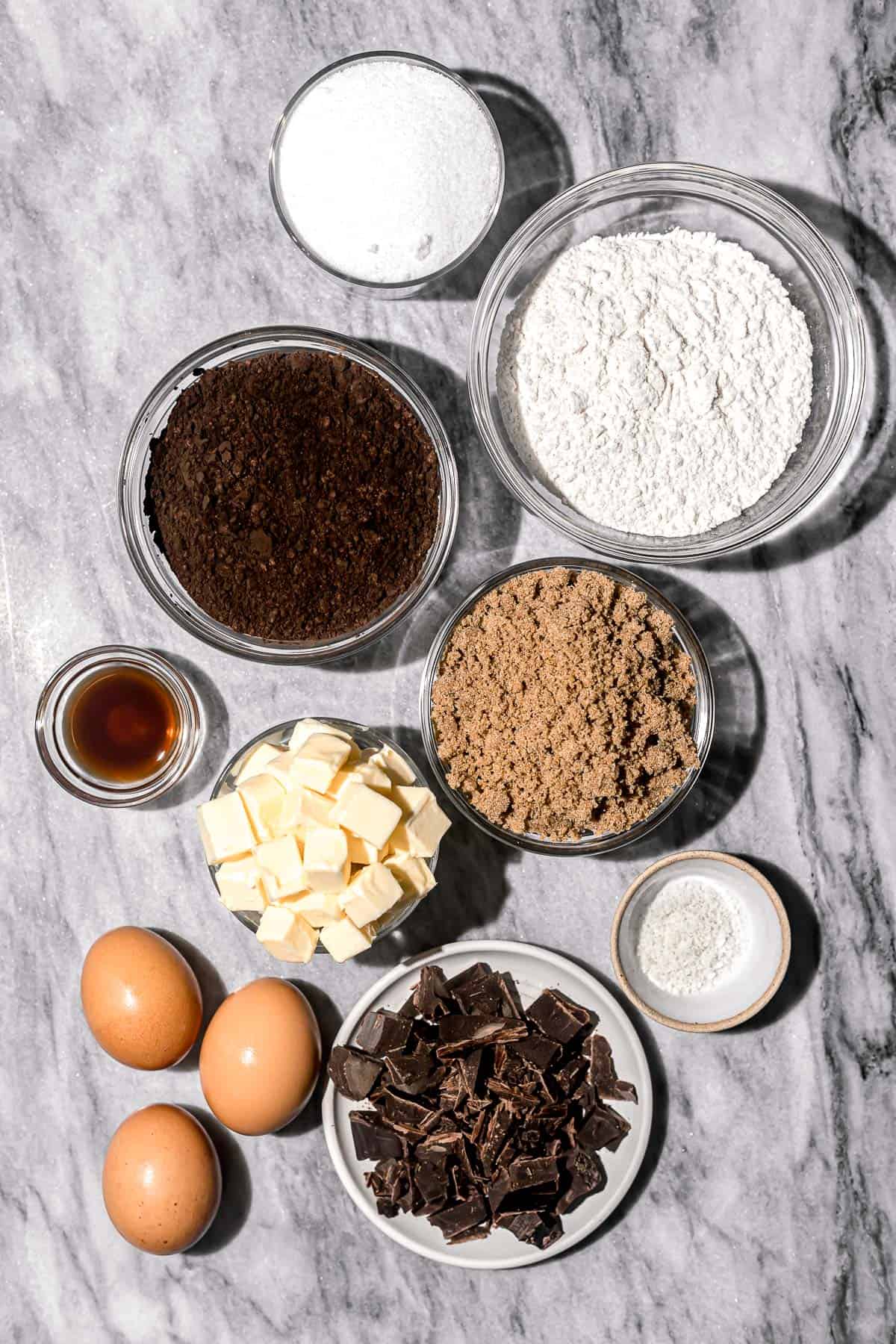 Instructions
These are simple one-bowl recipe and bake up in about 30 minutes. Give them some time to cool (or pop in them in fridge) before cutting in half. These brownies are super fudgy so it can get a little messy, but that's half the fun 🙂 Once you sandwich them with ice cream, be sure place them in the freezer for at least two hours before cutting.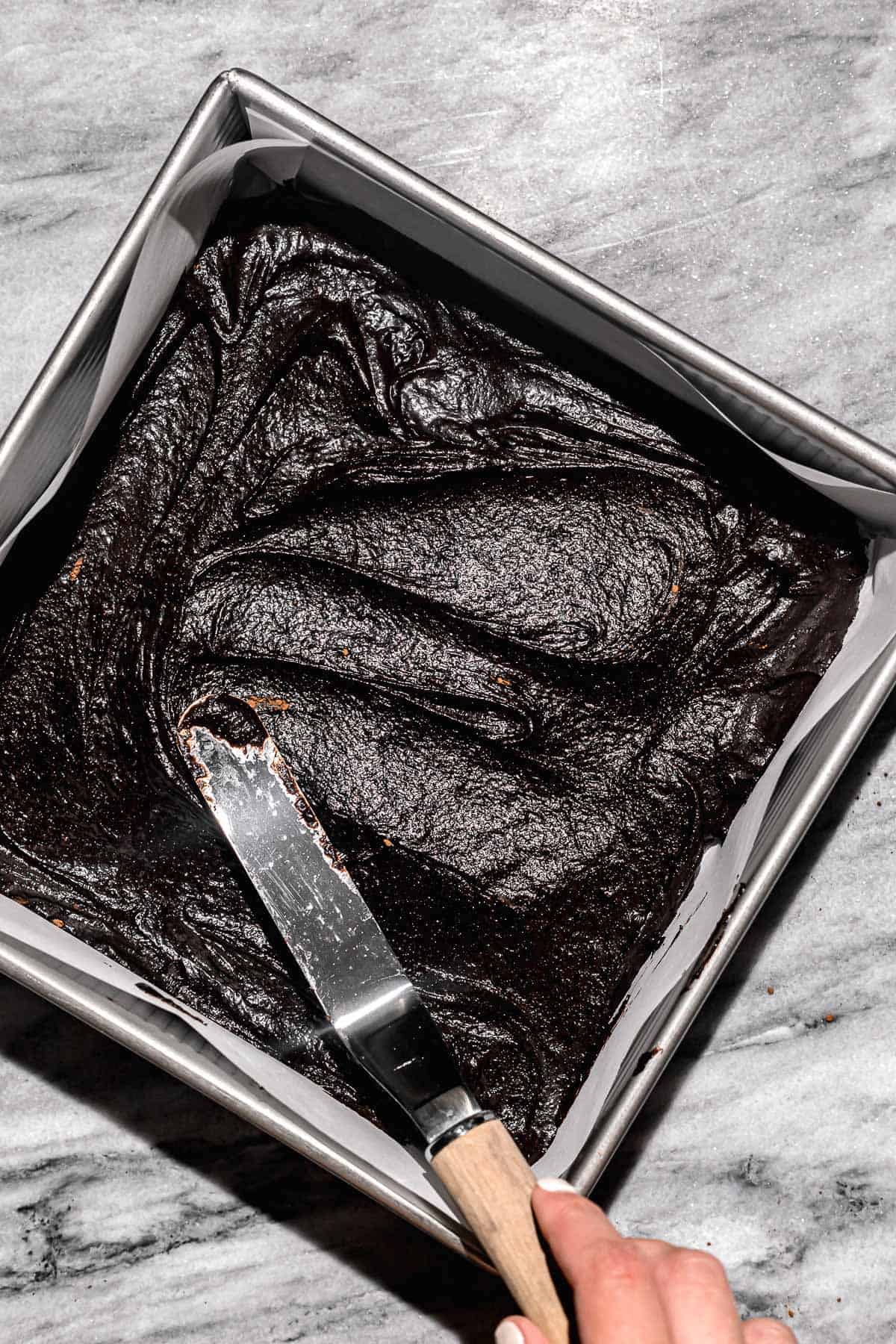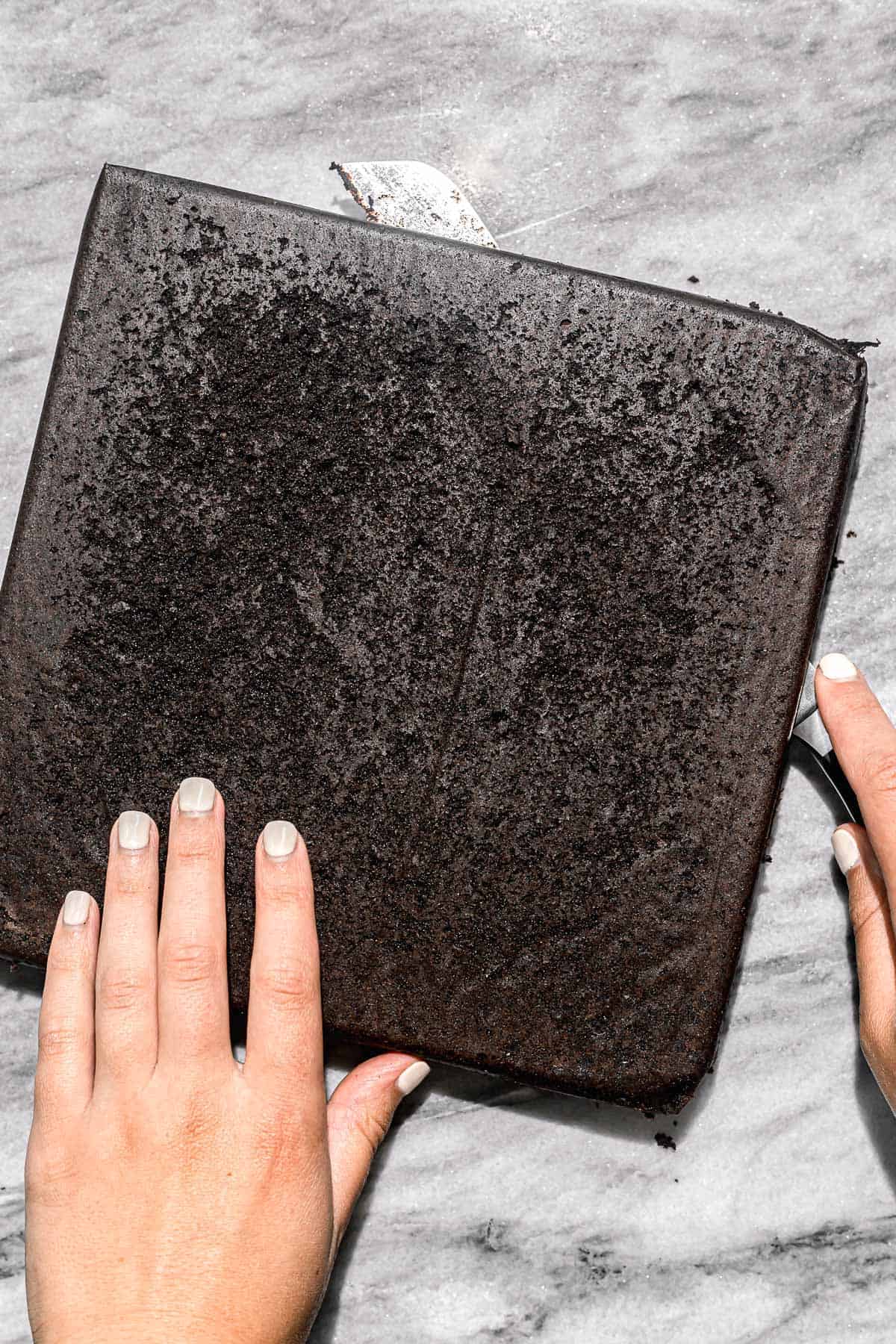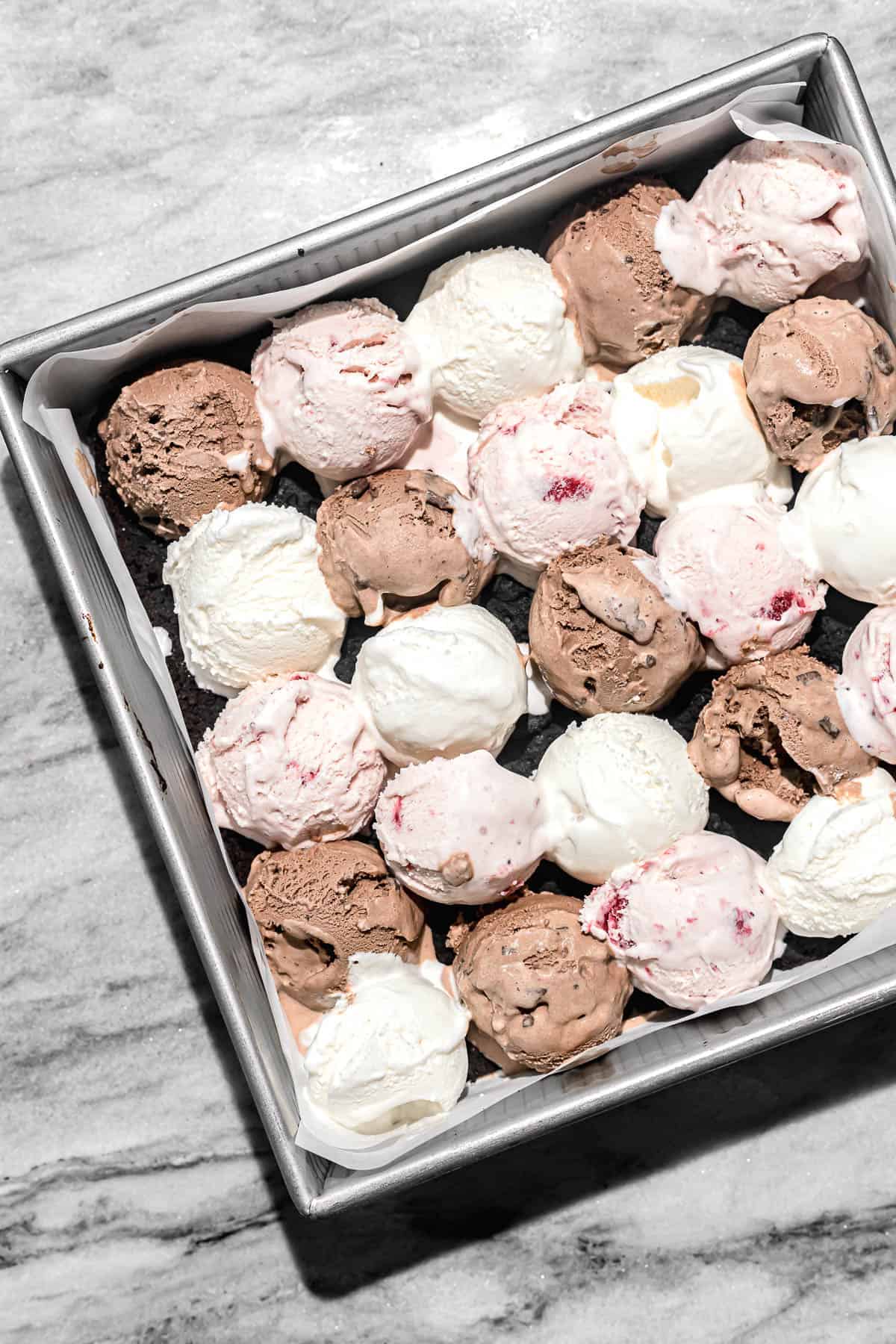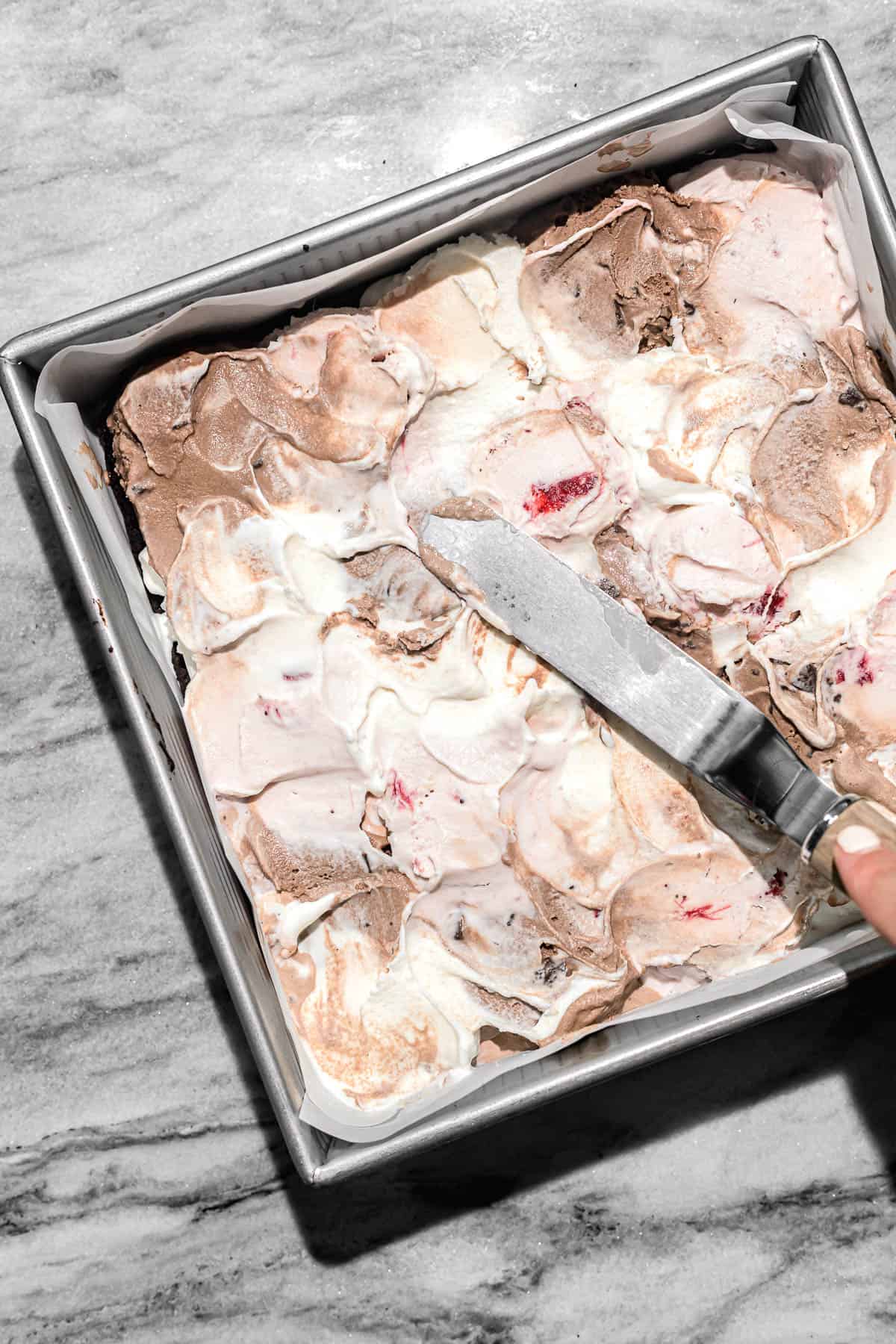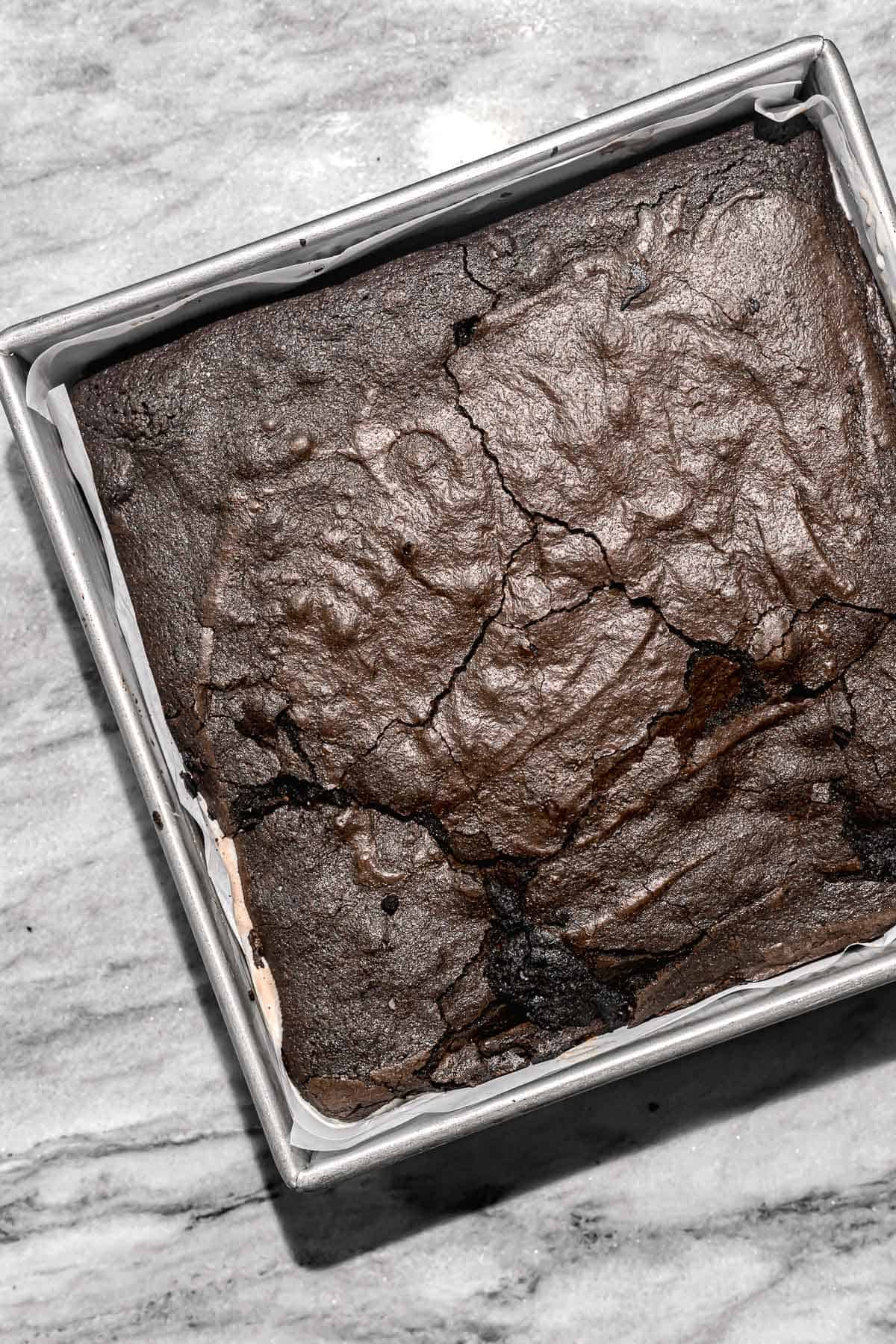 FAQ
How to make fudgy brownies:
The secret ingredient for the ultimate fudgy brownies is melted chocolate! Adding both cocoa powder and melted chocolate ensures that your homemade brownies bake up ultra chocolatey and fudgy.
What is the best type of cocoa powder for making brownies?
The best cocoa powder for making brownies is dutch process cocoa powder! Since dutch process is alkalized, it is neutral rather than acidic, and is far richer in flavor than regular cocoa powder.
Kitchen equipment:
- Parchment paper: Line your 9x9 pan with parchment paper to ensure the brownies do not stick and for easy removal!
- Kitchen scale: You'll need a kitchen scale to weigh all of your ingredients (read why below)!
How to store these brownie ice cream sandwiches:
Store these ice cream sandwiches in an airtight container in the freezer for about 2 weeks.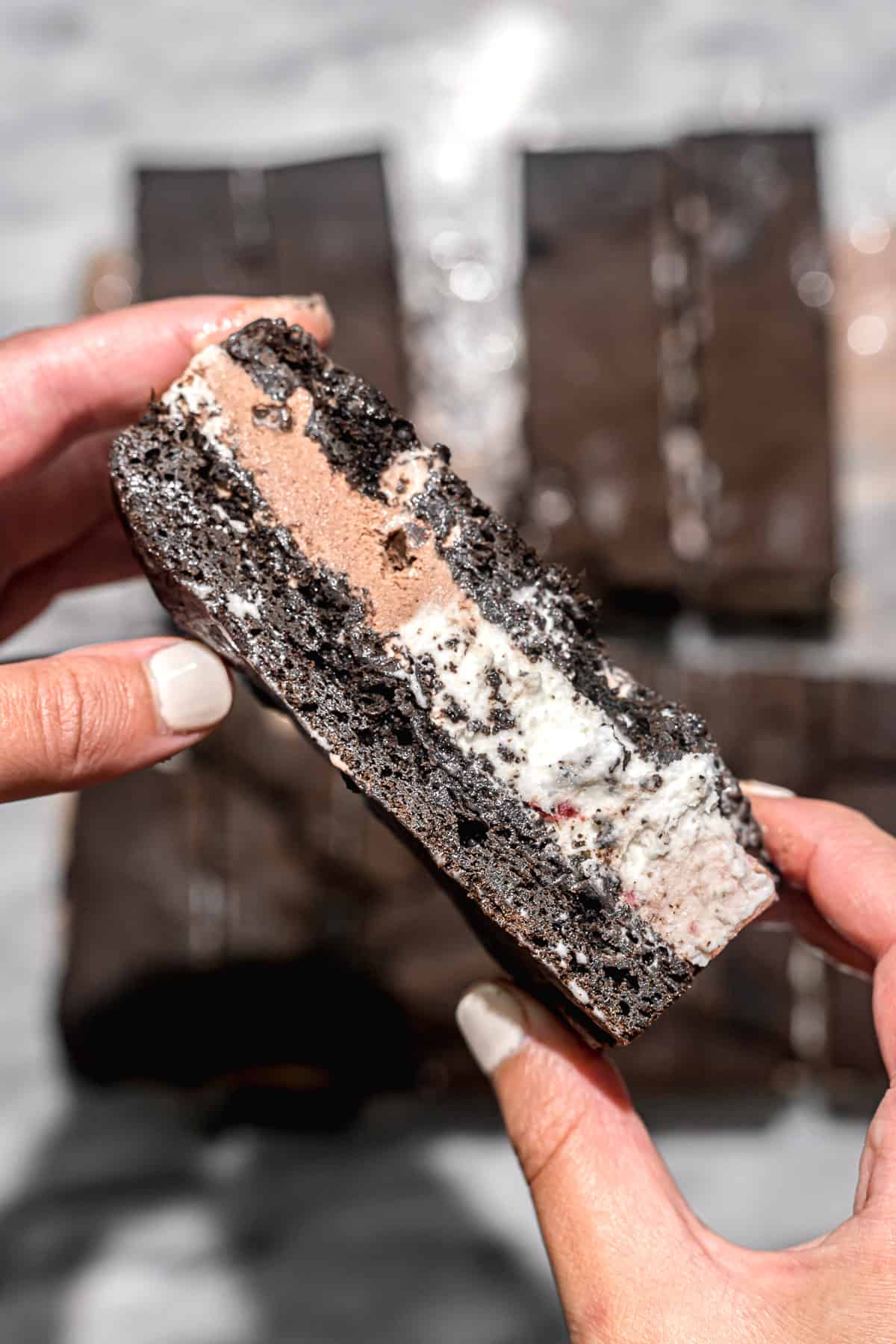 Other summer recipes you'll love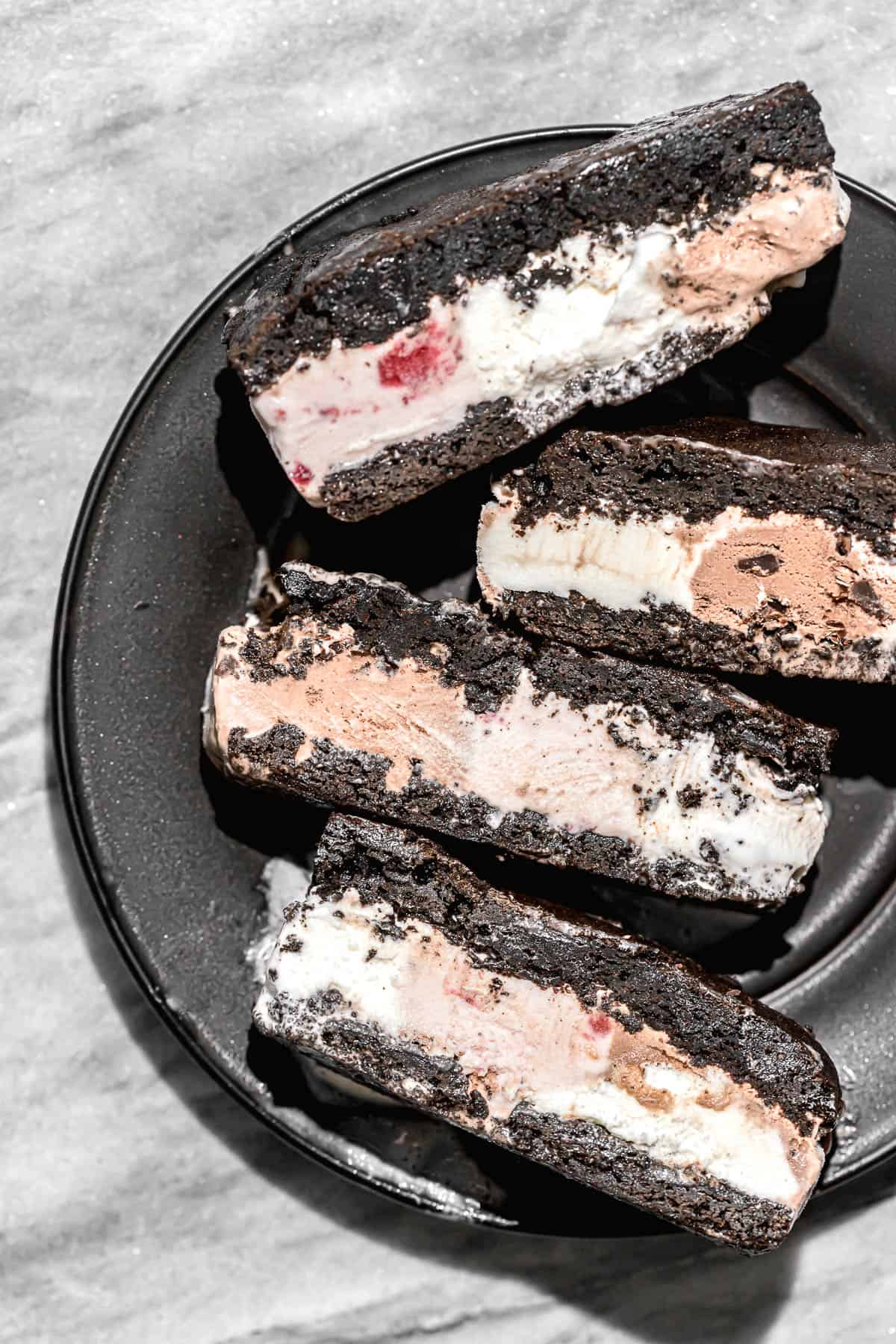 Baking in grams
All of the recipes on this blog are carefully developed to create incredibly delicious baked goods that you can easily recreate in your own kitchen with success. The only way this is possible is to standardize the way ingredients are measured - by weight. Volume measurements are extremely inaccurate and leave room for significant errors. Not all measuring cups are made equally, so your one cup of flour will be different from my one cup of flour. By providing precise measurements in grams (aside from minor ingredients, which are given in tsp/tbsp), I can ensure that you can make the recipe accurately and with less cleanup! All you need is this kitchen scale.
If this still isn't enough to convince you, I have provided volume measurements in the recipe card. If you are interested in understanding the conversions, this is the best conversion chart.
But trust me, once you try baking in grams you'll never turn back!
Happy baking! x
If you tried this recipe, I'd love to know how it turned out for you! Leave a star rating & review below and post a picture (or video!) on Instagram and tag me so I can see your bakes! Not ready to make this recipe yet? Click the heart button on the right of your screen to save it for later 🙂
Gluten Free Brownie Ice Cream Sandwiches
These gluten free brownie ice cream sandwiches are made with a decadent homemade gluten free brownies and neapolitan ice cream - perfect for summer!
Ingredients
142

g

⅔ cup brown sugar

200

g

1 cup granulated sugar

85

g

½ cup; 3oz chocolate

170

g

¾ cup unsalted butter

3

eggs

,

room temp

1 ½

teaspoon

vanilla extract

120

g

1 cup 1:1 gluten free flour

84

g

1 cup dutch process cocoa powder

1

teaspoon

salt

3

pints

of ice cream
Instructions
Preheat the oven to 350 degrees F and line a 9x9 inch square pan with parchment paper.

In a large bowl, add the brown sugar, granulated sugar, chocolate, and butter. Heat the mixture in the microwave in 20 second increments until everything is fully melted. Whisk the mixture until smooth.

Add the eggs and vanilla to the butter, sugar, chocolate mixture, and whisk until fully combined.

Next, fold in the flour, cocoa powder, and salt until just combined.

Spread the batter into the prepared square pan and bake for 33-36 minutes.

Allow to cool completely in the pan before removing and cutting.*

Once cool, cut the brownies into two layers.

Line the same square pan with fresh parchment paper and place the first brownie layer in it.

Using a 3 tablespoon ice cream/cookie scoop, add the ice cream to the first brownie layer. If alternating between flavors, rinse the scoop before switching flavors.

Once there is an even layer of ice cream, use an offset spatula or spoon to gently spread out the ice cream and fill in the gaps, careful to not muddle the flavors too much.

Place the second brownie layer on top (it's okay if it breaks apart, just proves how fudgy it is!).

Freeze for at least two hours before cutting and serving.
Notes
To cool the brownies down faster, place them in the fridge for about an hour or so.
Tried this recipe?
Tag @sloanes.table on Instagram and write a star review below!