This salted caramel sauce is truly foolproof. With these step by step instructions & process photos, you'll be able to make your own decadent caramel sauce whenever the craving strikes!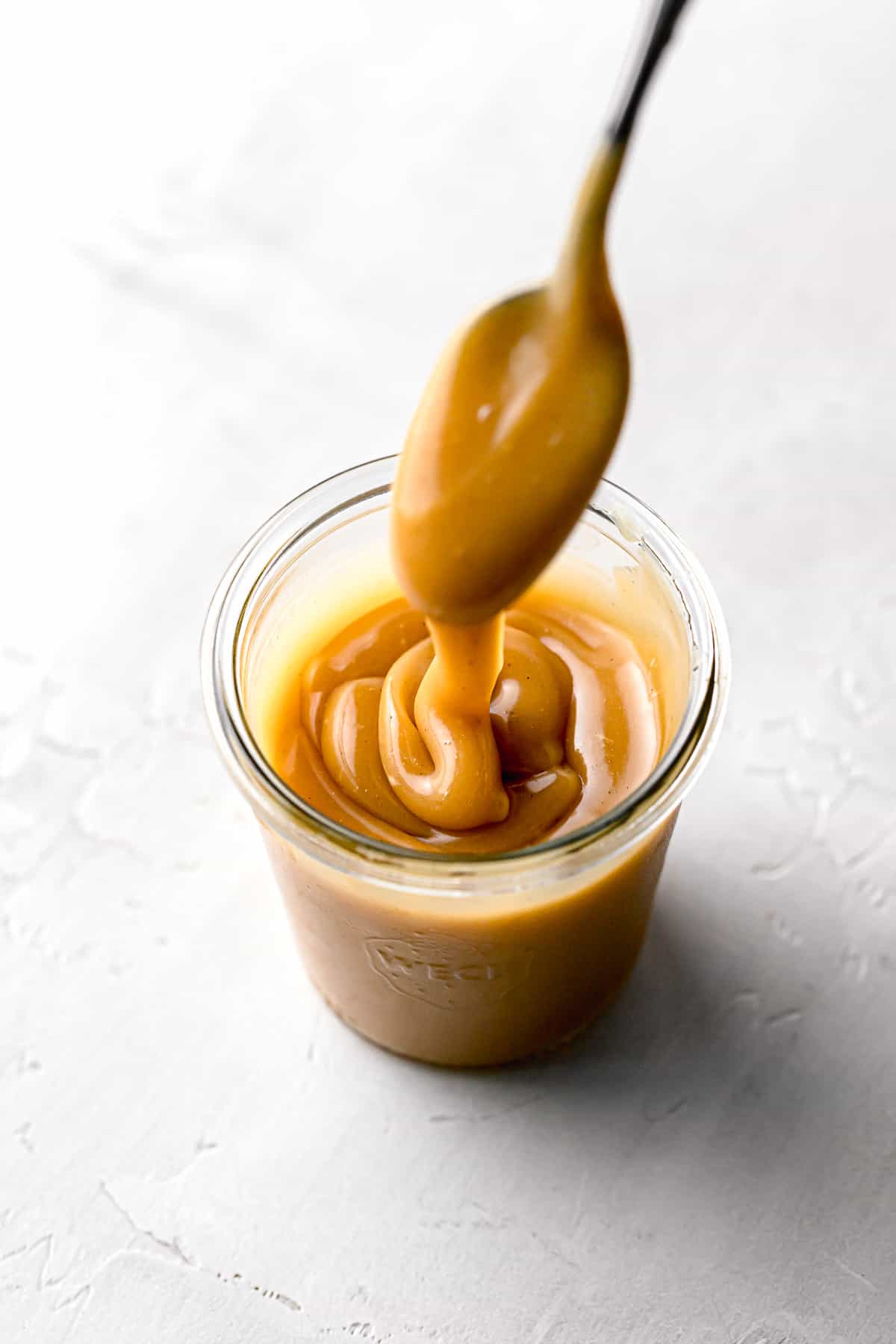 Jump to:
This foolproof salted caramel sauce is made with one saucepan and just 7 ingredients, two of which ensure that the caramel turns out perfect every single time! All you need is: granulated sugar, cream of tartar, salt, water, heavy cream, butter, and vanilla. And of course flaky sea salt! The best part is this recipe doesn't require a candy thermometer! But this does mean you need watch your sugar very carefully. Below you'll find step by step instructions so you can confidently make your own caramel sauce from scratch!
Use this caramel sauce for macarons, millionaire's shortbread, linzer cookies, or just drizzle it on some vanilla ice cream! It's absolutely incredible on its own, so you truly cannot go wrong with how you enjoy it!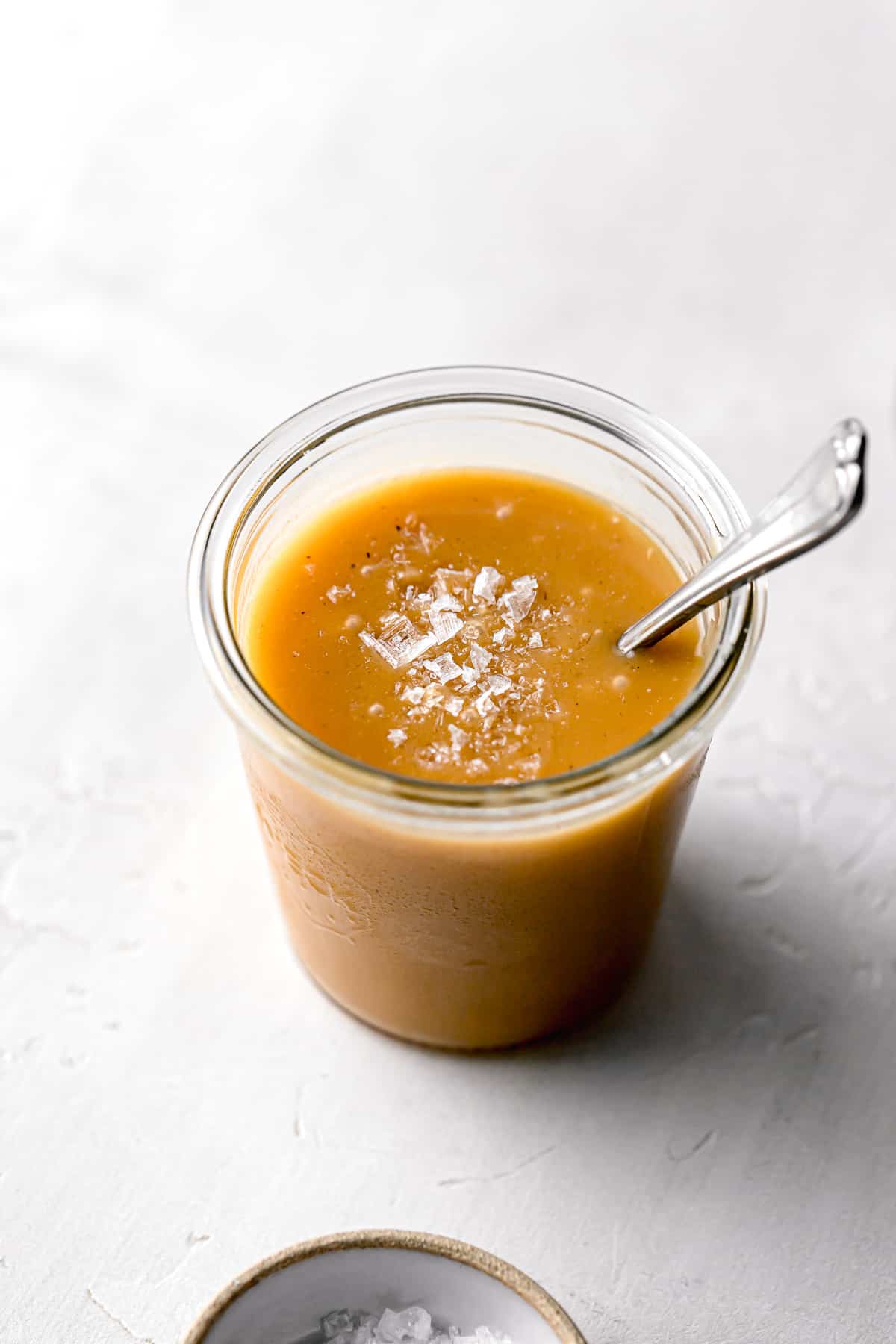 Ingredients
Sugar: You'll need about 1 cup of granulated sugar.
Salt: Add a bit of kosher salt to balance out the sweetness, and a pinch or two of flaky sea salt to the finished caramel sauce if desired.
Cream of Tartar: A small amount of cream of tartar will help stabilize the sugar, preventing it from crystalizing!
Water: This recipe uses the wet method, which means that a couple tablespoons of water is added to the sugar, coating each crystal and ensuring they do not crystalize again as they are melting and caramelizing.
Heavy Cream: Be sure your heavy cream is lukewarm before adding it to the caramelized sugar, or it may seize up.
Butter: Use room temperature unsalted butter, again so the caramelized does not seize up.
Vanilla: Add a generous pour of vanilla paste for a well-rounded flavor.
Instructions
Homemade caramel sauce is not as complex as you think! If you stick to these steps and watch your sugar carefully, you'll have a dreamy, irresistible caramel sauce in less than 30 minutes.
The trickiest part of making caramel is knowing when the sugar is done cooking. It can be easy to take it too far, which gives the caramel a burnt, bitter taste. You want to look for a light-medium amber color, and the minute it hits that color, immediately take it off the heat and add the heavy cream. If you linger, it can quickly turn from that perfect amber color to a dark burnt color. I recommend using a light colored pan so you can see the color of the sugar better!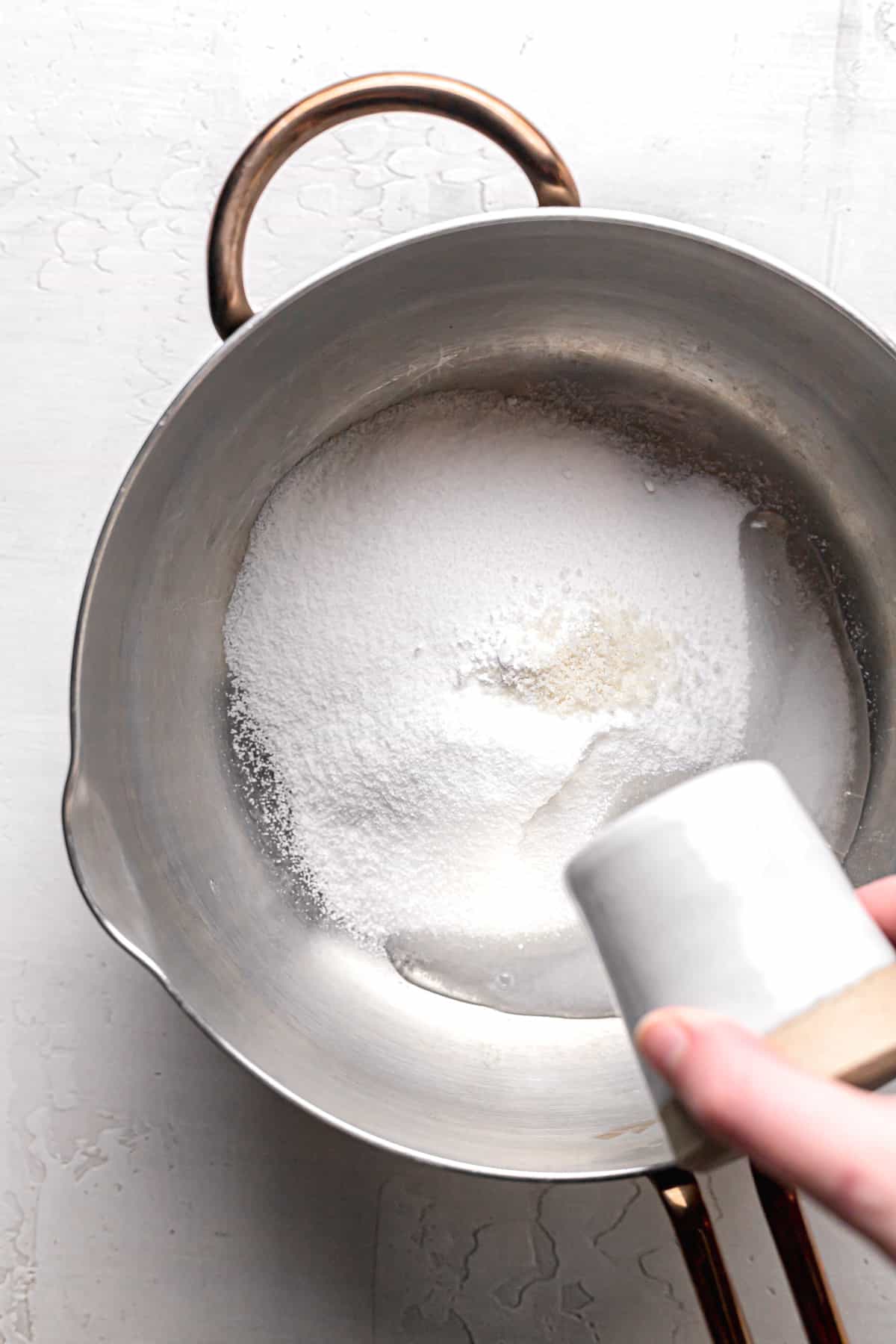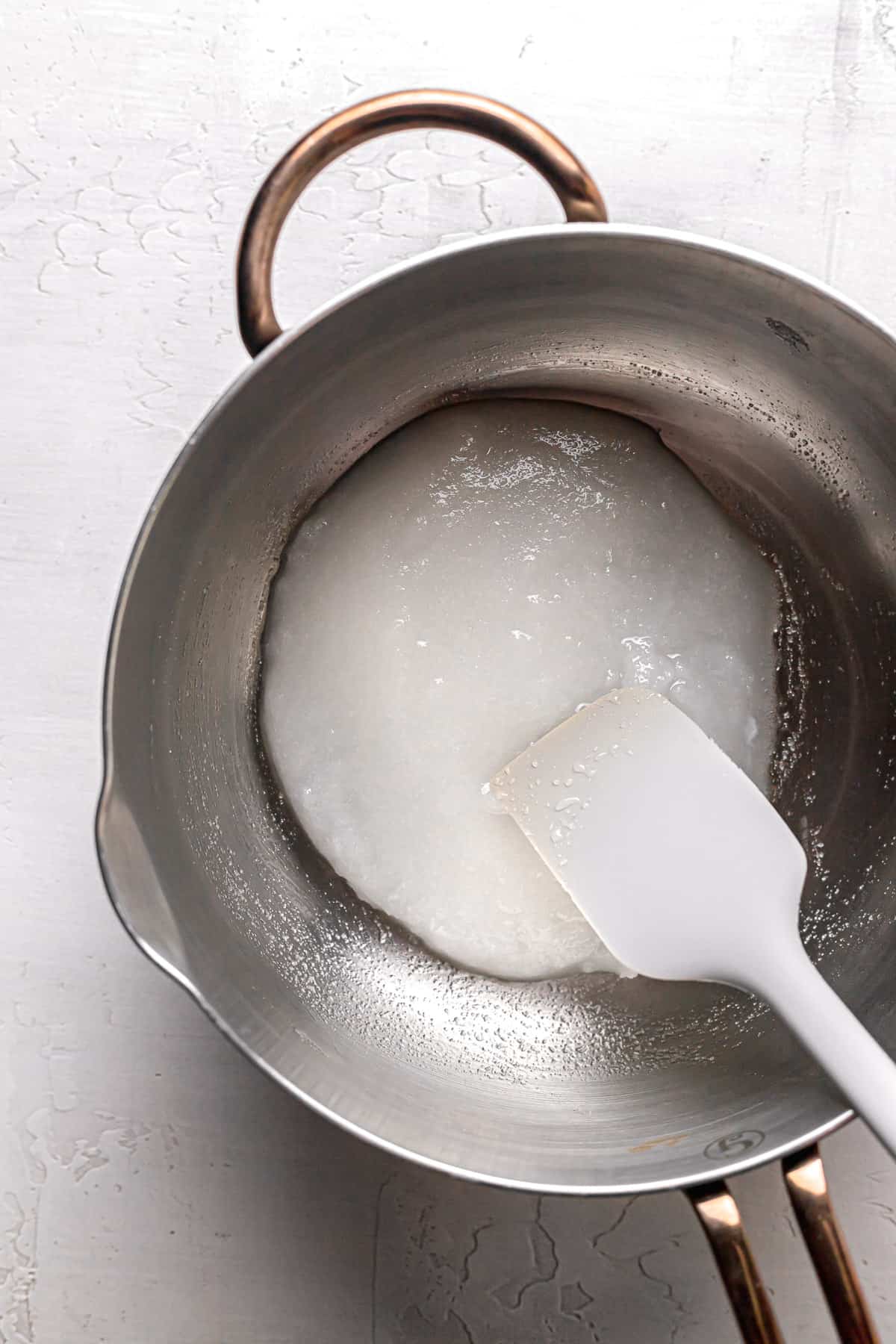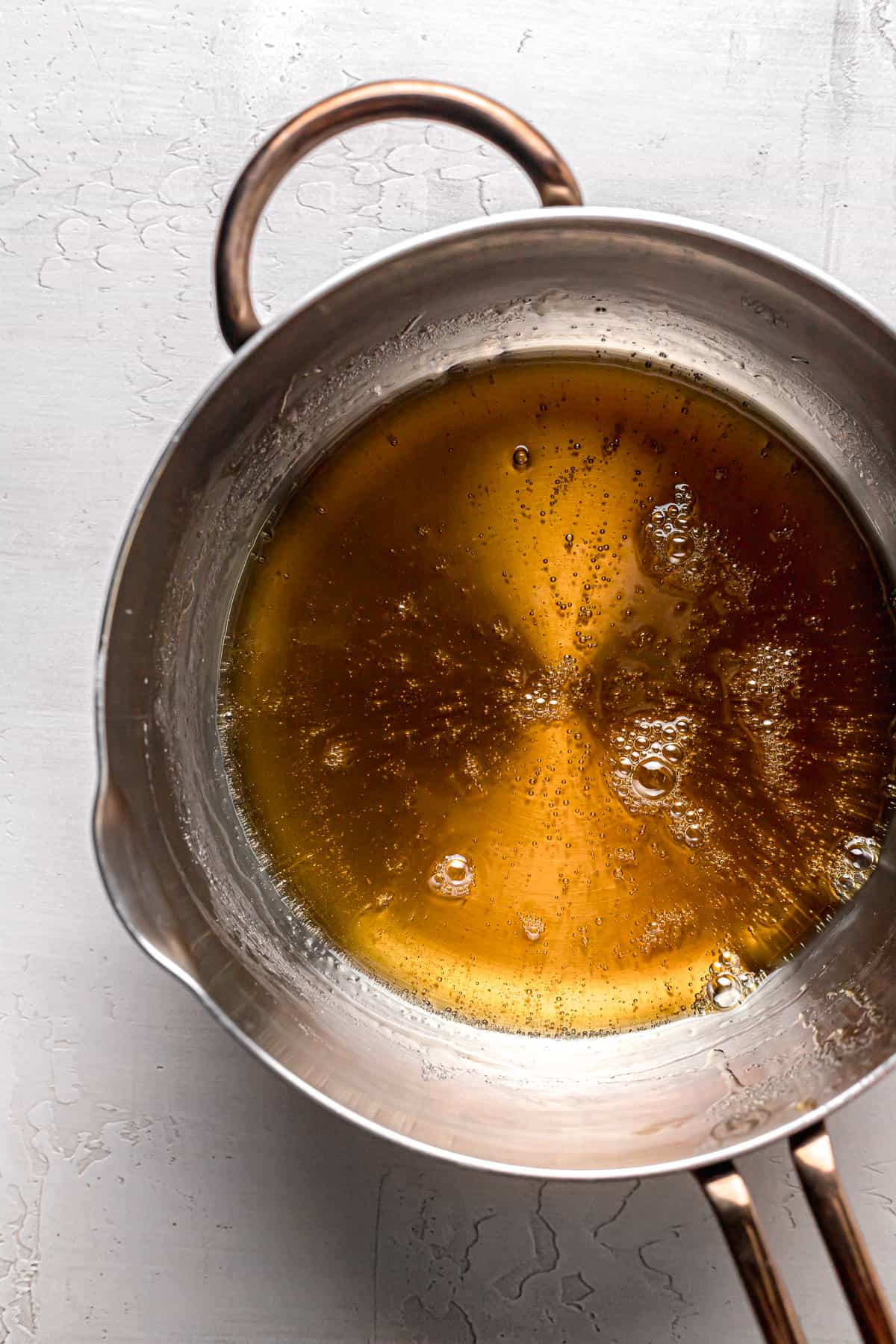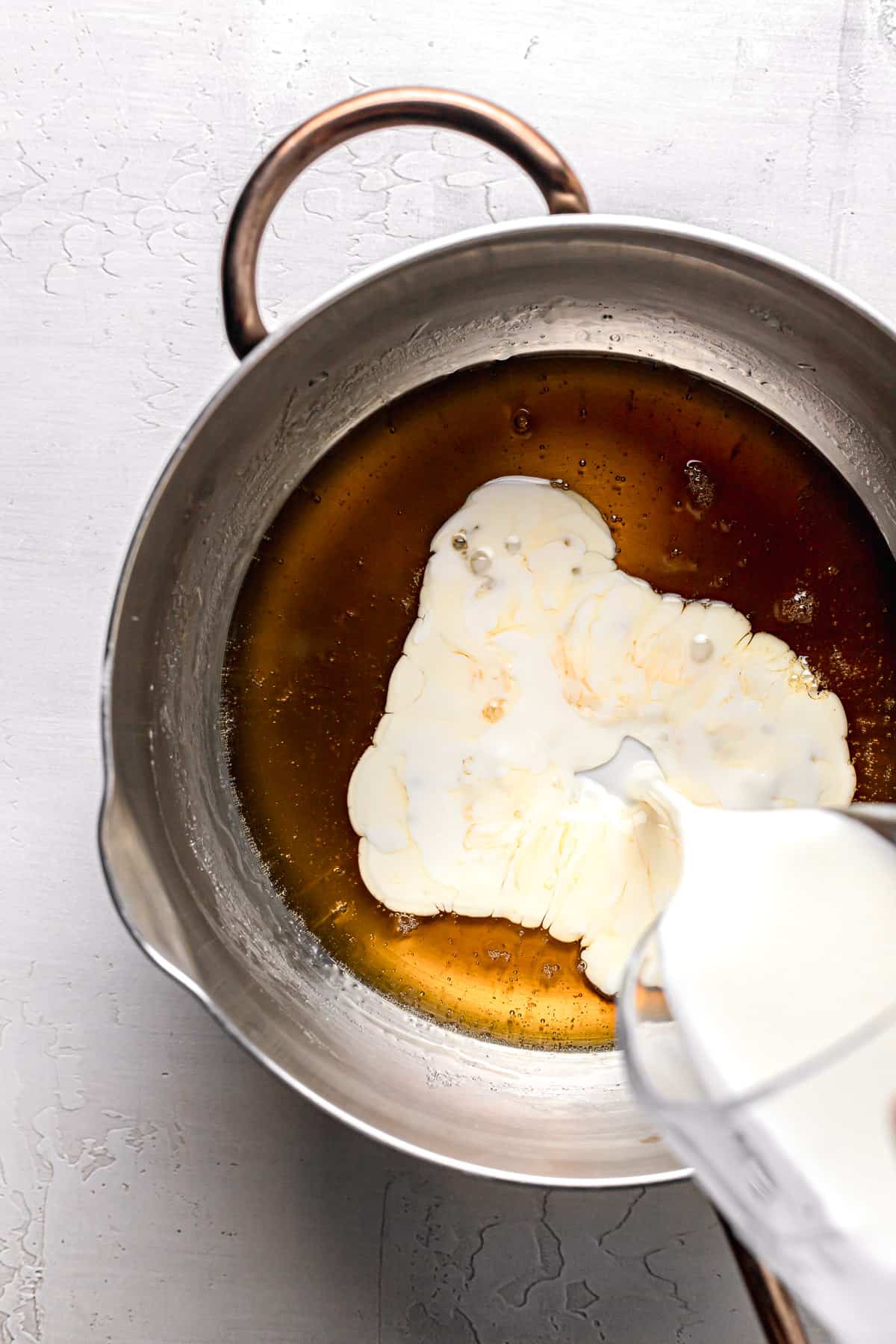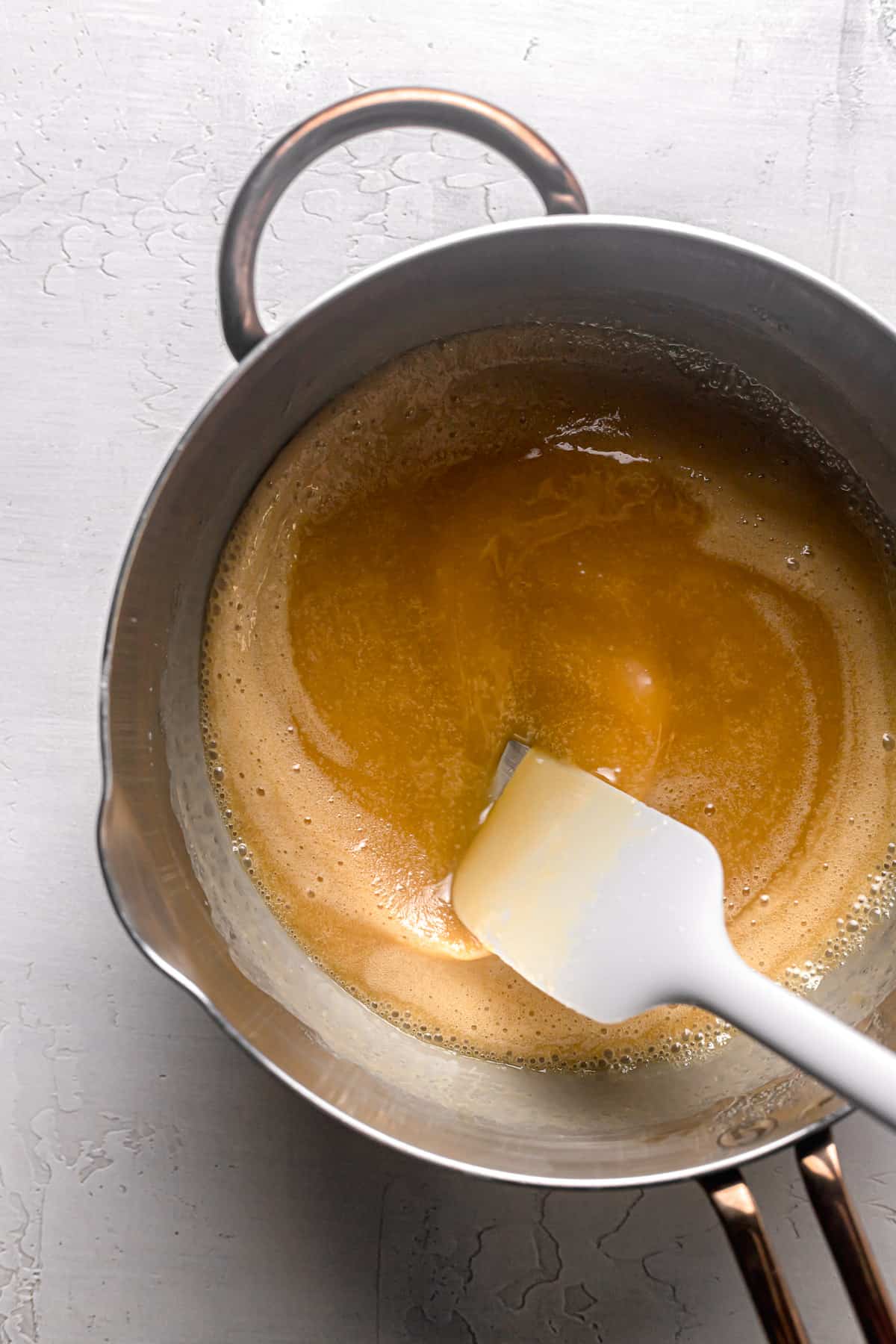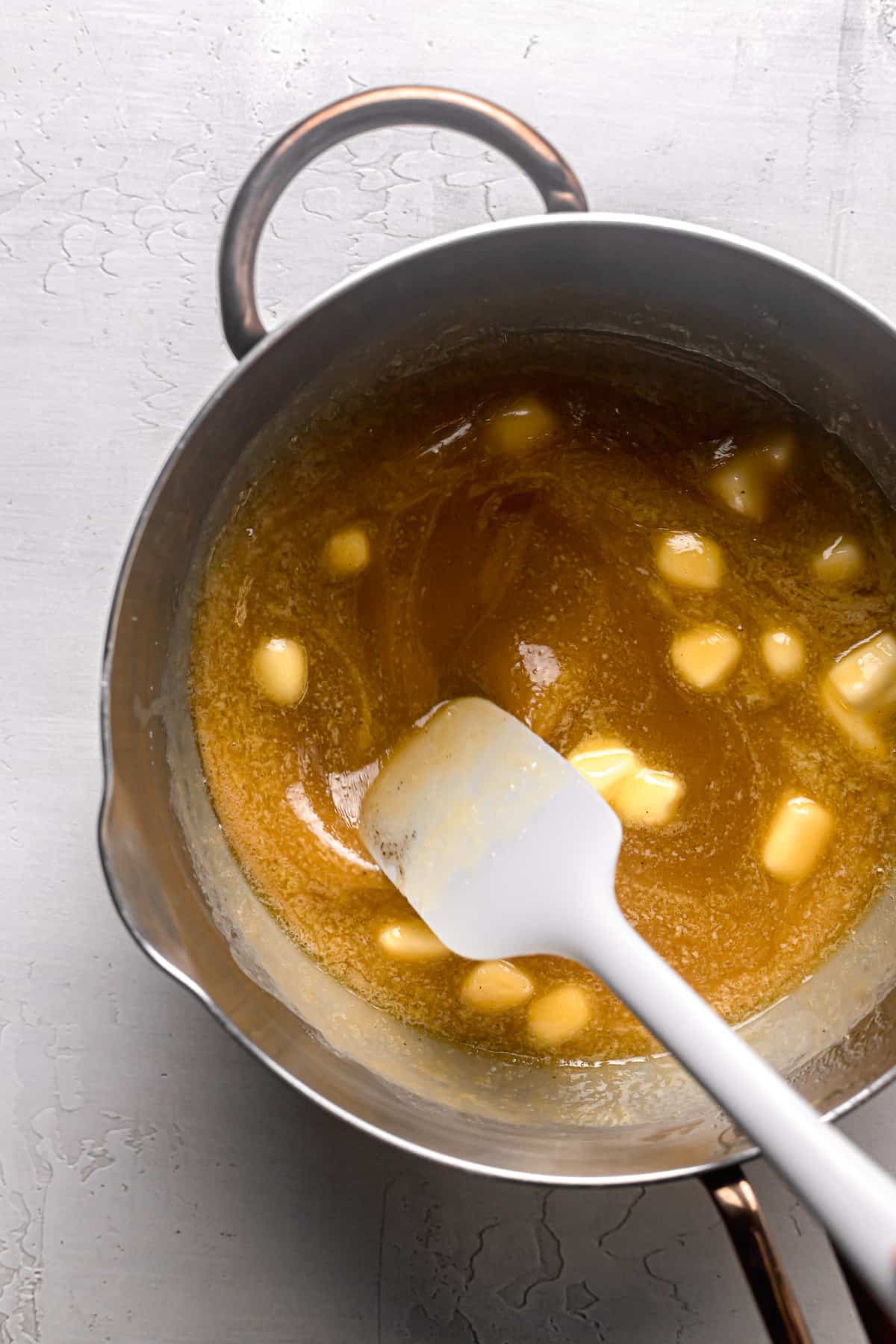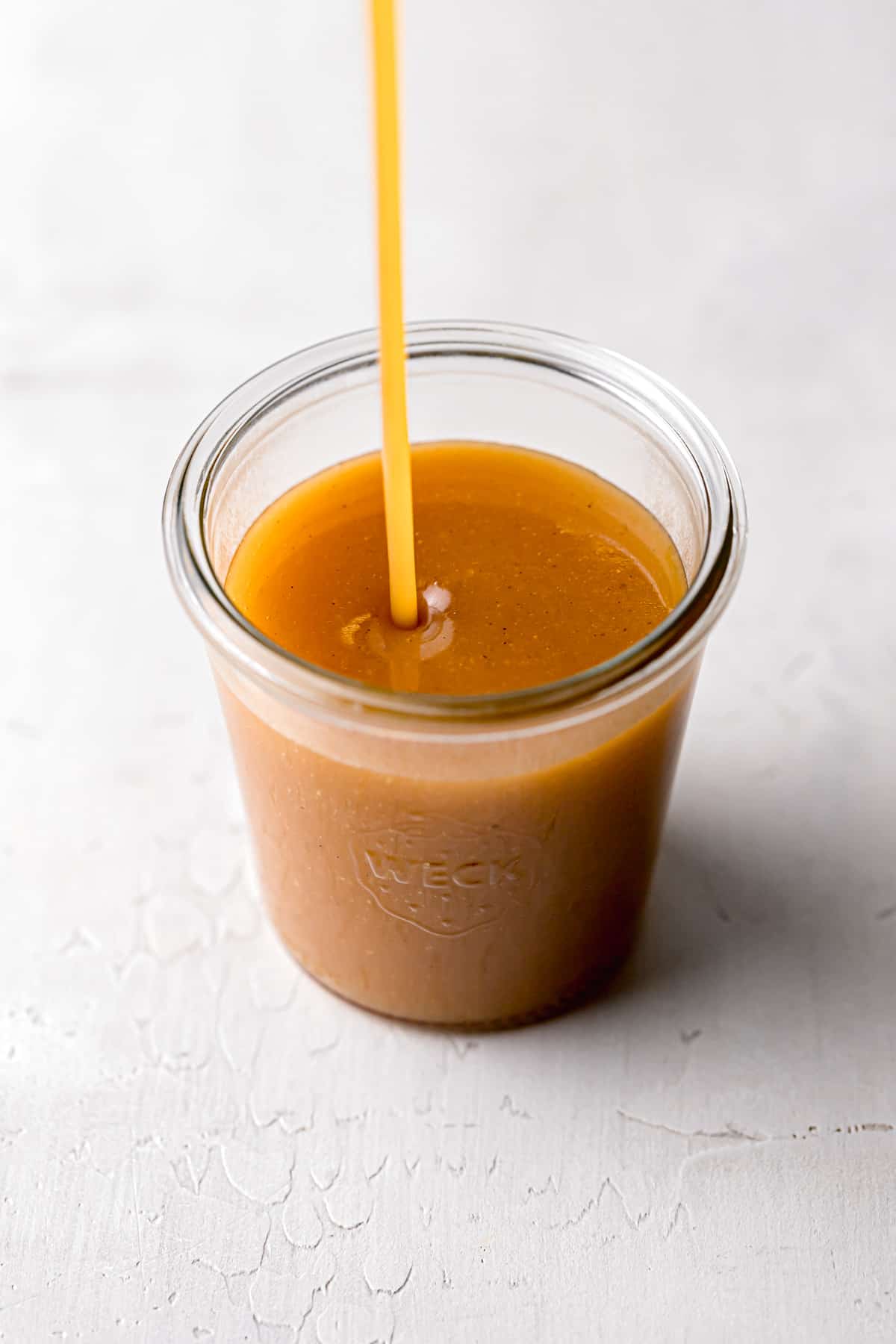 FAQ
What is the wet method?
The wet method for caramel involves adding water to the sugar before cooking. When stirred well, the water coats each crystal and ensures they do not crystalize again as they melt and caramelize. It's very important to stir the sugar and water together very well! If any amount of dry sugar is left on the sides of the pan and it comes in contact with melted sugar, the dry crystals will communicate with the melted ones and tell them to re-crystalize.
How to fix crystalized caramel:
If your sugar begins to crystalize, don't panic! This does not necessarily mean your caramel is ruined. If this happens early on in the cooking process, just continue stirring while it cooks and it will likely melt again. If it's too far into the cooking process and the sugar is already caramelized, it will likely be too late to bring back to a liquid state without burning it.
Best recipes that use caramel:
1. Salted Caramel Macarons - Caramel sauce is mixed into the buttercream AND drizzled between the macaron shells!
2. Tahini Caramel Millionaire's Shortbread - A thicker caramel filling flavored with tahini and layered between a buttery shortbread crust and a rich chocolate topping... so so good.
3. Salted Caramel Linzer Cookies - Classic linzer cookies flavored with warm spices and sandwiched with this foolproof salted caramel sauce!
4. Ice Cream - Go simple and drizzle this caramel sauce over your favorite vanilla ice cream!
How to store this salted caramel sauce:
Store this caramel sauce in the fridge for about 2-3 weeks.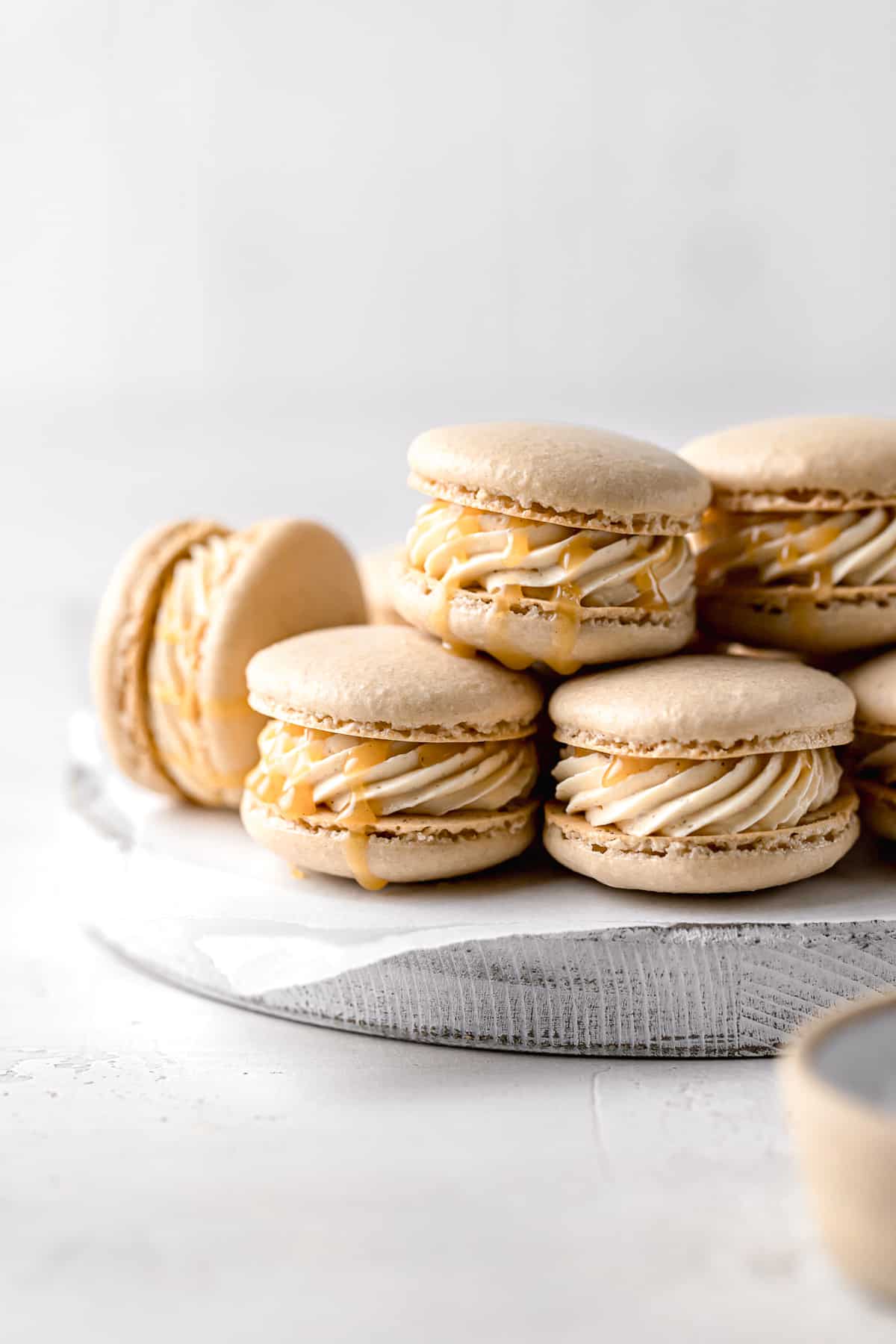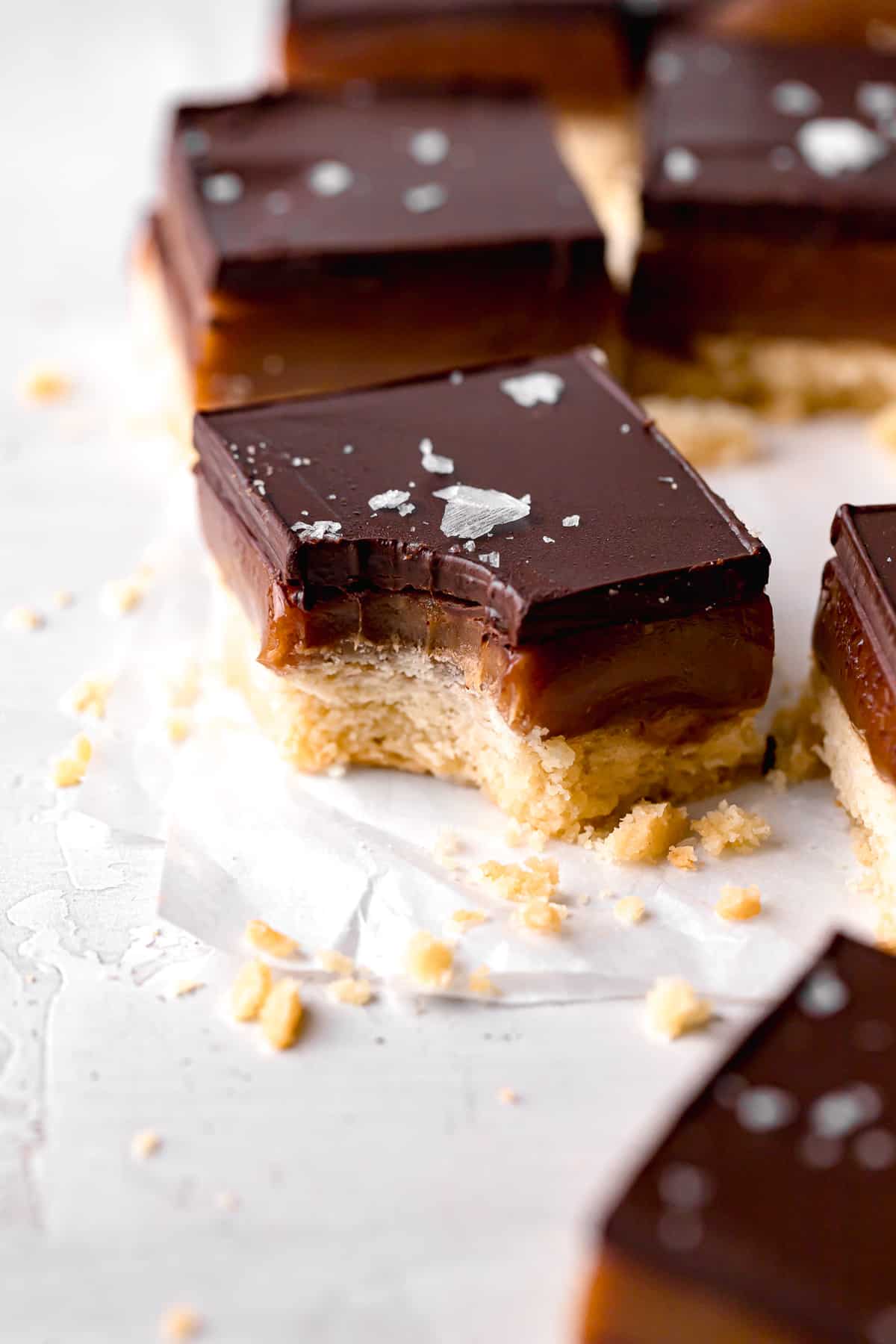 Other recipes using caramel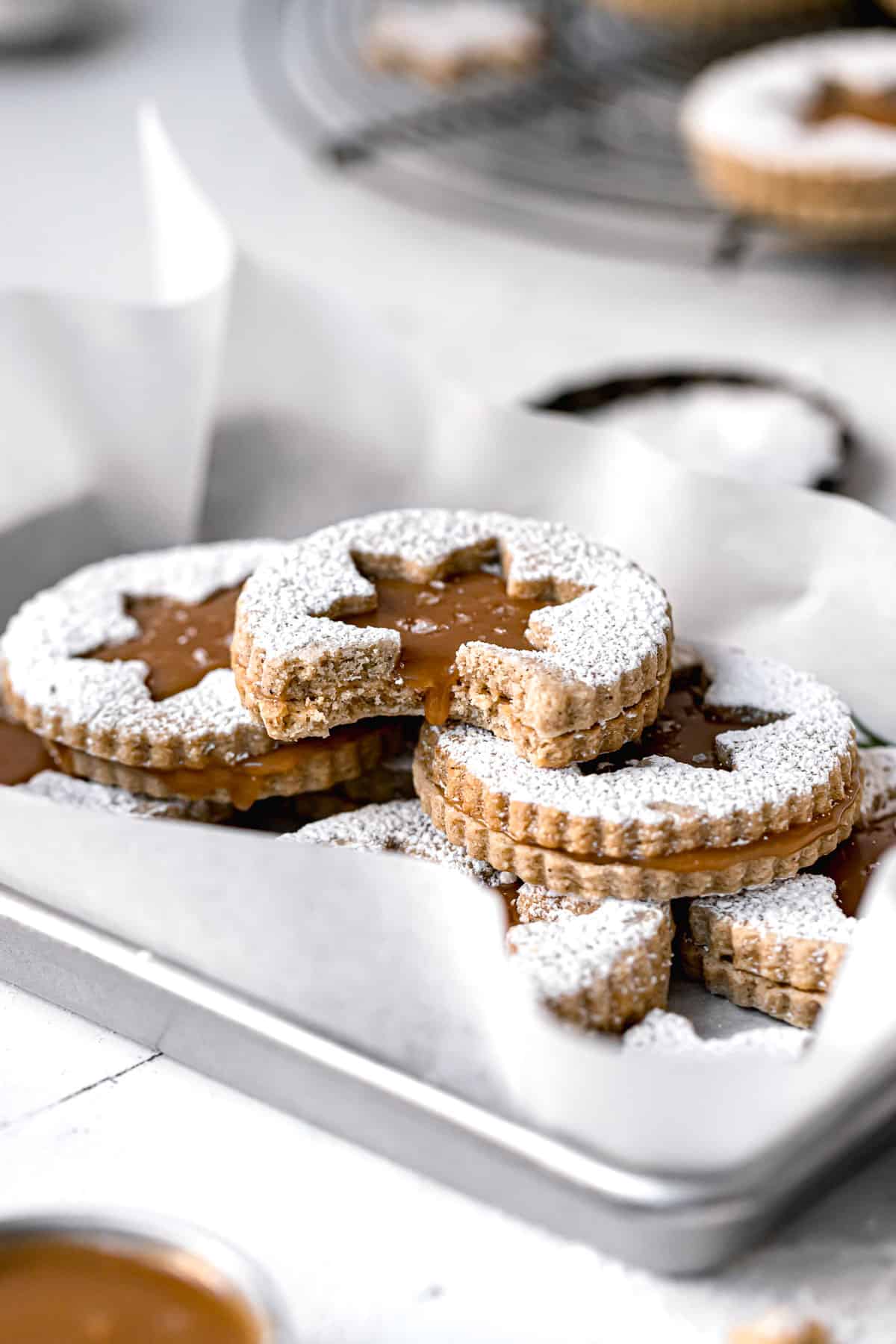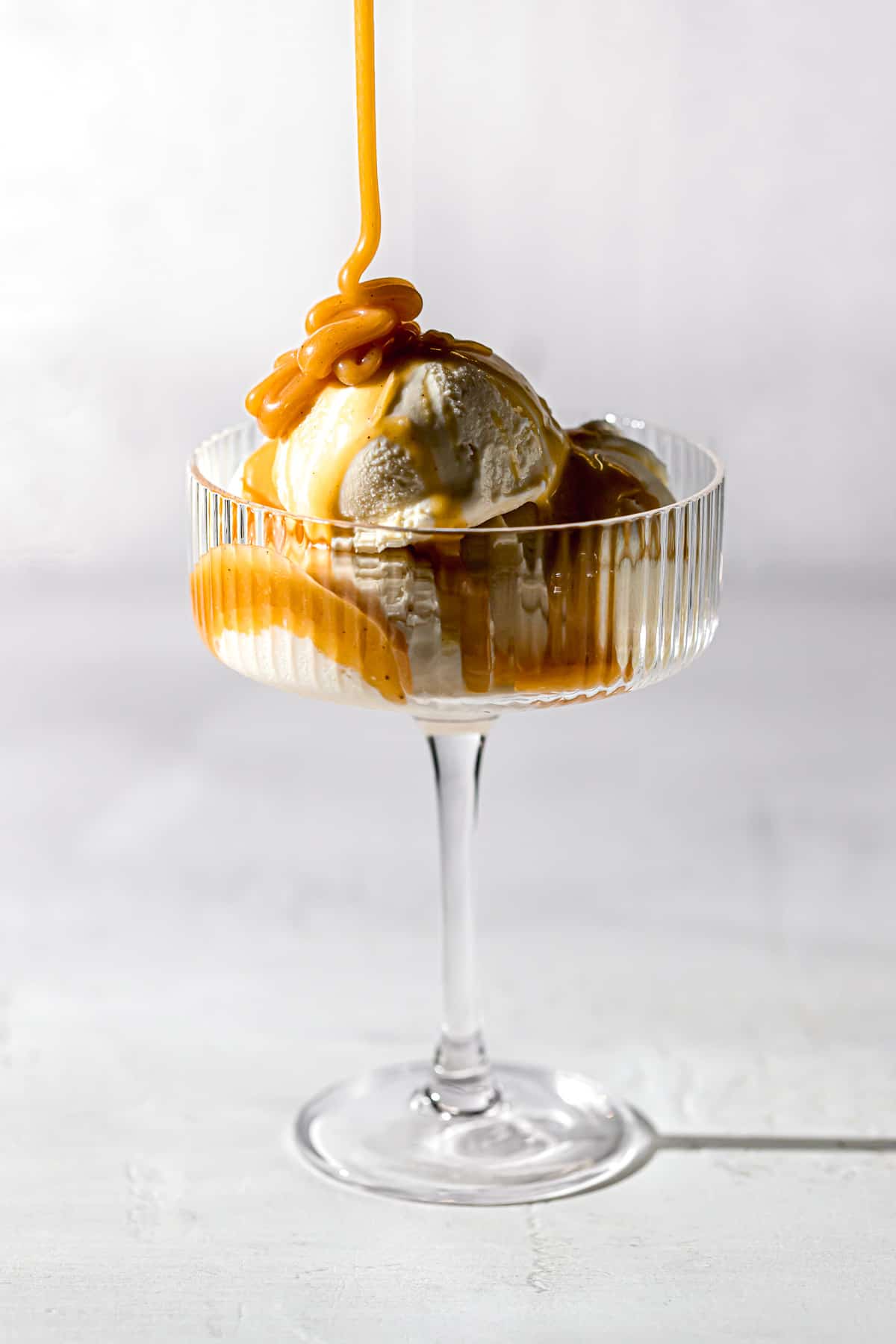 Baking in grams
All of the recipes on this blog are carefully developed to create incredibly delicious baked goods that you can easily recreate in your own kitchen with success. The only way this is possible is to standardize the way ingredients are measured - by weight. Volume measurements are extremely inaccurate and leave room for significant errors. Not all measuring cups are made equally, so your one cup of flour will be different from my one cup of flour. By providing precise measurements in grams (aside from minor ingredients, which are given in tsp/tbsp), I can ensure that you can make the recipe accurately and with less cleanup! All you need is this kitchen scale.
If this still isn't enough to convince you, I have provided volume measurements in the recipe card. If you are interested in understanding the conversions, this is the best conversion chart.
But trust me, once you try baking in grams you'll never turn back!
Happy baking! x
Foolproof Salted Caramel Sauce
This salted caramel sauce is truly foolproof. With these step by step instructions & process photos, you'll be able to make your own decadent caramel sauce whenever the craving strikes!
Ingredients
200

g

1 cup granulated sugar

½

teaspoon

kosher salt

¼

teaspoon

cream of tartar

30

g

2 tablespoon water

113

g

½ cup heavy cream (lukewarm)

84

g

6 tablespoon unsalted butter (room temp)

1

teaspoon

vanilla paste

pinch

of flaky sea salt
Instructions
In a medium saucepan, combine the sugar, salt, cream of tartar, and water.

Heat over medium high heat, stirring often with a rubber spatula to encourage even cooking.

When it comes to a boil reduce heat to medium and continue stirring often.

When the color turns an even medium amber color remove from heat and add the heavy cream, quickly mixing until fully combined.

Then, mix in the butter and vanilla.

Transfer to a glass jar to cool, stir in a pinch or two of flaky sea salt, then chill in the fridge overnight or until ready to use.
Notes
Use a rubber spatula to ensure the sugar is mixed properly and nothing sticks to the sides of the pan.
Please see process photos above for a better of idea of the shade of "medium amber" you are looking for in the sugar.
Be sure your heavy cream and butter are room temp before adding to the caramelized sugar to avoid the sugar seizing up.
The caramel thickens up significantly after chilling in the fridge overnight.
Store this caramel sauce in the fridge for about 2-3 weeks.
Tried this recipe?
Tag @sloanes.table on Instagram and write a star review below!