These dark chocolate tahini cups are an easy no bake chocolate dessert filled with a subtly sweet, smooth tahini filling.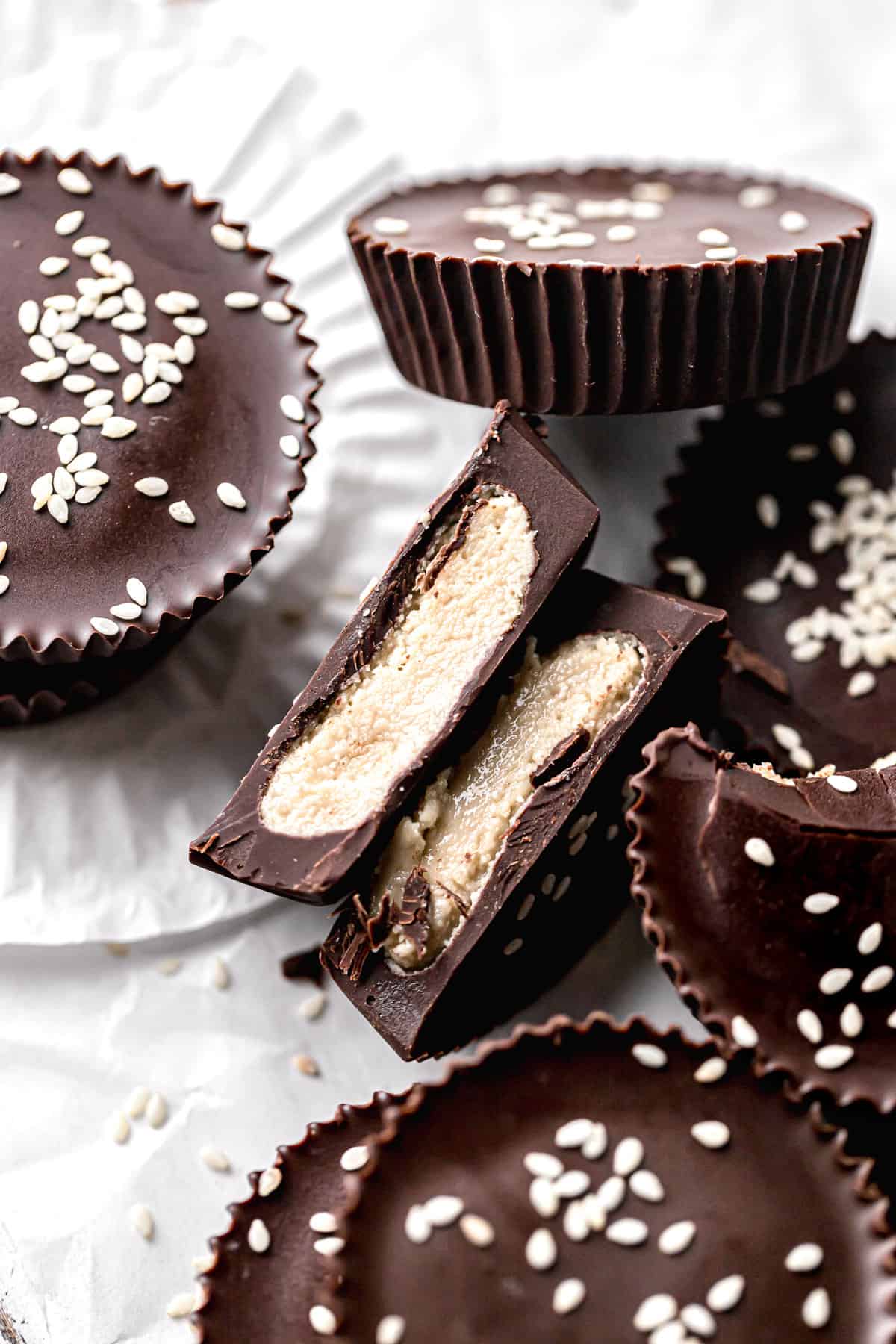 Jump to:
These dark chocolate tahini cups are a riff of the classic peanut butter cups, but switched up with a tahini filling sweetened just with honey! Peanut butter and chocolate will always have a special place in my heart, but there's something about tahini and chocolate that feels unique and elevated. They're the perfect no bake dessert and made with just 5 ingredients!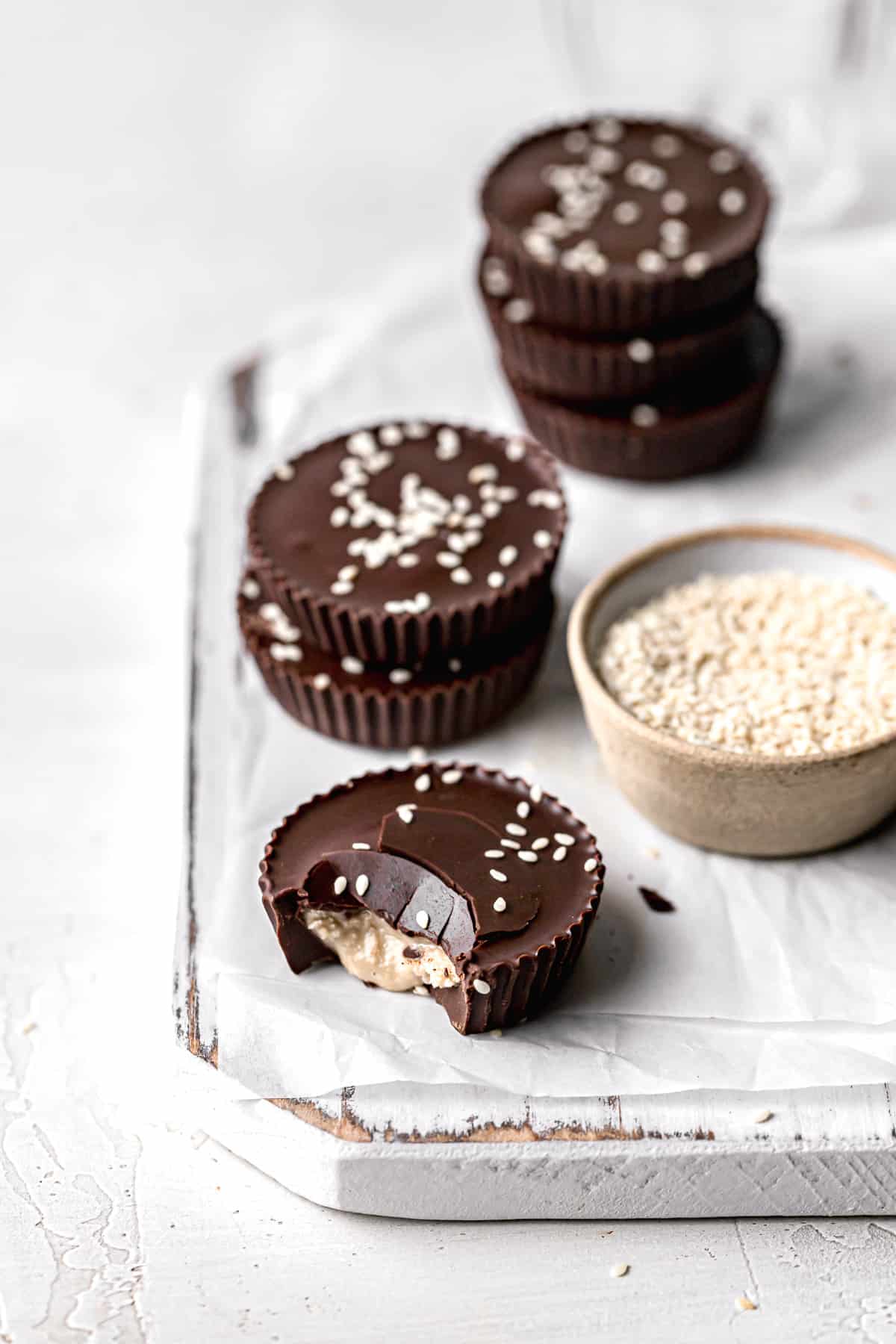 Ingredients
Almond Flour
Tahini
Honey
Bittersweet Chocolate
Neutral Oil
Instructions
This no bake dessert could not be any easier to make! All you need are a couple bowls and a cupcake pan. With just 30 minutes of prep time, about an hour of chill time, and just 5 ingredients, these rich dark chocolate tahini cups will become your new favorite freezer stash dessert!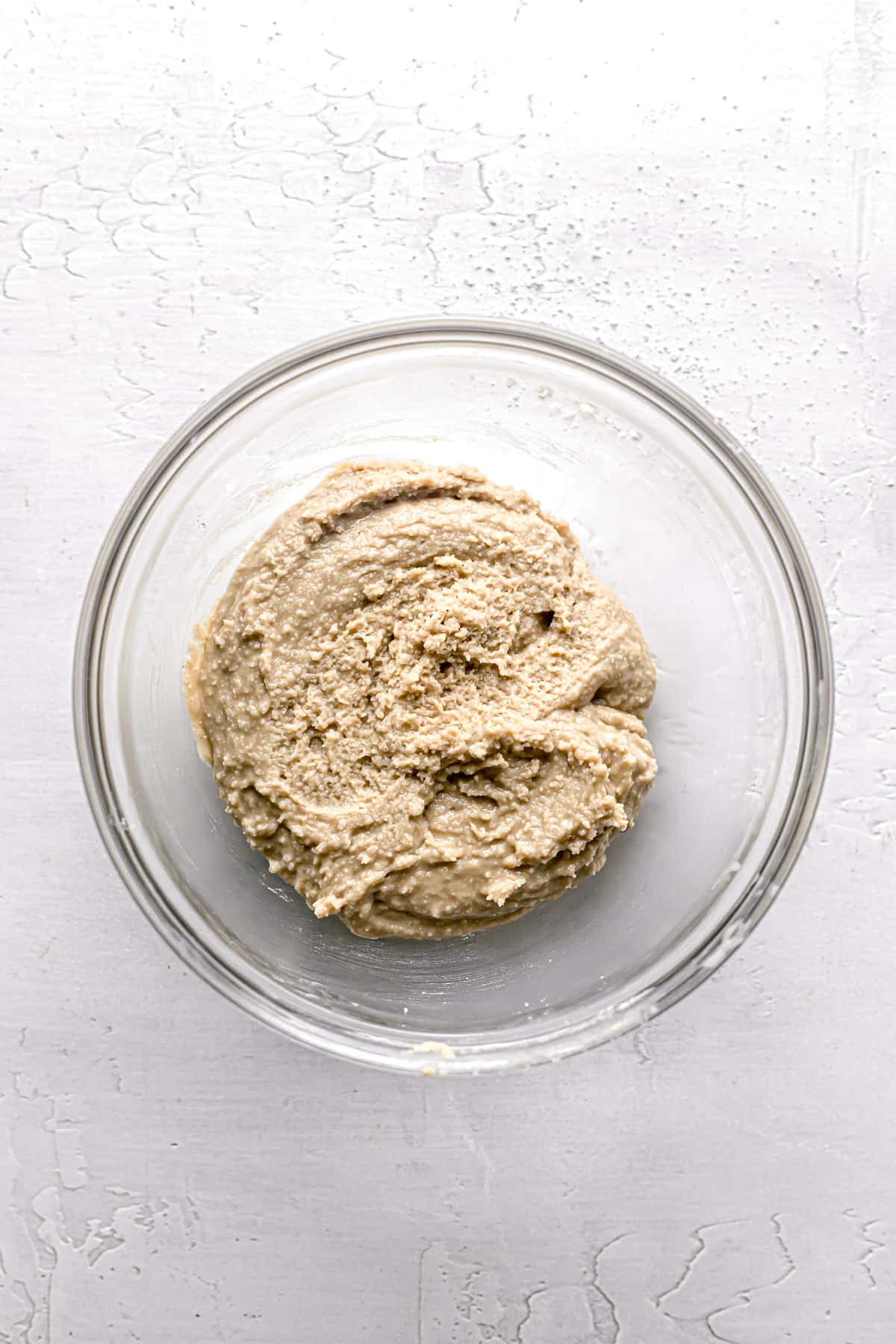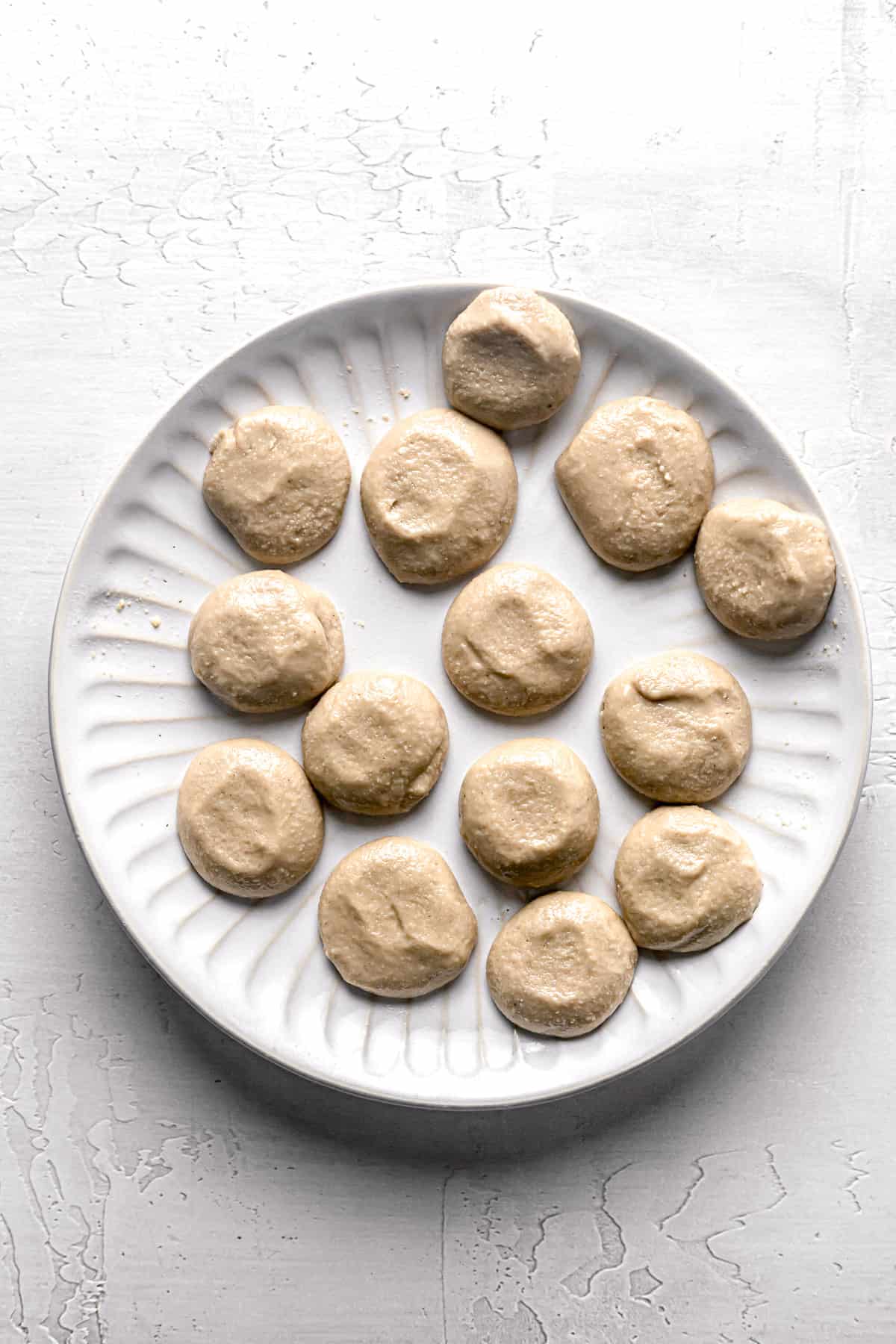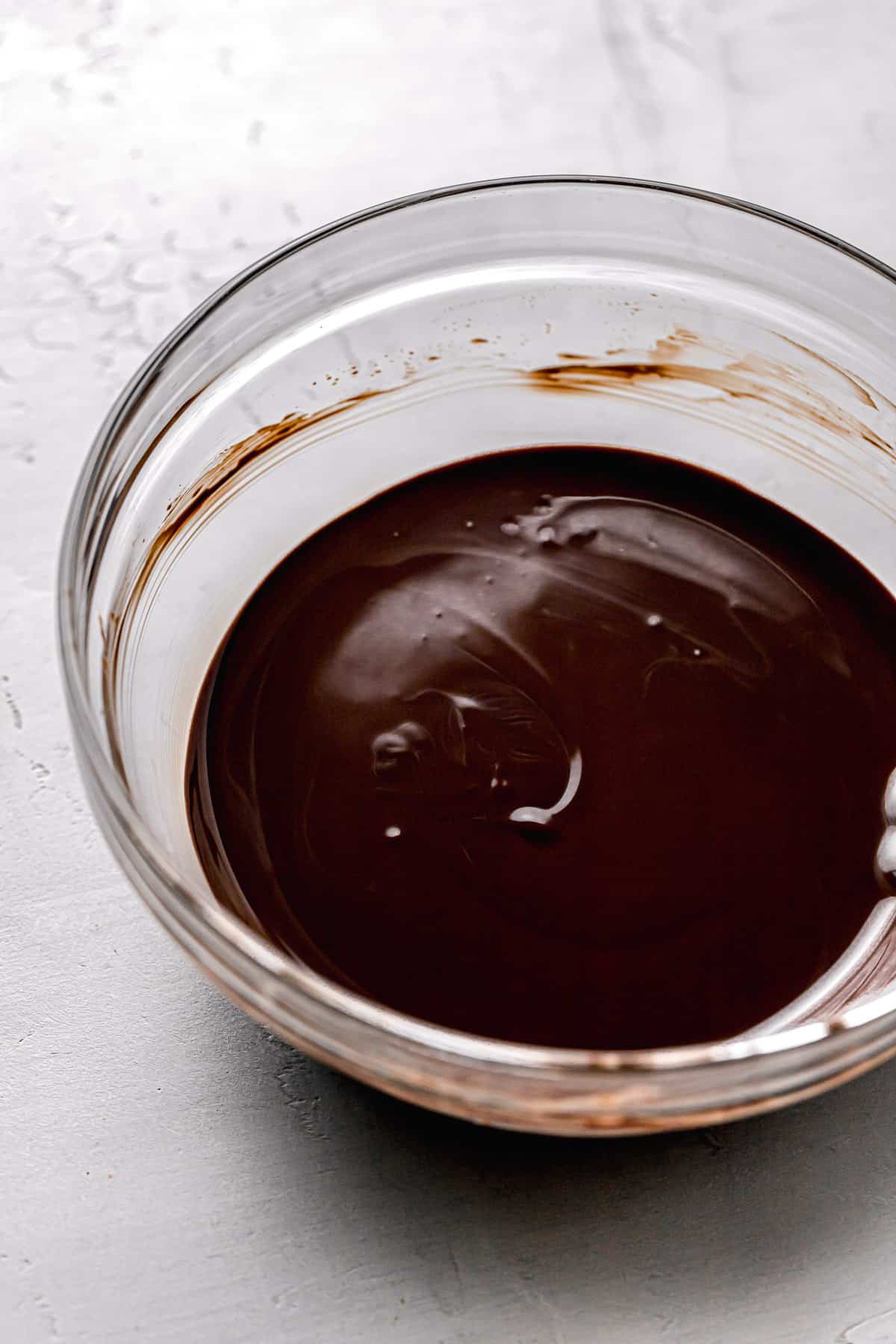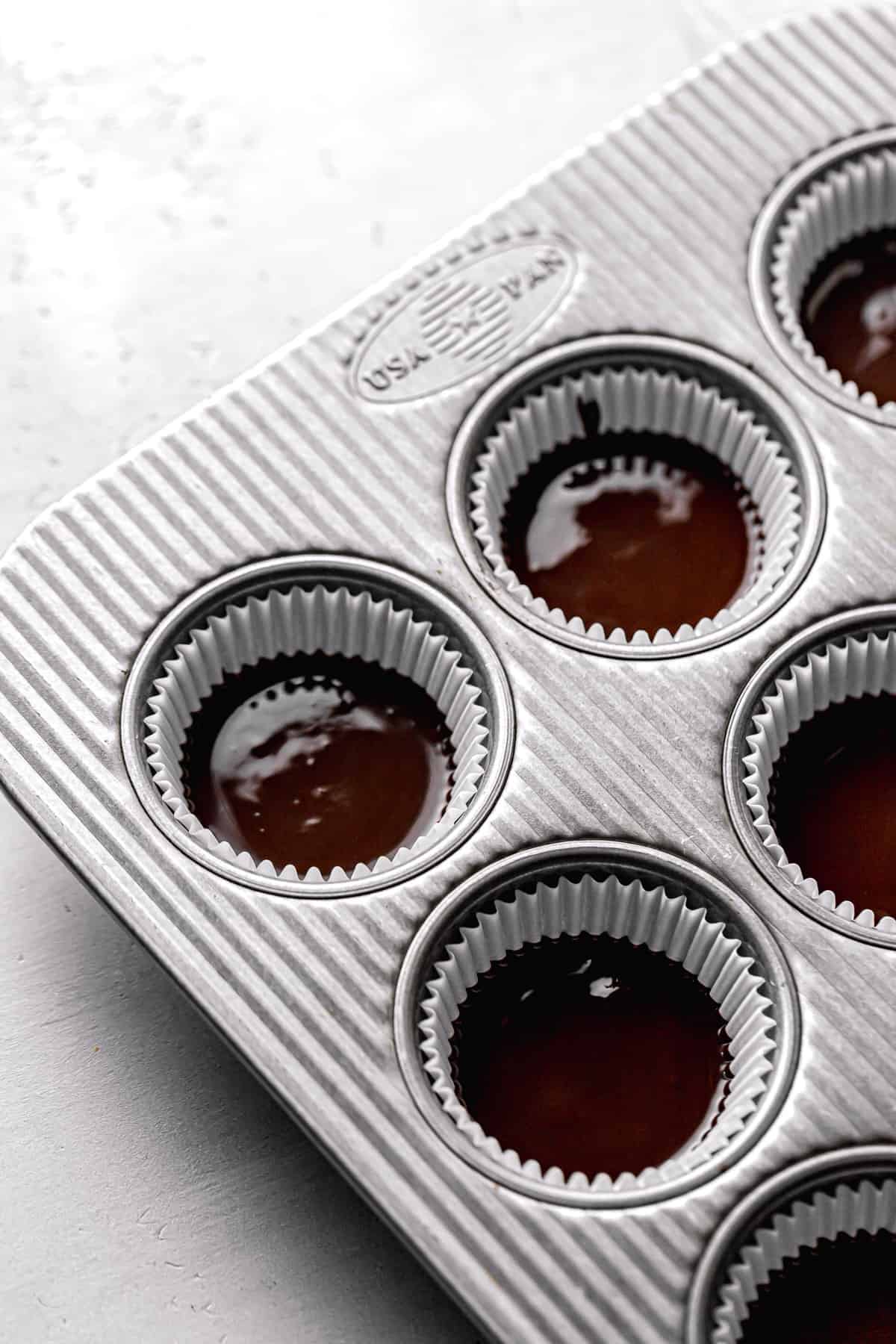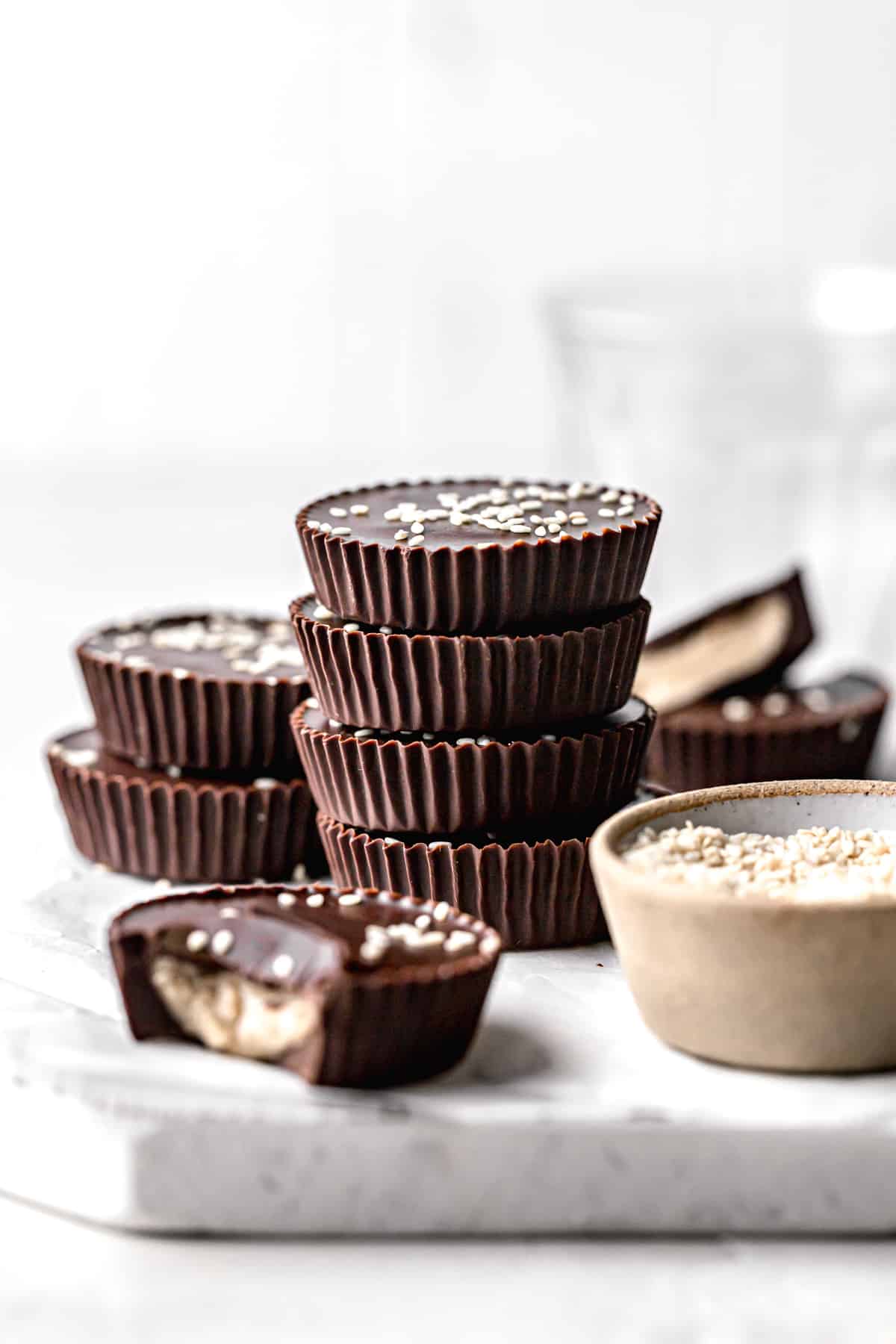 FAQ
Best tahini for this recipe:
Use any smooth tahini, that contains only sesame seeds. My favorite brand is Seed + Mill.
Best chocolate for this recipe:
Use a high-quality bittersweet chocolate that melts easily. My favorite brand is Guittard.
How to store these chocolate tahini cups:
These chocolate tahini cups can be stored at room temperature for about 1 week, in the fridge for 2-3 weeks, or in the freezer for up to 3 months.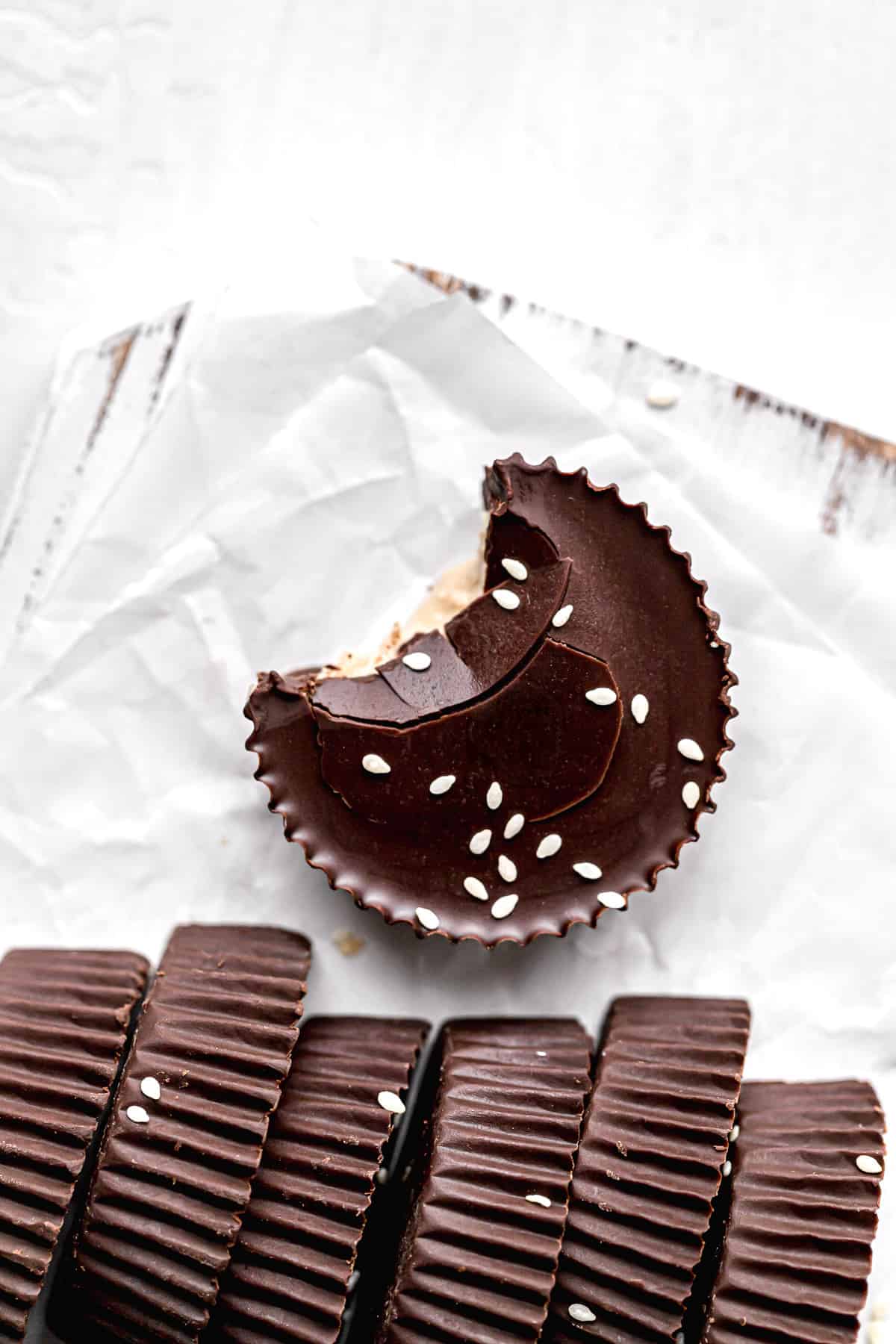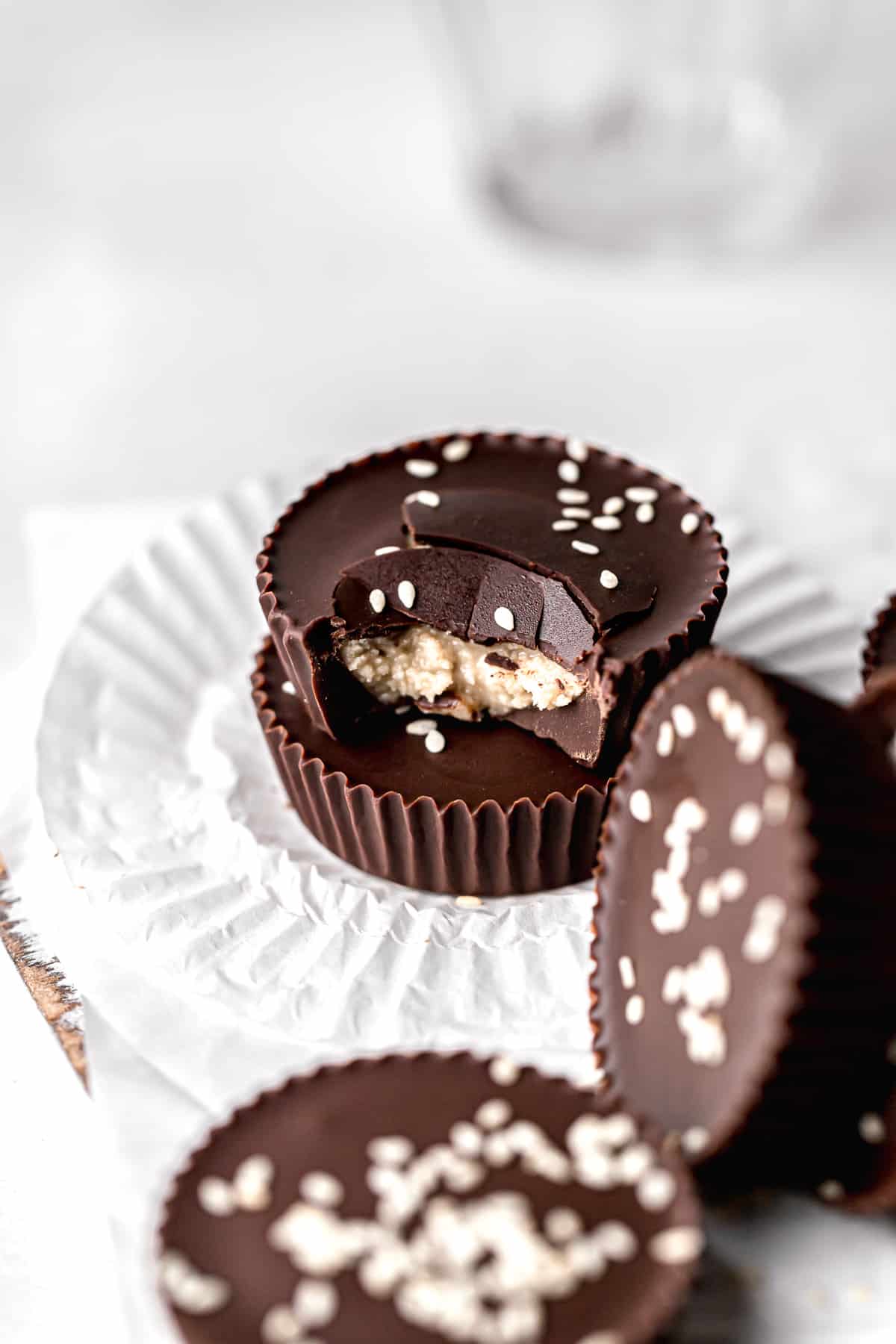 Other tahini recipes you'll love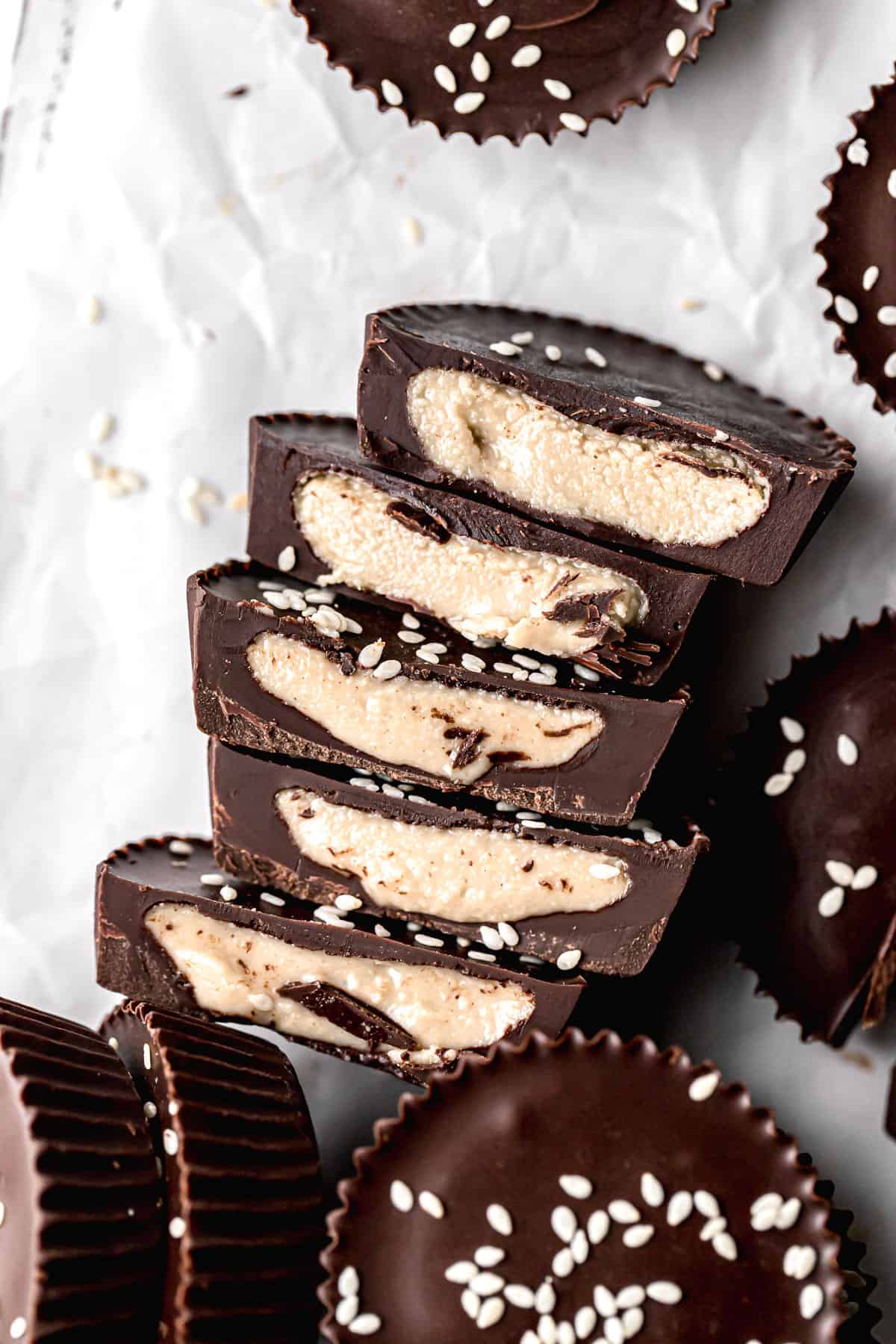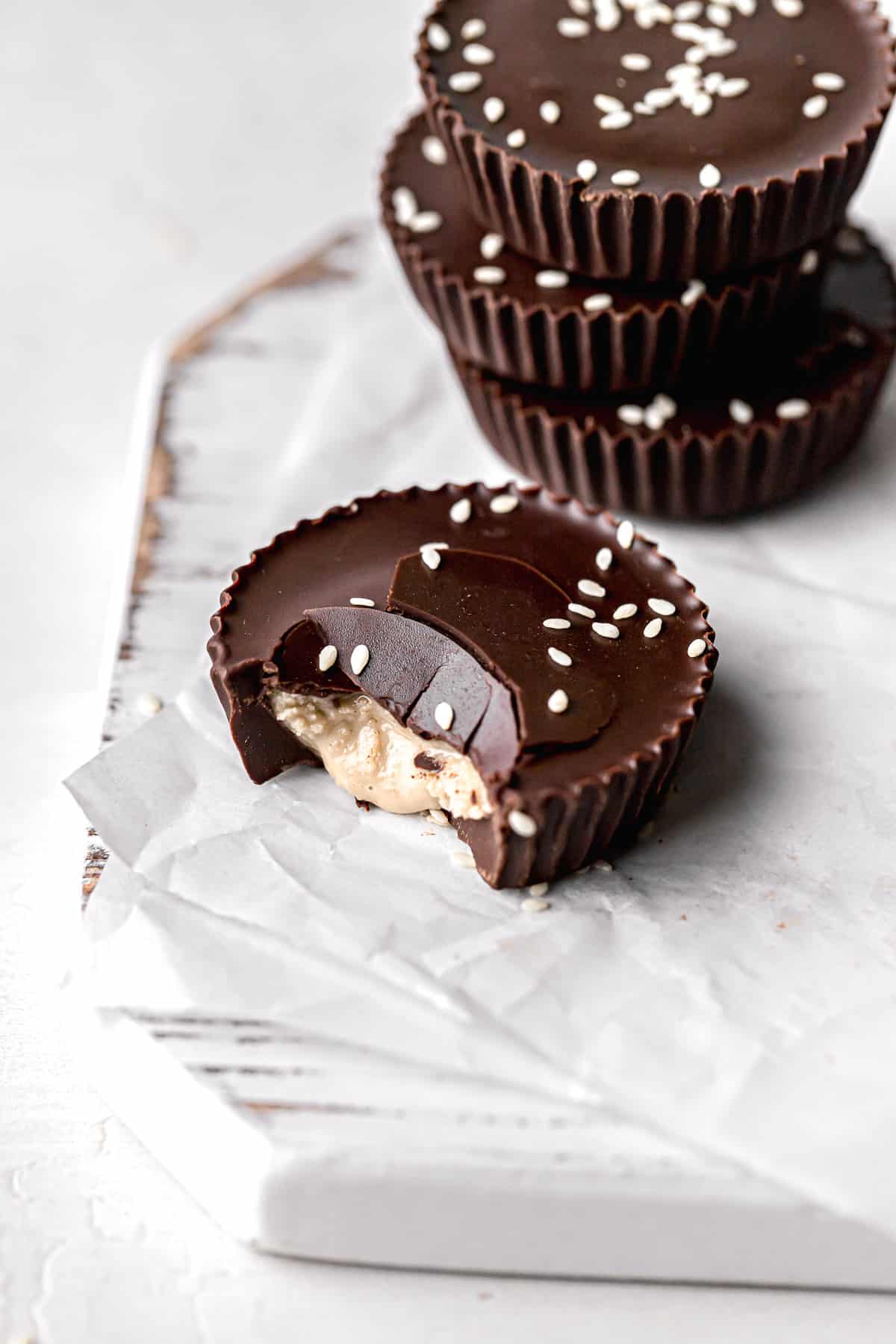 Baking in grams
All of the recipes on this blog are carefully developed to create incredibly delicious baked goods that you can easily recreate in your own kitchen with success. The only way this is possible is to standardize the way ingredients are measured - by weight. Volume measurements are extremely inaccurate and leave room for significant errors. Not all measuring cups are made equally, so your one cup of flour will be different from my one cup of flour. By providing precise measurements in grams (aside from minor ingredients, which are given in tsp/tbsp), I can ensure that you can make the recipe accurately and with less cleanup! All you need is this kitchen scale.
If this still isn't enough to convince you, I have provided volume measurements in the recipe card. If you are interested in understanding the conversions, this is the best conversion chart.
But trust me, once you try baking in grams you'll never turn back!
Happy baking! x
Dark Chocolate Tahini Cups
These dark chocolate tahini cups are an easy no bake chocolate dessert filled with a subtly sweet, smooth tahini filling.
Ingredients
For the tahini filling:
50

g

½ cup almond flour

128

g

½ cup tahini

18

g

1 tablespoon honey
For the chocolate coating:
283

g

10 oz bittersweet chocolate

10

g

1 tablespoon neutral oil
Instructions
For the tahini filling:
In a medium bowl, mix together the almond flour, tahini, and honey until fully combined.

Using a ½ tablespoon cookie scoop, place 12 balls of filling onto a plate.

Freeze for about 15 minutes or until ready to assemble.
For the chocolate coating:
In a medium heat-proof bowl, combine the chocolate and neutral oil, and place over a small saucepan of simmering water.

Stir the chocolate frequently until fully melted and smooth.

Remove from heat and assemble.
For assembly:
Line a cupcake pan with 12 cupcake liners.

Add a tablespoon of melted chocolate to each, moving the pan around to encourage it to spread evenly.

Take the tahini filling disks out of the freezer and place one in each center.

Add more chocolate on top, covering each tahini disk.

Place the pan in the fridge for about an hour or so to set.

Once set, top with sesame seeds and enjoy!
Tried this recipe?
Tag @sloanes.table on Instagram and write a star review below!