This lemon meringue pie with fresh rosemary crust is the perfect spring dessert! Nothing says comfort & joy quite like a homemade pie. From the ultra flaky pie crust, to the tart lemon filling, and to the silky, sweet swiss meringue topping, this pie is a must bake! If you have never made pie crust from scratch, don't worry - there are step-by-step photos showing you my foolproof method that creates the best crisp, flaky pie crust every time. I added fresh rosemary because it complements the lemon pie filling so well, while the sweetness of the meringue balances out the tartness of the filling. Make this sunny spring pie with your family or for a fun gathering to catch up with friends!
Jump to: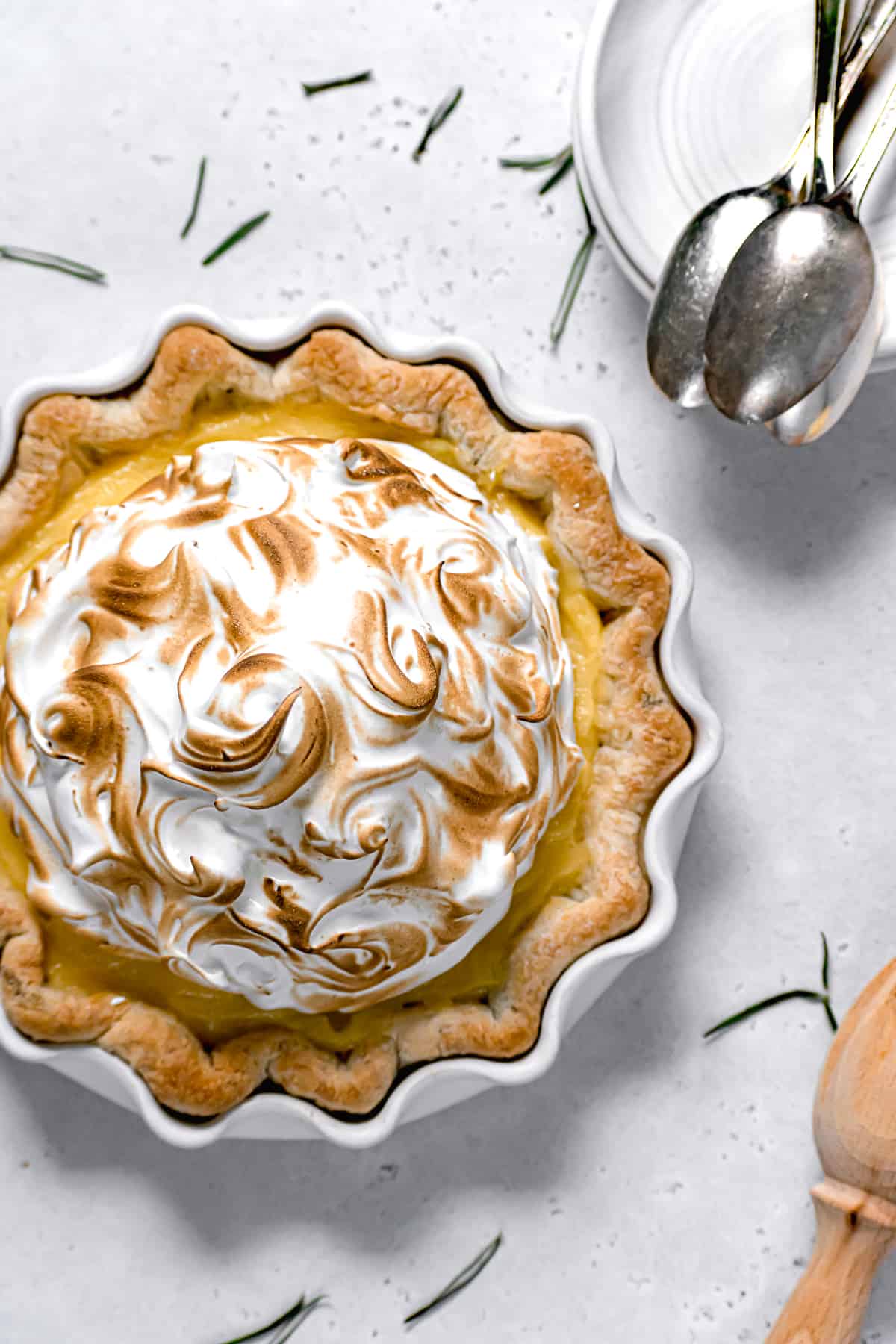 Ingredients
All-Purpose Flour: You'll need a little more than one cup of flour for the crust.
Unsalted Butter: You'll need one stick of cold unsalted butter for the crust.
Fresh Rosemary: Adding chopped fresh rosemary to the crust will give it a wonderful flavor that complements the lemon filling so well!
Vodka: Vodka is added to the pie crust because it hinders gluten development, resulting in a more tender & flaky crust! It is optional, but highly recommended.
Ice Water: Start with about ½ cup of ice water and use as much as you need until the dough holds together, but is not overly wet.
Granulated Sugar: You will need sugar for both the lemon pie filling and the swiss meringue.
Cornstarch: Cornstarch will help thicken the lemon pie filling to the perfect consistency.
Fresh Lemon Juice: You will need the juice from about 4 medium lemons.
Egg Yolks: For the filling, you'll need about 5 egg yolks.
Egg Whites: For the swiss meringue, you'll need about 3 egg whites.
FAQ
How to make lemon pie filling:
This lemon pie filling is essentially a curd that is made over the stove, which means you don't have to bake it in the oven. So all you need to do is throw all of the ingredients in a saucepan and cook it until it becomes thick, then it can be spread into the blind baked crust and chilled until ready to serve!
How to make an easy all butter flaky pie crust from scratch:
1. To make an ultra flaky pie crust from scratch, all you need is flour, salt, butter, and water. To give yourself a little assurance, you can add vodka before adding water. Vodka hinders gluten development and helps reduce the amount of water you'll need to add to bring the dough together.
2. Once the dough is made, use a method of rolling and folding the pie dough to result in an incredibly flaky crust. This also makes it much easier to work with when assembling the pie!
3. The key to successfully making pie dough from scratch is to always keep it cold. After each time you roll it out, crimp it, or touch it at all, it needs to be chilled again for a few minutes. 
4. Lastly, be sure to preheat the oven with a baking sheet in it. Placing the pie on top of the hot baking sheet will help to get that crisp bottom crust!
How to blind bake pie crust:
To blind bake a crust, you'll want to bake it all the way through since the filling does not need to be baked. First, fill the crimped and docked pie crust with pie weights and bake for about 16 minutes at 425 degrees F or 220 degrees C. Then, remove the pie weights and brush the crust with an egg wash to seal it and help give it some color. Place it back in the oven to bake for another 10-12 minutes until evenly golden brown.
How to make swiss meringue:
Swiss meringue is incredibly easy to make! It's arguably the easiest method of meringue and the most stable. All it takes is a double boiler, candy thermometer, and an electric mixer. Follow these steps on how to make the perfect meringue every single time:
1. Wipe down all bowls and appliances with white vinegar to ensure that everything is spotlessly clean and nothing will hinder the stability of the meringue. 
2. Add the egg whites, granulated sugar, and salt to the bowl of a stand mixer. With a hand whisk, whisk them together until fully combined.
3. Place the bowl over a small pot of simmering water. Whisk frequently until the mixture reaches 160 degrees F.
4. Take the bowl off of the double boiler and place on the stand mixer. Whisk the meringue on medium high speed until soft peaks form.
5. Add the vanilla, and keep whisking until stiff peaks form.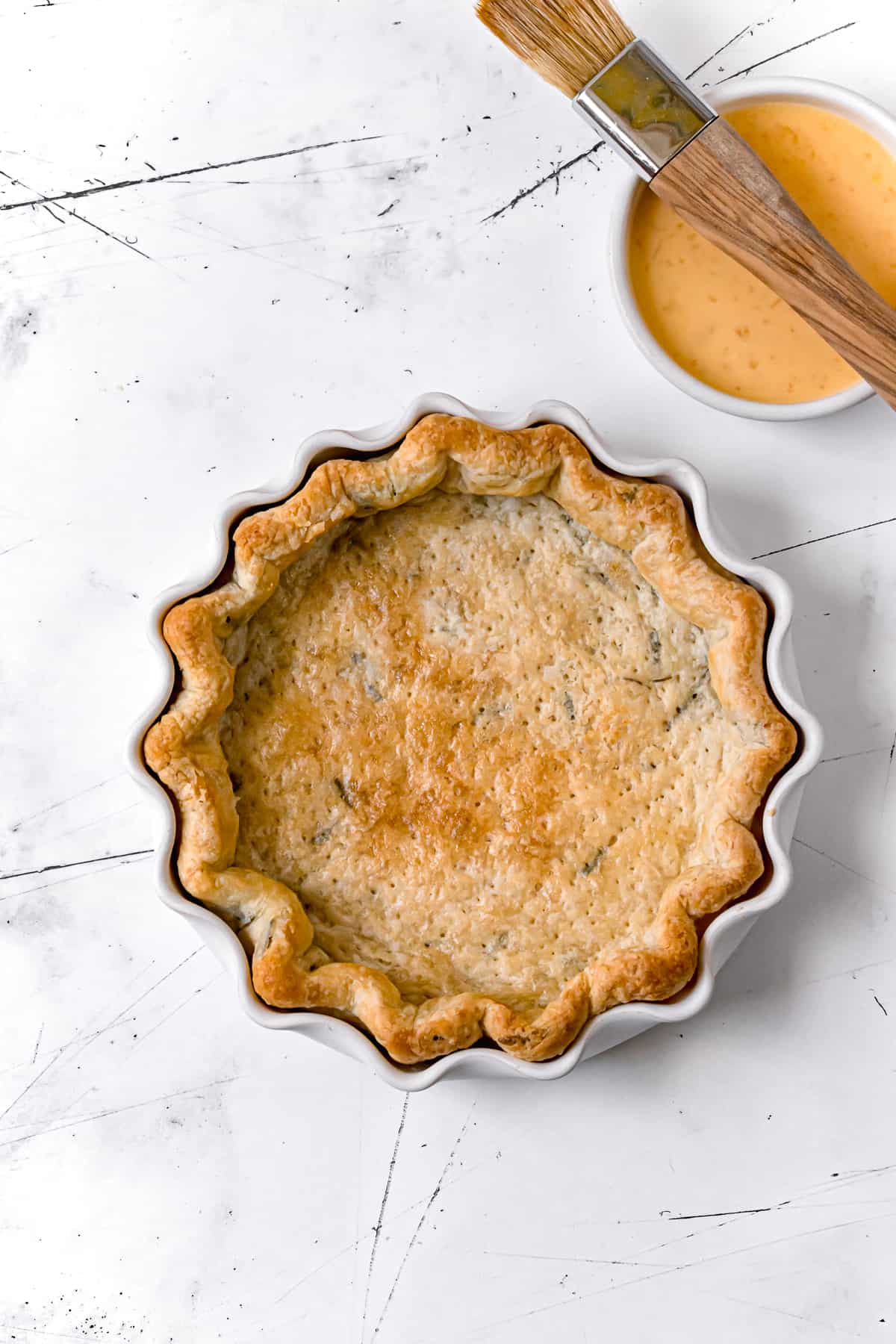 Other spring recipes you'll love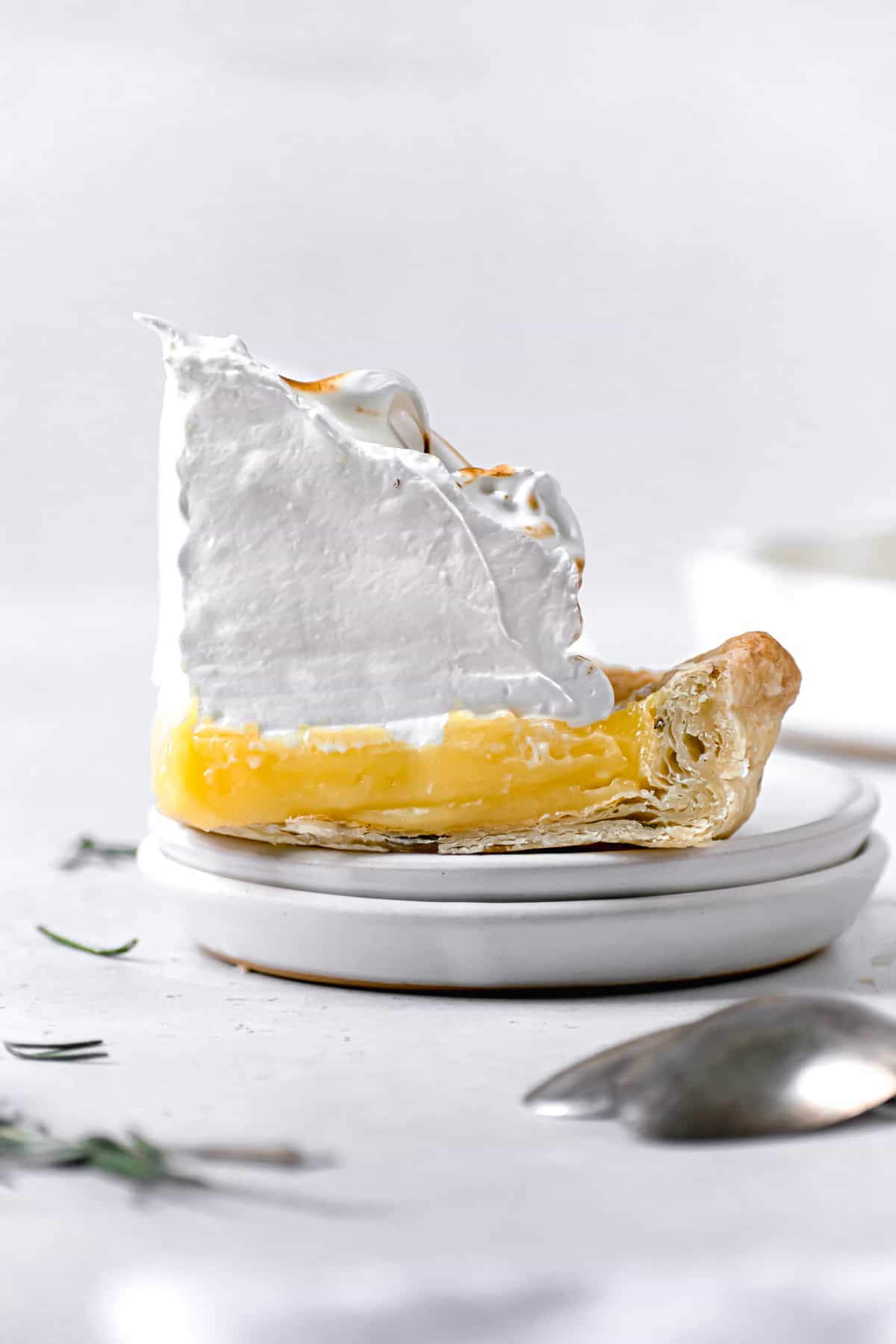 Baking in Grams
All of the recipes on this blog are carefully developed with gram measurements so you can easily recreate them in your own kitchen with success. Volume measurements are extremely inaccurate and leave room for significant errors. Not all measuring cups are made equally, so your one cup of flour will be different from my one cup of flour. By providing precise measurements in grams (aside from minor ingredients, which are given in tsp/tbsp), you can make these recipes accurately and with less cleanup! All you need is this kitchen scale.
If this still isn't enough to convince you, I have provided volume measurements in the recipe card. If you are interested in understanding the conversions, this is the best conversion chart.
But trust me, once you try baking in grams you'll never turn back!
Happy baking! x
If you tried this recipe, I'd love to know how it turned out for you! Leave a star rating & review below and post a picture (or video!) on Instagram and tag me so I can see your bakes! Not ready to make this recipe yet? Click the heart button on the right of your screen to save it for later 🙂
Print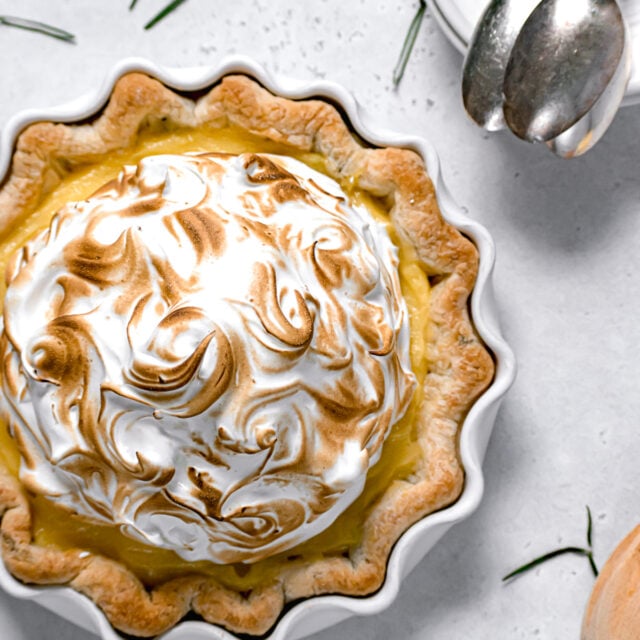 Lemon Meringue Pie with Fresh Rosemary Crust
Author:

Sloane

Prep Time:

4 hours 30 minutes

Cook Time:

30 minutes

Total Time:

5 hours

Yield:

1

6-inch pie

1

x

Category:

pie

Method:

baking

Cuisine:

American
---
For the Fresh Rosemary Crust:
160g

all-purpose flour

¼ tsp

salt

113g

unsalted buter (cold)

1 tbsp

(

3g

) fresh rosemary

25g

vodka

½ cup

ice water
egg wash (1 egg + 1 tablespoon water)
For the Lemon Pie Filling:
150g

granulated sugar

14g

cornstarch

½ tsp

salt

56g

unsalted butter

150g

fresh lemon juice

100g

egg yolks (about 5)
For the Swiss Meringue:
105g

egg whites (about 3)

150g

granulated sugar

½ tsp

salt
---
Instructions
For the Fresh Rosemary Crust:
In a medium bowl combine the flour and salt.
Cut the cold butter into cubes and toss in the flour.  
Using your fingers, cut the butter into the dry ingredients until quarter sized pieces are left. 
Mix in the fresh rosemary. 
Add the vodka and a small amount of water, then toss with your hands to combine. 
Continue adding very small amounts of water until the dough can hold together, but is not overly wet. 
Wrap the dough tightly in plastic wrap, then chill for one hour.
On a lightly floured surface, roll the dough out into a rough rectangle, fold in half, then again into quarters. Wrap the dough in plastic wrap and chill for another 30 minutes. 
Roll the dough out again into a rough rectangle and repeat the folding process. Shape the dough into a disk, wrap tightly in plastic wrap, and chill for 30 minutes or overnight. 
Roll out the pie dough into a rough circle about ⅛″ in thickness.
Carefully place in the pie pan, pressing up against the sides. Cover and chill in the fridge for about 20 minutes.
Take the pie crust out, cut off the excess dough, and crimp the edges as desired. Dock the bottom of the crust all over with the tines of a fork, then chill for another 30 minutes.
Meanwhile, place a baking sheet in the oven and preheat it to 425 degrees F. 
Place a large piece of parchment paper over the pie crust and fill with pie weights or dried beans all the way up to the crimp. 
Place the pie pan on the hot baking sheet and bake for 16 minutes. 
Take the pan out, take all of the pie weights out, then brush the pie crust with an egg wash all over, except for the edges. 
Bake for an additional 10-12 minutes. Allow pie crust to cool completely before adding the lemon filling.
For the Lemon Pie Filling:
In a medium bowl, whisk together the sugar, cornstarch, and salt until no lumps remain. 
In a medium saucepan over low-medium heat, melt the butter. 
Whisk in the sugar and cornstarch, then the lemon juice and egg yolks until fully combined, about 1 minute.
Use a rubber spatula to constantly stir the mixture for another 2-3 minutes or until large bubbles form in the center. Immediately remove from heat.
Strain the lemon filling over the cooled pie crust and spread into an even layer. Press plastic wrap up against the surface to prevent a skin from forming, and chill for at least 2 hours or overnight. 
For the Swiss Meringue:
In a double boiler, heat the egg whites, sugar, and salt, whisking frequently until it reaches 160 degrees F or until the sugar is completely dissolved and the egg whites do not feel grainy.
Transfer the bowl to the stand mixer with a whisk attachment. Whisk on high speed until stiff peaks form. 
Decorate the pie as desired, and enjoy!
---
Notes
This recipe can be made in a 9-inch pie dish. Keep the pie dough and meringue the same, but double the lemon pie filling. 
The key to making pie dough from scratch is to always keep it cold. After every time you roll it out, crimp it, or touch it at all, it need to be chilled again for a few minutes. 
I do not recommend freezing the pie dough at any point before going in the oven. 
Preheat the oven with a baking sheet in it. Placing the pie on top of the hot baking sheet will help to get that crisp bottom crust!
Spread this recipe out over a couple of days by chilling the pie dough or the lemon filling in the baked pie crust overnight.
Use a kitchen torch to toast the meringue if desired. 
Store this pie in the fridge for up to 3 days. 
Nutrition
Serving Size:

1 piece

Calories:

445

Sugar:

38.2 g

Sodium:

404.3 mg

Fat:

21.4 g

Carbohydrates:

56.5 g

Protein:

6.5 g

Cholesterol:

204.3 mg
Keywords: lemon meringue pie, all butter pie crust, fresh rosemary pie crust, easy lemon pie filling, spring recipe