Join the Sloane's Table Baking Challenge each month to win prizes! To enter, bake the recipe of the month, write a star review, and email me a photo. To celebrate my new cookbook, Donut Love, these recipes will either be from the book or new donut recipes! Sign up for my newsletter to be notified when a new challenge recipe drops.
October 2023 Recipe
Old Fashioned Apple Cider Donuts
When you close your eyes and take a bite out of one of these old fashioned apple cider donuts, you'll wake up wearing a cozy sweater, standing in the middle of an apple orchard, with golden leaves all around you. Yes, they're that good. Made with an apple cider cake dough and covered in an apple cider glaze & cinnamon sugar coating, these donuts truly are the essence of fall!
Get the recipe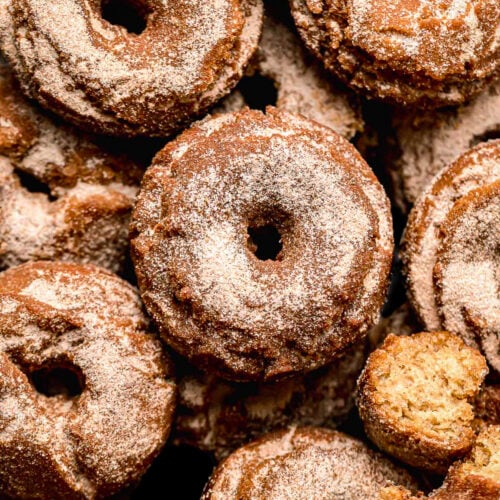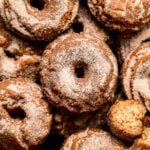 How to enter
1. New Recipe🍩
On the 1st of each month, I will publish a new recipe.
2. Bake👩🏻‍🍳
Bake the recipe at any point during the month.
3. Write a star review⭐️
Write an honest review with a star rating of the recipe at the bottom of the post.
Baking Challenge FAQs
How do I leave a star review?
Scroll down to the bottom of the post, past the recipe card (or you can click on "Reviews" in the table of contents at the top of the post). Select the number of stars, then write your review and press "post comment."
Do I need to submit a professional photo?
Not at all! A photo taken on your phone is more than enough!
What is the deadline to enter the challenge?
You have until 11:59pm EST on the last day of the month.
How will the winner be chosen?
The winner will be selected at random and announced in the next month's baking challenge email. Sign up for the newsletter here!
What does the winner receive?
The winner will receive a $50 digital Amazon gift card AND a copy of my cookbook, Donut Love! Please note that the book comes out December 19th, so you will not receive it until then.
Do I have to live in the US to enter?
No! As long as I can send you a digital Amazon gift card and a copy of my cookbook, you can live anywhere.